Taiwan: Practitioners Celebrate World Falun Dafa Day at Sun Moon Lake (Photos)
May 19, 2012 | By Minghui correspondent Xia Yun in Nantou, Taiwan
(Minghui.org) May 13, 2012 was the 20th anniversary of Falun Dafa's introduction to the public. Practitioners from around the world celebrated this magnificent date with great joy. Hundreds of practitioners from central Taiwan got together at Sun Moon Lake, a scenic spot in central Taiwan. They presented singing, dancing, drumming and musical instrument performances. They also demonstrated the Falun Gong exercises to celebrate this grand occasion.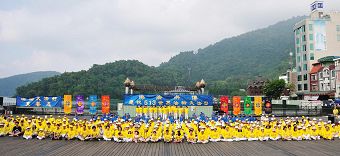 Hundreds of practitioners in central Taiwan gathered at Sun Moon Lake to celebrate the 20th anniversary of Falun Dafa's public introduction
Tourists passing by were attracted by the peaceful exercise demonstration and music, and stopped to watch. Some took photos to record this moment, and some had photos taken with the practitioners' performances as background. Some tourists approached practitioners and asked questions, such as how many people are practicing Falun Gong in Taiwan, where to learn the exercises, etc. Foreign tourists staying at nearby hotels had paid attention to this activity early in the morning. They came over in the afternoon to watch, take photos and express their support for Falun Gong.
The celebratory activity was held at Yidashao [Ita Thao] Wharf. Several practitioners shared their experiences of benefiting physically and mentally from practicing Falun Gong. Some obtained good health and performed diligently in their work; some improved their temper, and became kind to others; some understood the meaning of life, and found the truth. They all expressed their gratitude to great revered Master for giving them health and a wonderful life. They will persevere and use their personal experience to inform the people of the world: "Falun Dafa is great."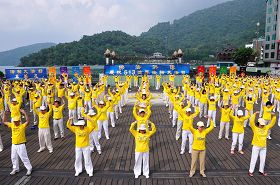 Practitioners demonstrate the exercises at Yidashao [Ita Thao] Wharf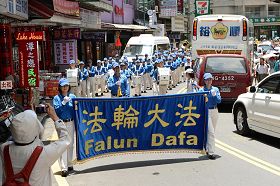 Divine Land Marching Band performs on the street to bring good messages to the people
People Support and Recognize
Mr. Wu from Washington, U.S. stopped for quite a while to watch practitioners' performance and take photos. He said he had some understanding of Falun Gong in the U.S. He sometimes visited the Epoch Times website to read articles, and also received informational materials from practitioners, so he knew of the Chinese Communist Party's persecution of Falun Gong. He also said that he once saw Falun Gong practitioners at tourist spots in the U.S., Hong Kong, France and Taiwan. He supported Falun Gong practitioners for stepping forward to inform the people about the true situation.
Mr. Xu, a lawyer in Hsinchu City also watched the event for a long time but he had a hard time understanding why such a good practice has been subjected to the Communist Party's suppression. He mentioned that he heard that it was because there were a large number of practitioners, but still couldn't figure out why the CCP wants to suppress such a good group. A practitioner shared his thought, that what dictatorial regime fear is people's strength, there is no freedom of speech, assembly or beliefs [in China]. Now many people have accepted and practiced Falun Gong around the world. It may be hard for people in the world to understand the Communist Party with normal thinking. Finally, Mr. Xu said with admiration, "We see that the more [the CCP] suppresses it, the more this group grows!"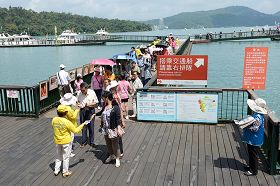 Practitioners hand out informational materials to tourist at wharf
Chinese tourists in groups arrived at the wharf. They watched the celebratory activities and took photos. A Chinese tourist in his 60s came to Taiwan to visit his father. He held his elderly father's arm to help him to walk past the wharf. A practitioner handed out the Epoch Times newspaper to them, and told them about quitting the CCP for one's own safety. The practitioner then helped the son quit the CCP organizations with an alias.