Spectators Admire the Grand March and Awakened Chinese Praise Falun Dafa (Photos)
May 14, 2012 | By Zhang Ran
(Minghui.org) On May 12, 2012, several thousand Falun Dafa practitioners from around the world participated in a grand march through New York City's Chinatown to celebrate the 20th anniversary of Falun Dafa's pubic introduction.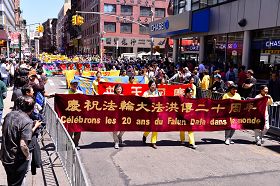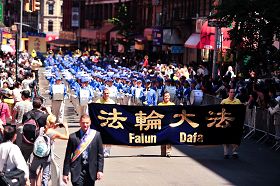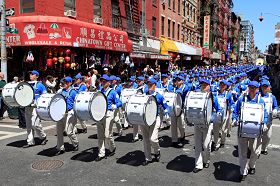 The grand procession
Mr. Ondry Swboda and Ms. Sidonie Manhinez had their photos with the procession in the background. They had come from France to tour New York. Their first day in the city they saw the march. Mr. Swboda said they had walked for more than an hour and did not see the end of the procession. They had great admiration for the parade. He put Falun Gong information materials in his bag to read them in more detail after returning home. Ms. Manhinez said she could feel the inner spiritual power after seeing the section of the parade focusing on "Unprecedented Injustice" (the persecution in China).
Tourists, Rob Schwarz and his wife stood to watch the march. Mr. Schwarz, an attorney, was impressed. Mrs. Schwarz said it is not easy to organize such a huge procession but that it was very effective in sending a clear message.
Mr. Rocio Pomaqucro and Mrs. Manvel Pomaqucro are from Ecuador. They waved excitedly from the sidewalk. Mr. Pomaqucro said he had never heard of Falun Gong, but he admired the parade. Mrs. Pomaqucro said she felt very good about the march and saw the power of the group.
Ms. Chen and her son watched the procession. She said her son really liked it, and she applauded it. An elder Ms. Chen watched the march from the beginning. She told the reporter she had watched for one and half hours. She said, "I know Falun Gong is great. I read the Epoch Times and know the true nature of the CCP. Now Bo Xilai is in detention. That's not good enough. He should be imprisoned and be brought to justice."
Ms. Chen said with feeling, "Such villains will continue to commit crimes if not brought to justice. After Bo Xilai, Zhou Yongkang should be arrested next. Jiang Zemin initiated the persecution and must be brought to justice."
Ms. Chen said that she had brought a CD of the Nine Commentaries on the Communist Party to China. She gave it to friends and relatives, who praised her courage.