Boston: Celebrating World Falun Dafa Day in Chinatown (Photos)
May 13, 2012 | By Cheng De in Boston
(Minghui.org) Falun Gong practitioners from Greater Boston, Massachusetts celebrated the 20th anniversary of Falun Dafa's public introduction and the 13th World Falun Dafa Day at Boston's Chinatown Park on May 6, 2012. Practitioners of different ethnicities shared their cultivation experiences, presented songs, dances, waist drum, and traditional martial arts performances. They demonstrated the exercises to celebrate Falun Dafa, express their gratitude for Master Li Hongzhi's grace, and respectfully wish Master a Happy Birthday.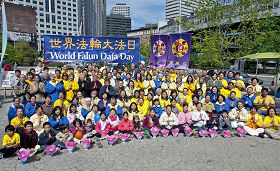 Falun Gong practitioners in Boston celebrate the 20th anniversary of Falun Dafa's public introduction and the 13th World Falun Dafa Day at Boston's Chinatown Park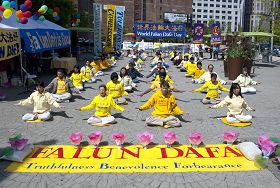 Practitioners demonstrate the Falun Dafa exercises for the public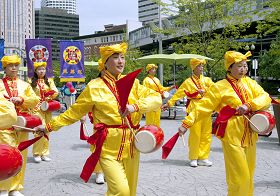 A performance by practitioners' waist drum team to celebrate Falun Dafa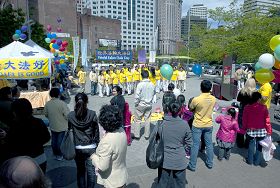 Visitors and Chinatown residents watching practitioners singing the choral composition, "Coming for You"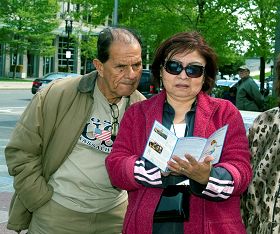 Visitors learn the facts about Falun Gong
State and City Officials Recognize World Falun Dafa Day
Massachusetts State Senator Katherine Clark sent congratulations in recognition of World Falun Dafa Day, and commended Falun Dafa for the benefits that Dafa's principles of Truthfulness-Compassion-Forbearance bring to the community.
Massachusetts State Representatives Bruce Ayers, Tackey Chan, and Ronald Mariano sent greetings to the Falun Dafa Association of New England, and congratulated them on the 20th anniversary of Falun Dafa's public introduction.
Mayor Thomas Koch of Quincy City, issued a mayor's commendation in recognition of the 13th World Falun Dafa Day.
New Practitioner: Stubborn Illnesses Disappeared after Practicing Falun Dafa for Six Months
Mr. Liu, from Beijing, recently came to the United States for advanced study. He suffered from chronic nasopharyngeal and pharyngitis in Beijing, and doctors told him that the illnesses could not be cured. He'd heard of Falun Gong's miraculous healing effects from his friend, so he wanted to give the practice a try. Six months ago, he found software to break through the communist regime's Internet blockade and downloaded Falun Gong materials. He then began learning Falun Gong by himself. After practicing for six months, his illnesses disappeared completely. He feels that Falun Gong is miraculous, and no long believes the Chinese Communist Party's (CCP) propaganda.
Prior to experiencing Dafa for himself, Mr. Liu had some negative thoughts about the practice, and was afraid to read Falun Gong materials because of the false propaganda by the CCP. He said, "The more I practice Falun Gong, the more I realize Falun Gong's profundity. I really hope that everyone can come to know and experience Falun Gong. Don't rush to judge the practice. Read the Falun Gong materials."
Public Shows Support after Learning the Truth about Falun Gong
Mr. Qu, an older man who came to Boston from Shenzhen City, Guangdong Province ten years ago, has learned the facts about Falun Gong. He said, "People can obtain good health by practicing Falun Gong. It isn't at all what the CCP has publicized. I support Falun Gong."
Mr. Luan came to Boston for graduate study one year ago. He learned the truth about Falun Gong through posters and photo exhibits. After he read a poster exposing the truth about the "Self Immolation" on Tiananmen Square, he said, "I was wondering at that time, why someone was on fire and someone else just happened to be there to shoot video footage." He thought that the propaganda by the CCP and its mouthpiece, China Central Television, was simply not believable. Mr. Luan believes that practicing Falun Gong, "should be respected and should not be interfered with."
Mr. Yin, who lives in Cambridge, Massachusetts, has paid attention to Falun Gong for quite a while. He said, "Falun Dafa is good and is not at all what the CCP says [about it]." He picked up some flyers and told practitioners that he would take them home to learn more about Falun Dafa.
A Doctor from Beijing Exposes the CCP's Persecution of Falun Gong through His Personal Experience
Dr. Zhang obtained his medical degree in China. Because he informed people about the CCP's persecution of Falun Gong, he was arrested and detained multiple times. The authorities once sentenced him to five years in a forced labor camp.
While detained in the forced labor camp, Dr. Zhang was subjected to brainwashing and corporal punishment. The guards didn't allow him to go to bed until midnight, and tried to inundate him with theories that slandered Falun Gong. Sometimes the guards made him get up at 4:00 a.m. to do hard labor repairing roads.
Dr. Zhang managed to escape from the communist regime and is now in the United States. He hopes that through his personal experience more people can recognize the CCP's evil nature and lies, and make a right choice to quit the CCP and its affiliated organizations. He said, "For so many years, the CCP has been persecuting Falun Gong by using lies and violence. I believe that when the truth is fully exposed, the persecution will come to an end right away."