Philadelphia: Practitioners Commemorate the 13th Anniversary of the Peaceful April 25 Appeal (Photos)
May 01, 2012 | By a practitioner in Philadelphia
(Minghui.org) On the evening of April 25, 2012, Falun Gong practitioners in Philadelphia gathered in downtown's Love Park to commemorate the 13th anniversary of the April 25 appeal. They held a group practice and a candlelight vigil to mourn the practitioners who have died as a result of the persecution by the Chinese Communist Party (CCP). They also called for people to become aware of the facts and urged the CCP to immediately stop the persecution of Falun Gong.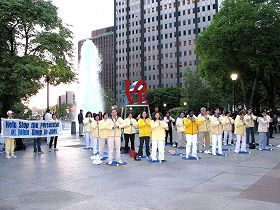 Practitioners in Philadelphia do the exercises to commemorate the 13th anniversary of the April 25 appeal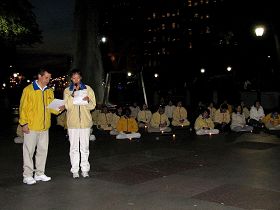 Dr. Gong (first on the right) speaks at the candlelight vigil in Philadelphia

Practitioners in Philadelphia hold a candlelight vigil to commemorate the 13th anniversary of the April 25 appeal
Witness to the Peaceful April 25 Appeal
Dr. Gong from Philadelphia personally experienced the April 25 appeal. She spoke at the candlelight vigil and recalled the practitioners' rational and peaceful appeal and rebuked the CCP slander that 10,000 Falun Gong practitioners "besieged" Zhongnanhai. She said, "The State Council Appeals Office is near the west gate of Zhongnanhai, and the police led practitioners to stand along the streets. As there were a large number of practitioners, all the streets surrounding Zhongnanhai were fully packed. So this peaceful appeal was described as 'laying siege' to Zhongnanhai. Actually, the practitioners's destination was the Appeals Office, not Zhongnanhai. Jiang, out of his own jealousy, launched a campaign of persecution against Falun Gong that has lasted now for 13 years, and has brought the Chinese nation grave disasters. The persecution of people who believe in Truthfulness-Compassion-Forbearance has also led to a sharp decline in morality in society."
Dr. Gong concluded, "Being a Chinese person, how I wish that the tragedy of the persecution of Falun Gong had never taken place. Chinese people whose minds have been deceived by the CCP lies: Please stop and listen to the facts that Falun Gong practitioners want to tell you. I hope that kindhearted people can make the right choice in this battle between good and evil."
People Eager to Learn the Facts
Iris is an exchange student from the Philippines who studies at Drexel University. She came to Love Park with her friends and was curious to see practitioners' peaceful exercises. She said this was the first time that she had heard about Falun Gong. After learning about the persecution in China, she said, "These people (Falun Gong practitioners) look so friendly and peaceful. I want to get online to learn more about Falun Gong."
Ms. Rochelle Jones and her husband were relaxing in the park and were drawn to the practitioners' peaceful exercises. Ms. Jones thought it was unbelievable after she learned that such a peaceful practice is banned in China. She asked for informational materials about Falun Gong from a practitioner and said she would go online to find why Falun Gong isn't allowed to be practiced in China.
Patrick passed by the park and took truth clarification materials. After he learned about the persecution of Falun Gong in China, he said, "Chinese people should have the freedom to know the truth. Before each person makes a choice, at least he should have the right to know the truth."
A man was quietly sitting beside the practice venue, reading the informational materials and listening to practitioners' speeches. Before left he told the reporter, "I have been listening. The more I listen and learn, the more I can gain wisdom. Everyone should have the freedom to listen to the truth. In China, people should be given the freedom to speak out about their opinions. I want to learn more about Falun Gong."