Australia: The Art of Truthfulness, Compassion, Tolerance Exhibition Held in Adelaide (Photos)
(Minghui.org) The Art of Truthfulness, Compassion, Tolerance Exhibition has been held in Glenelg, a well-known tourist area in Adelaide, South Australia, for the third time. The mayor, local representatives, and artists participated in the opening ceremony on March 30, 2012.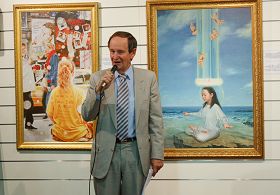 The mayor of Holdfast Bay, Ken Rolland, gives a speech at the opening ceremony.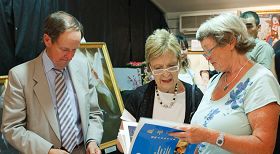 The mayor of Holdfast Bay, Mr. Rolland, and his wife at the exhibition.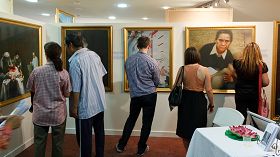 People view the artwork.

The artwork was created by Falun Gong practitioners, depicting the spread of Falun Gong around the world and the brutal persecution of the practitioners in China.

At the opening ceremony, the mayor of Holdfast Bay, Mr. Ken Rolland, pointed out in his speech that Falun Gong practitioners follow the principles of Truthfulness-Compassion-Forbearance, but they have been persecuted in China. He said that while Australians are enjoying freedom, Falun Gong practitioners in China are being tortured. The mayor called upon the public to pay more attention to the human rights situation in China.

Mr. Werner Thiel, a local artist, was amazed by the artwork. He commented that Chinese culture is rooted in people's hearts and is now being revived. In his view, the Chinese Communist Party is afraid of the spiritual movement because people who have beliefs can think independently, and the Party cannot control these people. He said that the persecution is horrible and senseless. "The persecutors look strong, but they are weak. I have a feeling that the old force is disappearing, and a new power is coming," he said.

Ms. Mia Tam, a local law student, was shocked by the Chinese regime's brutal crime of organ harvesting depicted in one of the paintings. She asked how she could help to stop the persecution and took some informational materials for her friends.

Mr. Ding from Shandong, China, was touched by Falun Gong practitioners' spirit. He said: "Jiang Zemin is a bad man. I strongly support Falun Gong." He also declared his withdrawal from the Chinese Communist Party at the exhibition.

Several visitors learned the Falun Gong exercises at the exhibition.