Falun Dafa Practitioners in Italy Commemorate the April 25 Appeal (Photos)
April 28, 2012 | By a Falun Gong practitioner in Italy
(Minghui.org) To commemorate Falun Gong practitioners' April 25 Appeal in Beijing 13 years ago, practitioners in Italy held activities in front of the Chinese Consulate and in Chinatown in Milan on April 25, 2012, to call for an end to the persecution of Falun Gong by the Chinese Communist Party (CCP).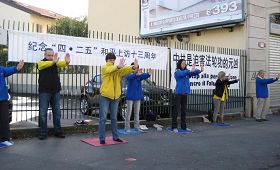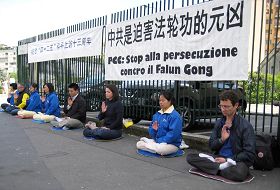 Falun Gong practitioners protest the persecution in front of the Chinese Consulate in Milan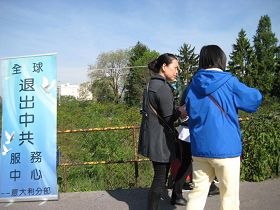 A Chinese woman learns the true story of Falun Gong in front of the Chinese Consulate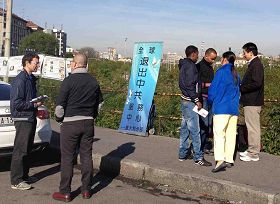 Italians find out about Falun Gong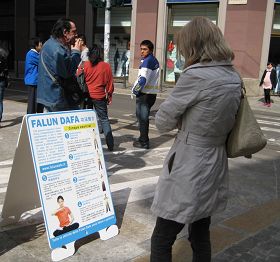 A passerby reads the Falun Gong display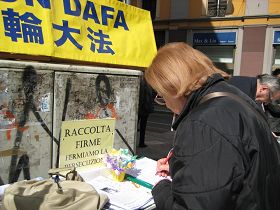 A woman signs to support Falun Gong's efforts to end the persecution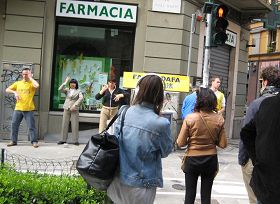 People in Chinatown stop to find out about Falun Gong.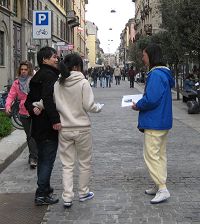 Chinese people get introductory materials from a Falun Gong practitioner
Practitioners started their peaceful demonstration and group exercise in front of the Chinese Consulate at 9 a.m. They set up a display and unfolded banners reading "Commemorating the 13th Anniversary of the April 25 Appeal" "The CCP Persecutes Falun Gong" and "Bring Jiang, Luo, Liu, and Zhou to Justice." Many people took notice and read the display. Some got introductory materials and took pictures of the banners. A middle-aged Chinese man found out the true story of the April 25 Appeal and said, "The CCP is wicked. It did the same thing with every movement." Some Chinese people quit the CCP and its affiliated organizations.
Falun Gong practitioners moved to Chinatown to continue their activity around 3 p.m. April 25 happens to be Liberation Day in Italy, and the streets in Chinatown were busy. As soon as the practitioners started doing exercises, many passersby stopped to watch. They asked what Falun Gong was and how to learn it. An Italian girl liked the beautiful exercises so much that she started copying the movements. She asked her friend to take a picture of her doing the exercise.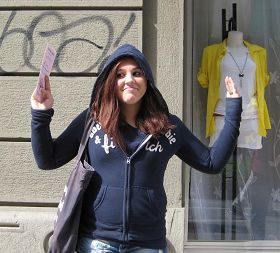 An Italian girl wants to learn the Falun Gong exercises
People were shocked to find out about the brutal persecution of Falun Gong. Some signed their names calling for an end to the persecution and shook hands with the practitioners, expressing their support and good wishes. An Italian said, "Please give me a Chinese flyer. I have a Chinese friend and will take one to him to let him know about the persecution." A Italian lady talked with practitioners for a long time and took a copy of every printed material including the Nine Commentaries on the Communist Party in Italian.
Some Chinese people had been influenced by the CCP's propaganda, but began to change after they read the display. A Chinese man told a practitioner, "Everyone in my family is a member of the CCP, but none of us believes in the CCP because we have seen too much of its wicked conduct. But there are many things I'm not too clear about and would like to ask you." He asked for details about the April 25 Appeal, the staged self-immolation on Tiananmen Square, and other things. The practitioner answered all his questions and told him, "The CCP actually doesn't only persecute Falun Gong practitioners. Generations of Chinese people have been beaten down by the CCP. To sustain its dictatorship, it brainwashes the people and destroys the tradition of respecting heaven and Gods. Think about all the things it has done. Isn't it evil?" The man said repeatedly, "I see, I see. I would like to quit it." The practitioner suggested the nickname 'Ming Li,' and he agreed with gratitude, repeatedly saying, "Thank you!"