Indonesia: Introducing Falun Dafa on Bali Island (Photos)
April 27, 2012 | By a practitioner in Bali Island
(Minghui.org) In order to celebrate the 20th anniversary of Falun Dafa's public introduction in May, Falun Gong practitioners on Bali Island, Indonesia have been holding a series of activities since April 14, 2012.
The first activity was held on Kuta Beach. At 4:00 p.m. practitioners did the exercises in a large group and held up banners to help people learn about the benefits of Falun Dafa and expose the Chinese Communist Party's (CCP) lies that were concocted to defame Falun Gong.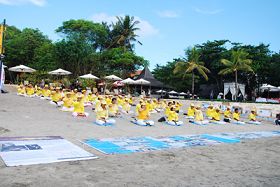 Practitioners do the exercises on Kuta Beach in Bali Island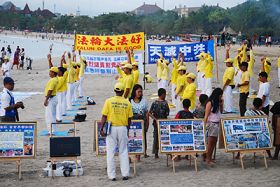 Tourists view truth-clarification photo displays
Many tourists came up close to the practice site to view the photo displays that exposed the CCP's persecution. Many of them expressed shock and indignation over the brutality of the persecution.
On the sidewalk of the beach, some practitioners distributed truth clarification brochures and explained to the tourists the significance and purpose of their activity.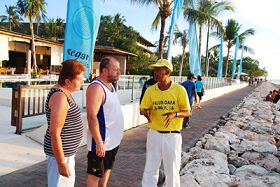 Tourists learn the truth behind the persecution from a practitioner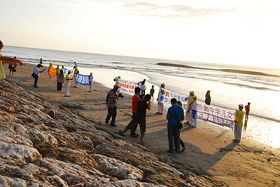 Practitioners hold up banners
At 5:45 p.m. practitioners held banners and walked along the beach to show the messages they wanted to convey to people watching and appreciating the sunset. Many tourists had photos taken in front of the banners. Some tourists walking on the sidewalk asked about Falun Gong and the ongoing persecution in China.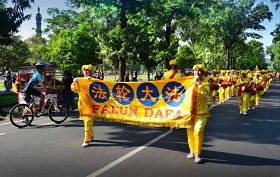 Waist Drum Team marches in Denpasar, Bali Island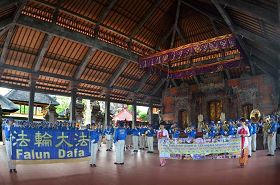 Divine Land Marching Band performs in the main hall of Puri Gianyar Palace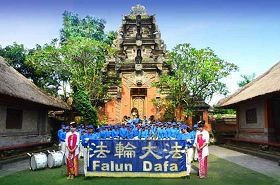 Divine Land Marching Band poses for a photo taken in Ubud Palace
On April 15, Sunday, the Waist Drum Team and Divine Land Marching Band composed of Falun Gong practitioners performed in two places. The Waist Drum Team performed in Puputan Margarana Renon, Denpasar, while the Divine Land Marching Band performed in the main hall of Puri Gianyar Palace, which is a favorite destination of tourists. Their performance was warmly received.
The activity concluded at 3:00 p.m. The band members posed in front of Ubud Palace to have a photo taken. Some Chinese tourists happily posed to have photos taken with the Divine Land Marching Band members.