Paris: Falun Gong Practitioners Commemorate the April 25 Appeal and Clarify the Truth to the Public (Photos)
(Minghui.org) On April 22, Falun Gong practitioners held activities in Human Rights Square, commemorating the 13th Anniversary of the April 25 Peaceful Appeal and clarifying the truth of Falun Gong to the public.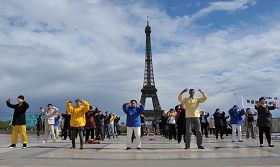 Group exercises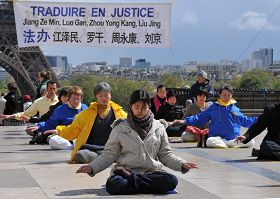 Group exercises

Tourists viewing the display boards
On the square, practitioners played recordings of truth-clarifying articles in Chinese, English, and French through their speakers. They also did group exercises. Many tourists were drawn to the activity. They took photos with practitioners. Some of them also learned the exercises.
Two French policemen stopped by and talked to practitioners. They learned about the brutal persecution and organ harvesting in China. One of them often visits China for business, but had never heard about the persecution. He thanked practitioners for telling him the real situation.
Several Chinese tourists also stopped by, took materials, and talked to practitioners.
Mr. Wang Zhe, a practitioner, told the Chinese tourists his own experience of being tortured in China. In 2001, he was sentenced to forced labor for three years, because he explained the facts about Falun Gong in public. In the labor camp, he witnessed Mr. Chen Baoliang, a practitioner, being beaten to death by the police. In 2003, six police officers held Mr. Wang down and beat him with electric batons. He was badly tortured and developed lung disease. In 2005, his body below his neck lost all feeling due to the torture.
Practitioners called on the public to pay more attention to the 13-year-long persecution of Falun Gong in China.