Falun Gong Practitioners Arrested by the Guanghan City 610 Office in Sichuan Province
April 22, 2012 | By a Minghui correspondent from Sichuan Province, China
(Minghui.org) About 40 policemen, including all officers from Nanxing Police Station and some from Guanghan City, illegally arrested Falun Gong practitioners in Nanxing Township on March 28, 2012. They were led by Mao Li, the deputy director of the Guanghan City 610 Office.
Around 10:00 a.m. that day, the officers surrounded a tea house next to the Agriculture Bank. The tea house is located on a narrow street about 4 meters wide, with a line of grocery vendors on the street. Some of the policemen were in uniform, and some were in plainclothes. They divided into two groups and blocked both ends of the street, before they started to make the arrests.
When they arrested Yang Rui, in his 30s, from Nanxing Township, Yang resisted and shouted, "The police are arresting (innocent) people!" When Yang refused to go, 7-8 policemen grabbed hold of him, some kicking him, and brought him to Nanxing Township Police Station. When officers handled Luo Shizhao from Guangxing Township, Luo asked why she was being arrested. The police refused to answer and dragged her away. Some bystanders who saw the police using violence said, "[Don't do that.] You just need to ask her to go with you." The police replied, "If you say this again, you will also be arrested."
Ten practitioners and one non-practitioner were arrested in total. They are: Li Dengkun, Carpenter Zhang, Grandpa Tang and Grandma Mao (in her 80s) from Mengyang Township in Pengzhou City; Liu Dongliang (in his 80s and the eldest practitioner arrested that day), Huang Shanzhen and Yang Rui (in his 30s) from Nanxing Township, Guanghan City; Luo Shizhao and a female practitioner in her 40s from Guangxing Township in Guanghan City; and Chen Jianhua from Beiwai County in Guanghan City. The non-practitioner who was arrested, a woman about 60 years old and from Jianyang, had just come to visit her family.
During the arrest, Many photographers were brought in to take pictures. At the police station, all the practitioners were searched and their truth-clarification materials were confiscated. The police also forced each practitioner to have his or her photo taken. From 6:00-7:00 p.m., all the practitioners were released, except Chen Jianhua and Yang Rui. The practitioners who were released were forced to sign an "interrogation statement." Everyone signed except Liu Dongliang.
The police also ransacked the homes of the arrested practitioners. The police took away everything related to Falun Gong and each officer either refused to sign an itemized list of confiscated materials or their signatures were illegible. When they searched the home of Chen Jianhua, Chen's family asked the police to show their IDs. The family warned the police that their actions were illegal and they would sue the police. The police responded, "Go ahead and sue us."
According to local residents, a few days before the arrests, there were plainclothes police officers with mini video cameras recording Falun Gong practitioners in the tea house.
The Detention Notification received by Chen Jianhua's family was illegal. It stated that Chen had violated the Crime Law Article 300; however, Article 300 does not mention Falun Gong at all. There was no name of the staff member in charge of the case and no date.
During the arrest, the police violated multiple regulations of Police Law, including articles 2, 4, 16, 22.5, 22.7 and 23.
Known personnel responsible for the arrests:
Mao Li, deputy director the Guanghan City 610 Office
Wu Ning, director of Nanxing Police Station
Huang Daimin, director of Beiwai County Police Station
Jiang Wenzhong, deputy director of Beiwai County Police Station
Zeng Guanghua, policeman from Nanxin Police Station, from Group 7 in Qixing Village, Nanxing Township
Luo Daoguang, policeman from Nanxing Police Station, from Team 12 of Group 2 in Nanxing Township
Chinese Communist Party members who have participated the persecution of Falun Gong practitioners:
Political and Legal Committee of Guanghan City:
Secretary: Tang Qianjin, +86-13908109093 (Cell)
Deputy secretary and director of the Guanghan City 610 Office: Yang Lin, +86-13908106291 (Cell)
Director of the General Management Office: Huang Ruosong, +86-13700917236 (Cell)
Stability Maintenance Office: Ji Ruliang
Deputy director of the 610 Office: Mao Li, +86-8385225610 (Office), +86-8385350139 (Home), 86-15883603600 (Cell)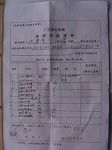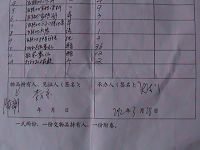 List of the confiscated items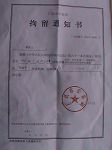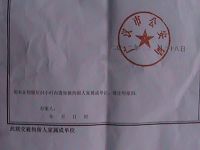 Picture of the Detention Notification