Ms. Zheng Weili Paralyzed as a Result of Torture, Hebei Province Women's Prison Refuses to Release Her
April 16, 2012 | By a Minghui correspondent from Mainland China
Name: Zheng Weili (郑伟丽)
Gender: Female
Age: 52
Address: Qiqihar City, Heilongjiang Province
Occupation: Unknown
Date of Most Recent Arrest: April 23, 2008
Most Recent Place of Detention: Hebei Province Women's Prison (河北省女子监狱)
City: Qiqihar
Province: Heilongjiang
Persecution Suffered: Forced labor, illegal sentencing, hung up by ropes, imprisonment, torture, physical restraint, interrogation, detention
(Minghui.org) Falun Gong practitioner Ms. Zheng Weili, 52, from Qiqihar City, Heilongjiang Province was illegally arrested in April 2008. She became paralyzed at the Zhuozhou Detention Center in Hebei Province as a result of torture. She was later sentenced to seven years in prison and taken to the Hebei Women's Prison in Shijiazhuang City. Ms. Zheng can no longer walk, and she has to crawl to the restroom. She is unable to get into bed on her own, needing someone to lift her. However, the prison authorities have refused to release her.
On April 23, 2008, officers from the Taoyuan Police Station arrested Ms. Zheng from her temporary home in Zhuozhou City, Hebei Province. Prior to the arrest, she had become homeless in an effort to avoid further persecution by the police in her hometown. At the Zhuozhou Detention Center, Shang Haiju, chief of the Domestic Security Division, instructor Yang Yugang, and several other officers tortured Ms. Zheng using various methods, trying to coerce her to give them the names of other practitioners. In one interrogation session, they tied her hands behind her back and hung her up by her arms. Ms. Zheng held fast to her belief, however, and refused to betray other practitioners. As a result of the torture, she is now unable to move her right arm. She also suffered muscular atrophy in both of her legs, and her lower body has become paralyzed.
The Domestic Security Division of Zhuozhou City, Hebei Province and the Qiqihar Police Department fabricated charges against Ms. Zheng, and she was sentenced to seven years in prison. On June 15, 2009. she was transferred to the Hebei Women's Prison. After she was carried through the entrance of the prison, two inmates dragged her into a cell. She cried in pain. Her pants and shoes had come off, and she was lying on the ground. She must now crawl to the toilet and must be carried by inmates to her bed at night.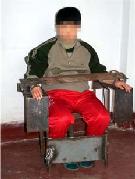 Torture re-enactment: iron chair
On December 20, 2000, Ms. Zheng went to Beijing to appeal for the right to practice Falun Gong, and she was arrested on December 22. She managed to escape but was again arrested in Beijing while hanging truth-clarification banners on a overpass. She was sent to her home town of Qiqihar City. Officers from the Wenhua Road Police Station tortured her with the big hang up and other torture methods. She was subsequently detained at the No. 1 and No. 2 Qiqihar Detention Centers, then in the Qiqihar Labor Camp. During this time, she suffered many forms of torture. On one occasion, the police shackled her to an iron chair for 33 days with her arms, hands, and feet tightly cuffed by metal cuffs. Her hands and feet were also bound together with rope so that she could not stand up, sit up, or kneel down.
In 2003, Ms. Zheng talked to people about Falun Gong in her hometown and was again arrested by police from the Weihua Road Police Station. The guards tortured her for seven days and nights by putting her on the tiger bench. After she was released, the police forced her to leave her home, and she became homeless.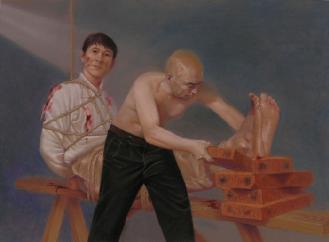 Torture re-enactment: tiger bench
The Hebei Women's Prison is adjacent to the Hebei Women's Labor Camp and is located on southwest Shitong Road in Shijiazhuang City, Hebei Province. Many Falun Gong practitioners have been illegally detained and tortured at this prison. The prison forms so-called "three person groups," whereby they arrange two inmates to watch a single Falun Gong practitioner; the inmates are encouraged to beat practitioners at will. The centers also force practitioners to work long hours, from 7 a.m. until 10 p.m. or midnight.
Department and individuals involved in the persecution of Ms. Zheng Weili:
Domestic Security Division of Zhuozhou Police Department: +86-312-3853255, +86-312-3823088
Shang Haijun, chief
Yang Yugang, deputy chief