Ms. Liu Zhi on the Verge of Death Yet Denied Bail for Medical Treatment
March 07, 2012 | By a Clearwisdom correspondent in Liaoning Province
Name: Liu Zhi (刘志)
Gender: Female
Age: in her 50s
Address: Shenyang City, Liaoning Province
Date of Most Recent Arrest: July 12, 2011
Most Recent Place of Detention: Liaoning Province Women's Prison (辽宁省女子监狱)
City: Shenyang
Province: Liaoning
Persecution Suffered: Imprisonment, torture, deprived of visitation, denial of medical care
(Clearwisdom.net) Falun Gong practitioner Ms. Liu Zhi was arrested on July 12, 2011 at the entrance to her residence by six police officers. She was held at the Liaoning Province Women's Prison. At the time of her arrest she was in perfect health. When her family visited her in prison in September 2011, Ms. Liu was in terrible condition and was in need of emergency medical treatment, yet the prison authorities claimed that she was fine and refused to release her. By November, she said that she had no feeling in her legs and had lost control over her bladder and bowels. Again, the prison authorities denied bail for medical treatment.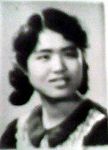 Ms. Liu Zhi when she was young
After Ms. Liu's arrest, family visitations were denied. When family visitation were finally approved in September 2011, Ms. Liu was no longer the healthy person she had been before her arrest. Her head shook involuntarily and constantly, she could no longer speak clearly, she was unable to walk unassisted due to swollen legs and feet, she could no longer tie her shoes, her fists were clenched, she could not raise her arms to head level, and she could not sit upright on the chair and kept falling off.
Her family was dumbfounded and questioned the prison guards. Prison guards Liu Jie and Chen Shuo produced her medical record and claimed that a medical examination had found no illness. They also demanded that the family pay over 460 yuan for the medical examination. When the family asked about the obvious symptoms such as the shaking head and swollen legs, guard Liu Jie insisted that Ms. Liu Zhi had no illness. Her family went to the Liaoning Province Prison Administration Bureau, who gave them an appeals office inquiry letter. The family brought the letter to the prison and requested Ms. Liu's release on bail for medical treatment. Guard Liu Jie and three other guards denied the request and insisted that she was in good health.
On November 28, 2011, when the family visited her again, Ms. Liu told them that she had no feeling in her legs and had not been able to control her bladder and bowels for more than twenty days. At the visitation, Liu Zhi also told her family that she had feces in her pants and she was putting paper towels in her pants to try to stay clean. She also said that she could not turn her body in bed and could not move while sitting on a chair during the day. She used to wear shoe size 38 but now needed size 42. Her knuckles were red and swollen and her hands were shaking when holding the telephone. Her family suspected maltreatment, beating and torture.
When Ms. Liu's second elder brother asked her if anyone in the prison had ever treated her badly, guard Chen Shuo stopped her immediately from responding. Guard Liu Jie and other guards and three inmates were present during the visitation. Several guards were videotaping the visitation. Who is to take the responsibility for Ms. Liu's deteriorating health? Who will be responsible for the consequences?
The family's lawyer told them that the guards, including Liu Jie and Chen Shuo, had violated Criminal Law Article 248, which says that supervisory staff of the prisons and detention centers, and other regulatory bodies who assault or enforce corporal punishment on the detained person are subject to up to three years imprisonment or criminal detention, and, in case of particularly serious offenses, three to ten years' imprisonment. When the offense causes injury, disability, or death, in accordance with Article 234 and Article 232 of the Law, it is punishable by more severe measures. Article 234 states that intentionally causing bodily harm is punishable by three to ten years of imprisonment; causing death or causing serious injury resulting in severe disability is punishable by more than ten years of imprisonment, life imprisonment or death.
Practicing Falun Gong, Curing Diseases, Uplifting Morality
Ms. Liu Zhi had suffered from hardships and illnesses from a young age. When she was 29 years old, her husband, who worked on the railroad, died of a work related injury. At the time, her daughter was only 18 months old. The mother and daughter survived the last twenty years on a small pension from the railroad company. Ms. Liu did not remarry. She suffered many illnesses, including heart disease, hypertension and asthma. Although she was treated for her illnesses she was not cured. Because of a dispute over the compensation for her husband's death, she had lost contact with her husband's parents for more than ten years.
In 1995, Liu Zhi started practicing Falun Gong and lived by the principles of Truthfulness-Benevolence-Forbearance. She always looked within when faced with problems and was considerate of others. She was soon healthy and the relationship with her parents-in-law became harmonious. She held herself to the high standard of a Falun Gong practitioner. She took care of her older sister and younger brother who suffered illnesses. She often cleaned and removed snow in the shared yard. Everyone who knew her praised her as a kind-hearted person.
Her family cannot understand why such a good person has been persecuted to a state of incapacitation and yet has been denied medical treatment. Her family has demanded that
Ms. Liu be released immediately on bail for medical treatment. If the prison authorities keep denying and delaying her medical treatment, her health could deteriorate further. To prevent further deterioration of her health, Ms. Liu family will consider her lawyer's suggestion and file a criminal lawsuit against all the involved prison guards and authorities.