Inner Mongolia Police, Judicial System, and Procuratorate Ignore the Law and Falsely Accuse Ms. Ren Suying
March 06, 2012 | By a Clearwisdom correspondent from Inner Mongolia, China
Name: Ren Suying (任素英)
Gender: Female
Age: Unknown
Address: Jianchangying Village, Yuanbaoshan District, Chifeng City, Inner Mongolia (内蒙古赤峰市元宝山区建昌营村)
Occupation: Unknown
Date of Most Recent Arrest: April 19, 2011
Most Recent Place of Detention: Wudan Town Detention Center in Ongniud Banner (翁牛特旗乌丹看守所)
City: Chifeng
Province: Inner Mongolia
Persecution Suffered: Slapped on the face with a shoe, interrogation by torture, brutal beatings, electric shocks, bamboo inserted under fingernails, iron chair torture, detention, illegal trial
(Clearwisdom.net) Falun Dafa practitioner Ms. Ren Suying was arrested early on the morning of April 19, 2011, in Wudan Town, Ongniud Banner, by local police led by Liu Caijun and was brutally beaten. In November 2011, she was summoned for a hearing by the Court of Ongniud Banner in Chifeng City. She was represented by a lawyer who pleaded not guilty on her behalf. Her husband, Mr. Ren Liyou, sued Liu Caijun for the crimes he committed against his wife. The Court of Ongniud Banner evaded the lawsuit.
Ms. Ren Suying Lost Consciousness Due to Brutal Beating
Ms. Ren lost consciousness after she was brutally beaten, shocked with electric batons, handcuffed to an iron chair for seven days, and had her fingernails stabbed with bamboo sticks by officers led by Liu Caijun, chief of the Domestic Security in Ongniud Banner. Liu hit her head with his fists, kicked her, and hit her with a water bottle, resulting in black bruises all over her body. Because of long periods of beatings and shackling, her right shoulder became infected and her left foot was seriously injured.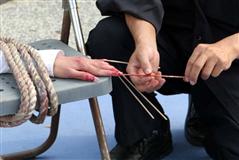 Torture reenactment: Stabbed with bamboo sticks
Ms. Ren on Trial
After Ms. Ren was detained for seven months, on November 1, 2011, at about 10:00 a.m, she was summoned by the Court of Ongniud Banner for a hearing. Her lawyer, who was from Beijing, pleaded not guilty for her.
In collaboration with the 610 Office in Ongniud Banner Court, the Procuratorate, and the police department attempted to hinder the defense. Nonetheless, the lawyer pleaded not guilty for Ms. Ren. In the middle of the trial, the judge suddenly called a halt and adjourned the proceedings.
Ms. Ren's Family Sued the Police for their Criminal Acts
During the hearing, Ms. Ren's husband became very upset when he learned of the torture that Liu and other officers had inflicted on his wife. He knew that his wife was innocent. He went to the Procuratorate in Ongniud Banner and filed a lawsuit against Liu Caijun for extorting a confession from his wife with torture, and brutal beatings. The Procuratorate refused to process the lawsuit.
Authorities Attempted to Evade Ms. Ren's Family When They Inquired about the Lawsuit
On December 23, 2011, Ms. Ren's husband telephoned the Court of Ongniud Banner to inquire about the progress of his wife's case. During the previous hearing, after listening to the lawyer who pleaded not guilty for his wife, he knew that she hadn't broken any laws. She should have been acquitted by the court that very day, but it had been more than a month since the hearing, and her case was not progressing. Mr. Ren was hoping the court would release his wife so that they could be together. A court clerk told him that her case had been transferred to the Political and Judiciary Committee. When Mr. Ren phoned the committee, no one picked up the phone. Mr. Ren discussed the matter with his relatives and they decided to go to the court to find out what had really transpired.
On December 26, several of Ms. Ren's relatives went to the court in Wudan Town in Ongniud Banner and spoke with Yang Jingcheng, chief judge at the court. Yang lied to them, saying that he had no authority over her case. He said there had been five Falun Gong-related cases and he couldn't make a determination on any of them. He said Ms. Ren's case had been transferred to the People's Intermediate Court in Chifeng City.
Ms. Ren's relatives believed him and went to the Political and Judiciary Committee, where they were received by an office clerk. They asked the clerk whether they had received a lawsuit against Liu Caijun for beating and torturing Falun Gong practitioner Ren Suying. The clerk said he had never heard of such a case. Evidenced by the twists and turns that Ms. Ren's relatives were put through, the Communist authorities had just "passed the buck."
Ms. Ren's relatives went to visit her in the detention center, but the guards there wouldn't let them see her.
On December 27, Ms. Ren's relatives again went to the People's Intermediate Court in Chifeng City. They spoke with the pertinent individuals and asked them about her case. They all said they had never heard of it. One of them later called Yang Jingcheng, the chief judge, to ask whether Ms. Ren's case would be heard in Courtroom One or Courtroom Two. Yang said he had not sent the case out yet. Yang had obviously been lying all along. Not only did he not release Ms. Ren, but he also tried to cover up Liu's criminal acts. When Ms. Ren's relative asked Yang Jingcheng why he lied to them, he hung up.
In February 2012, the Chifeng City Ongniud Banner Court sentenced Ms. Ren Suying to five years in prison. She is appealing the verdict.
(See http://www.minghui.org/mh/articles/2012/2/26/253530.html)
Related report:
Ms. Ren Suying's Family Sued the Police in Inner Mongolia for Torture (http://www.clearwisdom.net/html/articles/2012/2/10/131382.html)