Mr. Fu Xinli Died after Being Persecuted for Over 10 Years (Photo)
March 04, 2012 | By a Clearwisdom correspondent from Shandong Province
Name: Fu Xinli (傅新立)
Gender: Male
Age: 47
Address: Daqinjia Village of Zhaoyuan City, Shandong Province
Date of Death: October 25, 2011
Date of Most Recent Arrest: November 25, 2008
Most Recent Place of Detention: A brainwashing center affiliated with the 610 Office
City: Zhaoyuan City
Province: Shandong
Persecution Suffered: Brainwashing, beatings, torture, force-feeding, physical restraint, detention
(Clearwisdom.net) Mr. Fu Xinli, a practitioner in Zhaoyuan City, Shandong Province, was persecuted by the Chinese Communist Party (CCP) officials for the past 12 years. After he was forced to stay away from home for four years, the police arrested him and tortured him. His health, which he had never recovered, became even worse, leading to his death on October 25, 2011.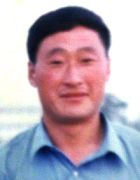 Mr. Fu Xinli
Mr. Fu, 47, was from Daqinjia Village in Zhaoyuan City, Shandong Province. His entire family, approximately 10 people, began to practice Falun Gong in 1996, and all of them benefited. His father, Fu Xibin, used to have stomach cancer and miraculously recovered after he started the practice. His mother, who also had many illnesses, became healthy.
After the CCP began to persecute Falun Gong, Mr. Fu's entire family suffered: his eldest sister, Fu Jinxia, was sent to a forced labor camp for a term of two years; his second eldest sister, Fu Caixia, was forced to stay away from home for five years and her husband was sent to Wangcun Forced Labor Camp; his younger sister, Fu Yingxia, and husband, Wang Yanqing, were forced to stay away from home for three years, arrested, sentenced to 8 and 9 years of imprisonment respectively, and incarcerated in the Shandong Province Prison; Mr. Fu himself was forced to stay away from home for four years starting in 2001.
After numerous incidents of detention and torture, Mr. Fu's father died in 2003. His mother, who was already in her 70s, had to help take care of her grandchildren. Nevertheless, Zhaoyuan City 610 Office agents continued to harass them, especially Mr. Fu and Ms. Fu Caixia, by attempting to arrest them again and again.
When Mr. Fu was forced to stay away from home, he still had to provide for his son and daughter—two high school students—and also needed to look after his nephews and nieces as well as his mother. Every day he had to dodge the police just to earn a living for the family. His life was miserable during those four years, and he often had to sleep in the fields in the countryside.
When he heard that his father had passed away, Mr. Fu wanted to go home and see him for the last time before the cremation. However, agents from Zhaoyuan 610 Office and Daqinjia Police Station had already surrounded his home and were waiting for him on all the nearby roads. As the only son, Mr. Fu was very sad that he could not see his father one last time.
On one occasion, Mr. Fu missed his family so much that he returned home in the middle of the night. The police found out and came to arrest him. He was forced to jump down from the top of the bungalow and ran more than 20 kilometers barefooted to escape. By then, both of his feet were already torn and bloody.
The police arrested Mr. Fu late on the night of June 16, 2005. Agents from 610 Office tortured him so brutally in the Zhaoyuan Police Department that, in desperation, he jumped out of the building from the fifth floor. (Note from the editor: This tragedy was the result of CCP brutality. However, such extreme behavior is against the principles of Falun Gong.) He sustained serious injuries to his head, neck, and arms, as well as broken ribs and a damaged pancreas. His face was sewed up with many stitches, and he was in critical condition.
The 610 Office agents did not notify his family, nor did they allow his family to visit. When Mr. Fu was in a coma and could not eat, he was force-fed as an additional way to torture him. The 610 Office assigned 16 police agents to watch him in four shifts, four people per shift. They played poker, smoked cigarettes, and made noise, not allowing Mr. Fu to rest. The police did not release him until his illnesses were beyond cure.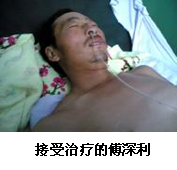 Mr. Fu in the hospital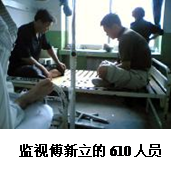 Police agents who watched Mr. Fu in the hospital
When Mr. Fu returned home on July 10, 2005, he was in miserable condition: he was very skinny, his face was mangled due to the numerous stitches, he had two steel plates in his arms, his heart was damaged, and his lungs were perforated and in very poor shape. For quite a long time, he was unable to get out of bed and needed to be taken care of. He continued to practice Falun Gong and gradually began to recover. However, he was unable to work and was often short of breath.
Despite the heavy burden on the family, the police arrested Mr. Fu once again on November 25, 2008, together with his sister, Ms. Fu Caixia. Ms. Fu Caixia was sent to the women's prison in Jinan City, while Mr. Fu was detained in a brainwashing center affiliated with the 610 Office. Thugs handcuffed him to heating pipes and did not allow his family to provide food or water for nine days. They did not release him until he was in a life-threatening situation and unlikely to recover. After undergoing this long period of mental and physical torment, Mr. Fu died on October 25, 2011.
People responsible for persecuting Mr. Fu:
Jiang Zhongqin, deputy head of Political and Judicial Bureau of Yantai City: +86-535-8236878 (Home), +86-535-6789698 (Office), +86-13706458666
Zhaoyuan City Police Department: +86-535-8213885
Sun Baodong, head of police department: +86-13906389386
Domestic security division: +86-353-8242287
Hou Yunxian, head of domestic security division: +86-535-8258610 (Office), +86-13906458699
Linglong Brainwashing Center: +86-535-8393630
Song Shuqin, person in charge of the brainwashing center: +86-535-8364552
(For more perpetrators' contact information, please refer to the original Chinese article)