Hebei Province 610 Office Arrests Over 30 Falun Gong Practitioners in Shijiazhuang City
March 23, 2012 | By a Minghui correspondent from Hebei Province, China
(Minghui.org)
On February 25, 2012, over 30 Falun Gong practitioners from Shijiazhuang, Tangshan, Baoding, Cangzhou, Botou, Xuanhua were arrested at the same time by the police. According to inside information, the Hebei Province 610 Office ordered this massive arrest prior to the "CCP's 18th National Congress," one of the so-called sensitive dates. The 610 Office ordered police from different areas and levels in Hebei province and the public security department to use any and all means of espionage such as monitoring Falun Gong practitioners' telephones and following them.
Below are details about the February 25 arrests in Shijiazhuang City. Many of the practitioners who were arrested also had their homes ransacked and personal items and money confiscated by the police officers for their personal use.
1. Ms. Qiu Liying is 48 years old, and a former accountant at the Shijiazhuang refinery factory. On February 25 at 7 a.m., she was arrested at her mother's home. Some neighbors witnessed her arrest and heard Qiu Liying reprimanding the police in front of the building. Her whereabouts are still unknown. Qiu Liying's family members also reported that her home had been raided and many personal items confiscated. This is the eighth time that Ms. Qiu Liying has been unlawfully arrested by CCP officers.
2. Ms. Sun Tao, is 40 years old, and teaches at the City and Country Construction School in Hebei Province. Sun Tao and another practitioner Ms. Qi Guoqin were both arrested on the morning of February 25, 2012 and have been detained at the Dongjiao Police Station in Shijiazhuang City. Their homes were raided and some of their personal belongings were confiscated, including Sun Tao's personal car. This is the fifth time that Sun Tao has been arrested for her belief in Falun Gong.
3. Ms. Qi Guoqin was arrested together with Sun Tao and both were detained at the Dongjiao Police Station in Shijiazhuang City. According to notification on February 27, Ms. Qi Guoqin was transferred to the Domestic Security Team in the Yuhua District.
4. Ms. Yin Yanxin, is almost 70 years old, and is a retired employee of the Airplane Manufacturing Factory. On February 25 around 7 a.m., Yin Yanxin and her husband Liu Rongfa were cooking breakfast at home, when suddenly the electricity went out. Yin Yanxin went outside to check the electric switch and as soon as she opened the door, plainclothes policemen broke into her home. They searched the home without showing any ID or search warrant. They stole one laptop, one cell phone, one voice phone, dozens of Dafa books, 100 yuan bills with truth-clarifying messages, one mp3 player, one e-book reader, over 20 Shen Yun Performing Arts DVDs and dozens of CD cases.
Yin Yanxin has since been released. This was the fifth time that she was unlawfully arrested. According to inside information, team leader Zhu from Shijiazhuang Xinhua Police Department and chief Dong from the Shigang Street Police Station executed the arrests. Liu Rongfa and Yin Yanxin clarified the facts to the police and warned them that persecuting good people would have negative consequences. But they did not listen, and instead arrested Yin Yanxin and took her to the Shigang Street Police Station.
5. Mr. Chu Qingxi, is 38 years old, and is self-employed. He was unlawfully arrested and held at a detention center. This is the third time he has been arrested. His home was raided and many items confiscated. The details of his whereabouts are still unknown.
6. Mr. Ma Zongqi is from Beiwangzhuang Village, Zhoujiazhuang Town, Jinzhou City. On the morning of February 25 at eight o'clock, he was arrested at the New Century Shopping Center. Sources say the police from Shijiazhuang City went to Jinzhou City and illegally arrested him. He is currently detained at the Jinzhou City Detention Center.
7. Wei Hong disappeared on February 25 and her whereabouts is still unknown.
This is very similar to the CCP orchestrating mass arrests prior to the Beijing Olympic Games in 2008 and before the conference of National People's Congress in 2011. This is meant to intimidate the Chinese people, and keep them from appealing on the CCP's so-called sensitive dates. According to incomplete statistics, nearly 200 Falun Gong practitioners in Shijiazhuang City were arrested by the CCP prior to and during the Beijing Olympic Games in 2008. Approximately 40 practitioners from Shijiazhuang City were also arrested during the CCP's National People's Congress in 2011.
Most of the practitioners who were arrested this time were well known by the police as they had been targeted for persecution many times. These Falun Gong practitioners do not get involved in politics nor do they pursue fame and personal interests as the CCPs propaganda claims. Instead they selflessly try to clarify the facts to the Chinese people who have been deceived by the CCP. Falun Gong practitioner Qiu Liying said, "I went through many tribulations. My family is broken and I have nothing. But I do not regret it because if my suffering and tribulations could wake up the Chinese public's conscience and if the law enforcement departments could re-examine the facts about Falun Gong, then I would have suffered so that people's lives would be saved."
Falun Gong practitioner Qiu Liying from Shijiazhuang City is a former accountant of the Shijiazhuang Refinery Factory. After learning Falun Gong, the many illnesses she had before such as severe anxiety, arthritis, heart disease, breast tumors and others all disappeared. Her moral standard greatly improved as well. She did not count the gains and losses at work and instead worked diligently. Only when she appealed against the persecution of Falun Gong, was she then fired. She has been detained many times and persecuted at the CCP's forced labor camp and brainwashing centers. She suffered from brutal beatings, force-feeding, handcuffing behind the back and other serious tortures. She was put into a mental hospital, tortured with electric shock needles, and forced to take drugs that destroyed her central nervous system.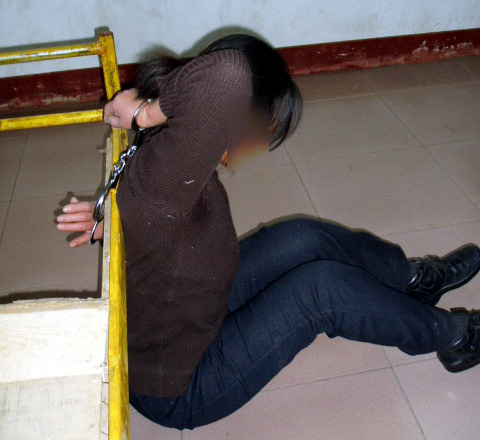 The CCP persecutes Falun Gong practitioners in violation of the Chinese constitution and the law. For example, in September 2007, Qiu Liying was arrested simply because she audited a court trial against Falun Gong practitioners. In addition, the Sifang police station arrested Qui Liying first, and then tried to find an accusation against her afterwards. A head of the legal affairs section in Chang'an Police Station asked if Qiu Liying still practiced Falun Gong. She was told that if she did not practice Falun Gong anymore, they would not send her to the forced labor camp. In April 2004, Hedong Police Station from Shijiazhuang City arrested Qiu Liying and then fabricated false statements and evidence to sentence her to forced labor. In October 1999, Qiu Liying had been sentenced to three years of forced labor simply because she stood on Tiananmen Square in Beijing and when the police asked her if she practiced Falun Gong, she said yes.
In November 2007, Qiu Liying sued the Shijiazhuang City Forced Labor Camp Bureau. The CCP forced labor camp interfered and not only followed, but intimidated Qiu Liying's attorney to stop him from advocating Qiu Liyings' case.
Seventy-year-old Falun Gong practitioner Yin Yanxin, a retired worker at the Shijiazhuang Airplane Manufacturing Factory, was also arrested on February 25, 2012. Yin Yanxin had many illnesses such as hyperostosis before practicing Falun Gong. Shortly after she learned Falun Gong in 1994, all her illnesses disappeared. She is very kind and is well-respected by her neighbors and relatives. This is the fifth time that she has been arrested. The last time she was arrested was during the Beijing Olympic Games in 2008. The CCP felt threatened by a 70-year-old woman and imprisoned her in a forced labor camp. With help from many people around the world, she was finally released recently.
Falun Gong practitioner Sun Tao from Shijiazhuang City was arrested on February 25, 2012. He is a university teacher from Hebei City and Country Construction School in Hebei Province. He is over 40 years old and is the backbone of the school. He also has a harmonious family. He had already been arrested and detained four times, including being sent to a forced labor camp twice and a brainwashing center once. Sun Tao also became homeless and destitute for a year. During imprisonment, he suffered many brutal tortures.
Detailed information regarding the persecution that Falun Dafa practitioners from Shijiazhuang City have suffered has been recorded in the list below.
Download attachment(97KB)
Personnel who participated in the persecution on Falun Gong practitioners
(Please refer to the original Chinese text for more names and telephone numbers)
Li Jianfang, the Head of the Hebei Province 610 Office
Zhang Guojun, the Head of the Hebei Province 610 Office: +86-311-87906310 (Office), +86-311-87906898 (Home)
Zhang Yue, member of the Standing Committee of Hebei Province, party secretary of the Hebei Province Political and Legal Committee, party secretary and head of the Hebei Public Security Bureau, the First Political Commissar of Armory Police in Hebei Province, first party secretary of Hebei Province.
Fu Jianren, deputy party secretary of the Political and Legal Committee in Hebei Province, director of the Hebei Province Social Stability Office
Liu Zhipeng, party secretary of the Shijiazhuang City Political and Legal Committee, chief of Shijiazhuang City Police Department, former chief of the Tangshan City Police Department
Liang Jianbin, head of the Shijiazhuang City 610 Office: 86-311-86686716 (Office), 86-311-85804135 (Home), 86-13653312118 (Cell)
Li Jinlu, former Shijiazhuang City CCP Standing Committee member, party secretary of CCP Political and Legal Committee in Shijiazhuang City (later the position was taken by Zhang Tieli)
Lu Junying, deputy director of Shijiazhuang City 610 Office, deputy party secretary of Shijiazhuang City Political and Legal Committee, and director of the Shijiazhuang City Politics Department: 86-311-86686706
Li Jianfang, head of the Hebei Province 610 Office (he participated in the recent persecution on Falun Gong practitioners)
Xinji City Police Department in Shijiazhuang City
Li Xiaofeng, deputy captain of the domestic security brigade in Xinji City Police Department, Hebei Province. He is one of the main persons who led the persecution against Falun Gong practitioners: 86-13933167196 (Cell)
Wei Chaohui, captain of the domestic security brigade in Xinji City Police Department, Hebei Province. He is one of the main persons who led the persecution against Falun Gong practitioners: 86-13930125316 (Cell)
Other related personnel
Ye Ketian, the deputy party secretary of Shijiazhuang City CCP Political and Legal Committee and the director of the Shijiazhuang City Social Stability Office
Jia Qiaoxiu, deputy director of Shijiazhuang City Comprehensive Management Office
Ai Wenli, acting major of Shijiazhuang City