Mr. Li Xinliang from Donggang, Liaoning Province Died as a Result of Torture and Severe Abuse during Years in Detention
March 23, 2012 | By a Minghui correspondent in Liaoning Province, China
Name: Li Xinliang (李新良)
Gender: Male
Age: 52
Address: Dadong Town, Donggang City, Liaoning Province
Occupation: Unknown
Date of Death: January 25, 2012
Date of Most Recent Arrest: August 2005
Most Recent Place of Detention: Shenyang No. 1 Prison (沈阳第一监狱)
City: Shenyang
Province: Liaoning
Persecution Suffered: Brainwashing, illegal sentencing, beatings, hanging up by handcuffs, imprisonment, torture, extortion, home ransacking interrogation, detention
(Minghui.org) Mr. Li Xinliang, a 52-year-old Falun Gong practitioner from Donggang City, Liaoning Province, started to practice Falun Gong in 1997. After the Chinese Communist Party (CCP) began to persecute Falun Gong more than 12 years ago, Mr. Li endured years of persecution for his belief. He died on January 25, 2012 as a result of torture and severe abuse suffered in Chinese Communist prisons. Below are some of Mr. Li's experiences of persecution, as recalled by others.
Abused in Detention in 2001
Agents from the Donggang Police Department and the Huayuan Police Station arrested Mr. Li in July 2001 and kept him at the Donggang Detention Center. Guard Li Yongan ordered inmates to beat him brutally, especially his ears and ribs. The inmates also prohibited Mr. Li from using toilet paper, forcing him to clean himself with water. The inmates surrounded him and laughed at him, insulting him with profanities. They did not let him clean himself thoroughly either. This happened repeatedly for more than 40 days. Mr. Li was emaciated by the time he was released on bail.
Arrested and Sent to Brainwashing Center
In September 2001, two months after Mr. Li's release, the Donggang Police Department arrested him again and sent him to a brainwashing center.
Brainwashing center personnel used brutal means to force practitioners to renounce Falun Gong. Staff members included Wang Jinkai (610 Office head), Zhao Yulong, Wang Runlong (from the Political and Security Agency), as well as other officials from townships and police stations. They forced practitioners to watch slanderous videos and to write the Three Statements renouncing their belief. Mr. Li was held at the brainwashing center for two weeks.
2002 Arrest
Agents from the Donggang State Security Bureau followed Mr. Li in April 2002 when he visited his sister. When he returned home at 10 p.m. Zhou Hengchen, Wang Runlong and other officials surrounded his home and pounded on the door. Dozens of agents rushed in, tied him up and ransacked his home. Mr. Li made a living by selling paper products including toilet paper and napkins. The police even took all the toilet paper and napkins in stock.
They took Mr. Li to the Huayuan Police Station and held him in a metal cage. They forced him to stand barefoot on a metal plate, with both arms stretched out and bound apart to the top of the cage. His body was raised, with only his toes touching the cage bottom. The guards also deprived Mr. Li of food and water for 24 hours.
Mr. Li Xinliang was sent to the Donggang Detention Center the next evening. Wang Runlong ordered guard Wang Deyou to stop providing food and to not give him a blanket. Under instructions from the authorities, inmates threw Mr. Li into a large container of cold water to freeze him. They dragged him out after several hours and abused him further. This continued for the whole night. They also did not give him Mr. Li any from April 4 until the morning of April 6.
Further Brutality
Several days after Mr. Li was detained, several more Falun Gong practitioners in Donggang City were arrested. Agents from the Donggang 610 Office and the Donggang Police Department ordered Mr. Li to turn in other practitioners. Political Security head Wang Runlong told him, "We will release you if you turn in others. Then you can go around to 'reform' them." He even offered living expense and other financial incentives if Mr. Li agreed.
When Mr. Li refused, Wang Runlong ordered guard Wang Deyou to torture and interrogate him. During the interrogation Wang slapped Mr. Li's face and then beat him with a whip. Wang continued to beat him, even on the way back to the cell. Mr. Wang fell in the bathroom and vomited blood.
Wang continued to beat Mr. Li and ordered the inmates to do the same. After they were worn out, Wang kicked Mr. Li's legs hard with heavy boots.
Contracted Hepatitis as a Result of Torture, and Imprisonment for Seven Years
During Mr. Li Xinliang's detention, Wang Runlong fabricated false evidence against him and submitted it to the Donggang Procuratorate, in order to convict him. When Procuratorate officer Qu Guangwei interrogated Mr. Li, Li denied the false charges and was again brutally beaten.
As a result of the ongoing abuse, Mr. Li developed hepatitis. However, the detention center officials did not notify his family, nor did they provide medical help. Due to ongoing brutality and illness, Mr. Li eventually lost the ability to talk.
Mr. Li was sentenced in June 2002 along with Liu Mei, Zhu Changming, Lian Ping and other Falun Gong practitioners. Agents from the Donggang Police Department, the Huayuan Police Station and the detention center handcuffed the practitioners with their arms behind their backs and drove for more than 40 minutes to Dandong City. A public sentencing "event" was held in front of the Dandong Police Department, resulting in Mr. Li receiving a seven-year prison sentence. He was sent to Dabei Prison in Shenyang City.
Tortured to a Life-threatening Condition
Officials continued to try to brainwash Mr. Li after he was sent to prison. He was held in an "intensified unit" and tortured on a device known as the Stretching Bed.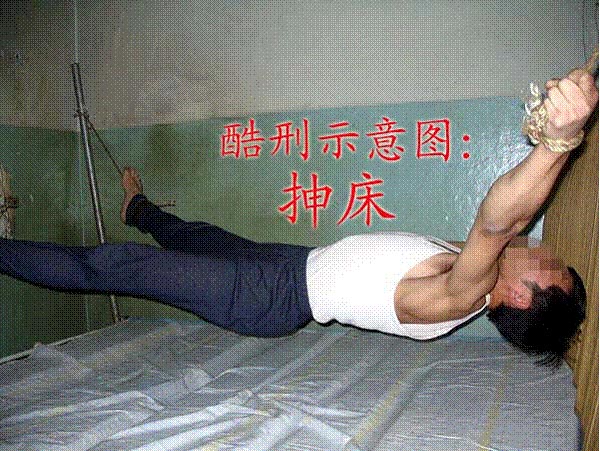 Guard Liu Zhensheng ordered an inmate to stab Mr. Li with needles in sensitive acupuncture points. They caused him excruciating pain, trying to force him to give in and renounce Falun Gong. One of the inmates, a former acupuncture doctor, demanded several other inmates to restrain Mr. Li's hands, then applied needles at both at two very sensitive acupuncture points simultaneously. He also inserted needles at the meridian joints for more than 20 minutes. Mr. Li lost consciousness for one or two minutes due to the pain.
Mr. Li's physical condition deteriorated due to the ongoing torture and abuse. He was diagnosed with tuberculosis in 2003 and sent to the prison hospital. Even then, the guards still forced him to do physical labor for the medical staff. His illness became worse, until he was unable to eat and he kept vomiting. In the end, he eventually vomited blood and gallbladder fluid. This continued for one month. He lost consciousness several times. The authorities realized that Li Xinliang would be unable to live long, and released him in late 2003.
Financial Persecution
When Mr. Li was in the prison hospital, his family was forced to pay more than 10,000 yuan for medical expenses. Even though he lived at home between late 2004 and August 2005, the persecutors nonetheless extorted 3,500 yuan every six months, amounting to more than 10,000 yuan in total. The heavy financial and psychological burden eventually resulted in Mr. Li suffering a mental collapse. His family sent him to a mental hospital, which added another 10,000 yuan to their already high medical expenses.
Sent to Prison Again
Donggang Police Department agents constantly harassed the hospitalized Mr. Li. Officials from Shenyang First Prison even went to the Changshan Mental Hospital in Donggang City many times, to secretly observe Mr. Li's condition. In August 2005 the authorities sent him to Shenyang First Prison again, ostensibly for a physical examination. Mr. Li kept vomiting during the trip and lost consciousness. On arrival he was immediately sent to the prison hospital.
When Li Xinliang was in the prison hospital, Guo Yongsheng, an official in charge of persecution, did not allow anyone to come in contact with him. He also ordered inmates to watch him closely. Mr. Li was sent to an "intensified unit." When he vomited blood, the persecutors sent him to the prison hospital for IV injections and then sent him back to the "intensified unit."
Mr. Li vomited constantly after he was released from the "intensified unit," regardless of what he ate. He was sent to hospital again in June 2007 and sent back to his cell in February 2008. When his condition became more and more severe, he was sent to the Shenyang Tenth Hospital for an examination. The diagnosis was shrinkage of the left lung, hydrothorax, and adhesions. He was again sent to the prison hospital.
During the period of the Beijing Olympics, prison officials treated Falun Gong practitioners more brutally. Mr. Li was forced to do hard labor with other inmates, but they did not allow him to sleep in the cell, afraid that his TB would spread to other inmates. He was therefore forced to sleep in the work area, without bedding, on the cold concrete floor. This continued until February 2009, when his term expired and he was released.
After Mr. Li returned home, Donggang City CCP agents kept monitoring and harassing him. By now he had no income and his physical condition continued to deteriorate to the point that he could not recover his health. Mr. Li Xinliang died on January 25, 2012.