Chengdu Teacher on the Verge of Death after Being Persecuted
March 02, 2012 | By a Clearwisdom correspondent from Sichuan Province, China
(Clearwisdom.net) On December 14, 2011, Chengdu teacher Ms. Liu Hui was illegally arrested at her home by officers from the Fuqin Police Station in the Jinniu District. Ms. Liu went on a hunger strike to protest her arrest. As of February 3, 2012, the hunger strike had lasted for 50 days. She is currently being held at the Xinhua Community Health Services Center in the Qingyang District – a prison hospital for detainees in the Chengdu City Detention Center. Ms. Liu is in critical condition.
The Xinhua Community Health Service Center, formerly Qingyang District People's Hospital, has been working with the Chengdu 610 Office and the Political and Judiciary Committee in the torture and killing of Falun Gong practitioners. In the hospital, many practitioners are subjected to forced-feeding and drug injections that damage the nervous system. More than ten practitioners have been persecuted to death in this hospital, including Fang Xianzhi, Zhang Chuansheng, Shen Lizhi, Huang Lisha, Hu Hongyue, Gu Chuanying, Chen Guijun, Duan Shiqiong, Deng Jianping, Zhao Zhongling, Huang Min, and Zhou Huimin.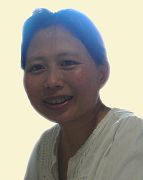 Ms. Liu Hui
Ms. Liu was born in January 1972. She was formerly a teacher at Jinqin Road Elementary School. During the last ten plus years of the persecution of Falun Gong, she has been arrested and detained many times. Ms. Liu has been held in a forced labor camp, a prison, and a brainwashing center. She has been subjected to many different types of torture, which have led to multiple kidney failures and other problems with her internal organs, and she has almost died. Her husband divorced her, and her five-year-old son was not allowed to stay with her. She was fired from her job, her residential registration was canceled, and her identification card was taken away.
Ms. Liu was incarcerated in the Chuanxi Women's Prison from 2002 to 2006. She was tortured for being steadfast in her belief. Despite the mistreatment, she still clarified the truth to the guards and inmates with a peaceful and kind heart.
Ms. Liu was transferred to the Xinjin Brainwashing Center on October 11, 2006, after finishing her prison sentence, which lasted more than three years. She kindly clarified the truth, but she also gave warnings.
The following is an account of Ms. Liu's persecution experiences over the last 12 years.
A New Life from Practicing Falun Gong
In 1991, Ms. Liu underwent laser eye surgery. However, the surgery was unsuccessful and it caused severe problems in both of her eyes. The doctor told her that they were unsure of the cause and that she might lose her sight in the future. She had to cover her eyes with bandages every night, and her temperament gradually worsened.
Ms. Liu started to practice Falun Gong in November 1997. After reading Zhuan Falun twice, she woke up one morning and realized that she no longer needed the bandages on her eyes. Her seven-year-long eye problems had disappeared. After one month of practicing, all of her illnesses had disappeared, including gastritis, arthritis, and dermatitis. Moreover, she changed her old habits of being impetuous, selfish, and unkind. She started being nice to others, and she became patient and tolerant. The relationship with her students also greatly improved.
Fired from Work and Long-Term Persecution for Clarifying the Truth
On New Year's Day in 2000, Ms. Liu was arrested by the Xiangnongshi Police Station for her attempt to go to Beijing to appeal for the right to practice Falun Gong. She was held in a detention center for 15 days. When she refused to read newspapers that slandered Falun Gong, she was beaten and kicked by the guards and forced to stand for long periods of time. In order to prevent her from doing the Falun Gong exercises, she was handcuffed and shackled for 30 days. She was finally released after 32 days of detention. The police ordered her family to not let her out of the house. In February 2000, Ms. Liu escaped from home and went to Beijing to appeal. Her school ordered her to pay a 30,000-yuan fine.
In March 2000, Ms. Liu was taken back to Chengdu and detained for 45 days. Later on, she refused to appear in a program that slandered Falun Gong on the Sichuan Province Cable Television Station. She was arrested and taken to the Jinniu District Brainwashing Center. Her four-year-old son was not allowed to go to kindergarten. In May 2000, Ms. Liu was allowed to return to work after much negotiation. However, she was not allowed to teach, but was instead only allowed to do cleaning and had some of her financial compensation taken away. The school administration sent people to monitor and follow her. Her colleagues did not dare to talk with her. Her home was monitored and the police went to her house at will. Her son was terrified.
On May 20, 2000, Ms. Liu took her son to a park and chatted with a practitioner. She was arrested on the charge of "unlawful assembly" by officers from the Jiangxi Street Police Station and taken to Xiangnongshi Police Station. She was detained for 30 days because she refused to give a false confession. She was handcuffed and shackled in the detention center for doing the Falun Gong exercises. When she began a hunger strike to protest the illegal detention, the guards force-fed her using a long, thick tube. When the tube was pulled out the next day, it was covered in blood. Ms. Liu developed a fever and had difficulty breathing.
In early July 2000, Ms. Liu went to visit her husband, who was working out of town. Officer Cai from the Xiangnongshi Police Station called her husband's employer several times and threatened him, saying that he might lose his job. Out of fear, Ms. Liu's husband divorced her.
On July 9, 2000, Ms. Liu took her four-year-old son to a practitioner's home. Officers from the Citang Street Police Station broke into the practitioner's home and arrested Ms. Liu for not having an identification card, even though Ms. Liu told them that her card had already been confiscated by the local police station. In the station, the officers shook her back and forth, twisted her arms, and verbally abused her for over ten hours.
Ms. Liu and her son were taken to the Xiangnongshi Police Station later that night and locked up. Ms. Liu and her son had not had any food or water. She asked the officers to release them, but the officer on duty got angry and shoved Ms. Liu. Her son cried and ran to her, but the officer struck him. The little boy fell down and landed on the back of his head. The police station director, Wu Bo, pulled Ms. Liu's arms behind her back and handcuffed her wrists.
On July 19, 2000, Ms. Liu went to the Chengdu Appeals Office to report the July 9 illegal detention and violence perpetrated on her and her son by the Citang Street and Xiangnongshi Police Stations. The Appeals Office secretly passed her letter over to the Xiangnongshi Police Station. The Xiangnongshi Police Station arrested Ms. Liu on the false charge of "distributing flyers on the Yingmenkou Pedestrian Overpass." Ms. Liu was detained for 30 days, and she began a hunger strike to protest the illegal detention. The guards ordered several inmates to hold her down on the ground, step on her arms and feet, and force-feed her. In order to make her suffer more, they force-fed her with a big container of porridge. After the force-feeding, Ms. Liu had a fever, vomited blood, her esophagus and mouth festered and blistered, and she developed lumps all over her body.
Held in a Forced Labor Camp
On February 6, 2001, Ms. Liu was arrested by officers from the Qingyang Street Police Station for distributing truth clarification materials about the staged Tiananmen Square self-immolation incident. The officers beat and kicked her and seized her cash and other personal belongings. In the detention center, Ms. Liu began a hunger strike to protest the illegal detention. The guards handcuffed her hands behind her back and force-fed her through a nose tube; they did not pull the tube out after the force-feeding. Later on, several guards threw her to the ground, grabbed her by the nose, and choked her. They then pried her mouth open with a spoon and bamboo rods and force-fed her.
On March 9, 2001, Ms. Liu was sentenced to 18 months in the Nanmusi Women's Forced Labor Camp in Zizhong County, Sichuan Province. In the camp, the guards instigated the drug-addicted inmates to beat her during the force-feedings. They hit her in the face with spoons, fed her hot pepper water and cold oil, suffocated her for long periods of time, pinched her nose, poured water over her, and verbally abused her. Ms. Liu's face was bruised and her teeth loosened. They forced her to sit on a tiny stool from morning until night, and forced her to stand in the sun during the heat of summer. Ms. Liu was deprived of sleep and forced to sit or stand for long periods of time until she fainted. She was beaten and shocked with electric batons. After six months on a hunger strike, she was very weak and emaciated and was often unable to see. One day whe she fainted while being tortured, the back of her head slammed against the edge of the bed, and her head was cut open. The camp authorities called her family to pick her up and take her home.
Four days later, the Xiangnongshi Police Station came and took Ms. Liu back to the forced labor camp, saying that she had not met all the requirements for release. The officers simply ignored the pleas of Ms. Liu's family. Ms. Liu's diastolic blood pressure was only 15–20 mmHg at the time, and it was difficult to draw blood from her. Several of her organs were failing.
In mid-October 2001, Ms. Liu was released. However, the police sent six officers to monitor her around the clock. She was not allowed to go out, and nobody was allowed to visit. They installed metal protection bars outside the windows, so they could not be opened. They also told her neighbors to monitor her and her family. Nobody dared to talk to them.
Four Years of Prison and Three Years in a Brainwashing Center
Ms. Liu was again arrested on October 4, 2002, in Mao County, Aba Prefecture, Sichuan Province. The Mao County Police Department's director, political commissar, and another officer beat and kicked her, slapped her in the face, and slammed her head against the wall.
Ms. Liu was taken back to Chengdu on October 12 and held in the Tiexi Hotel for 12 days. She was handcuffed and forced to sit on a stool at all times, and the officers did not allow her to sleep. Several officers took turns interrogating her over several days. They later took her to the Chengdu Detention Center. In the detention center, Ms. Liu was infected with scabies and was swollen all over. She was later diagnosed with chronic kidney failure in the Qingyang District No. 3 People's Hospital. The doctor suggested that Ms. Liu to be released on medical parole, but the detention center refused to comply.
On September 28, 2003, Ms. Liu was sentenced to four years in prison by the Jinniu District Court and taken to Chuanxi Women's Prison. Because she refused to wear the prisoner's uniform, she was locked in solitary confinement, her clothes were stripped off, and she was left with only her bra and underwear. She was brutally force-fed many times after she began a hunger strike.
Because Ms. Liu refused to "transform," after she finished her prison sentence, she was transferred to the Xinjin Brainwashing Center on October 11, 2006, and held there for more than three years. In the brainwashing center, she was severely beaten. When she learned that her food was poisoned, she refused to eat. Guard Yang Xiuqing, several police officers, and other collaborators then force-fed her. They used a mouth opener to pry open her mouth widely. The mouth opener cut the corner of her eye and she bled. They force-fed her raw eggs. They also force-fed her concentrated salt water and then sugar water, all of which made her vomit. They even force-fed her poisoned rice.
Officials from the Xinjin Brainwashing Center told Ms. Liu's family to take her home in December 2009, and they promised to find her a job. However, it never happened, nor was her residential registration processed. Without the registration, she cannot obtain an identification card, and therefore cannot work. To try to make ends meet, she rents out half of her apartment, but she still cannot support her son.
Ms. Liu made an appeal to the officials at the Jinniu District Education Committee and to her school in 2011 to have her job and salary reinstated. However, her appeal was turned down. Officials at the education committee claimed that only the 610 Office could approve of her job being reinstated.
In Chengdu, as of December 31, 2011, more than 112 deaths as the direct result of torture have been confirmed. Thousands of practitioners have been subjected to persecution.
Parties involved in the persecution of Ms. Liu:
Mao Shangui, head of the Chengdu 610 Office
Chen Guohua, chief of the Domestic Security Division of Jinniu District Police Sub-Bureau: +86-28-86406253 (Office), +86-13908186688 (Cell)
Li Yong, deputy head of the Jinniu District 610 Office: +86-28-87705681 (Office), +86-13668292609 (Cell), +86-28-87526973 (Home)