Ottawa, Canada: Falun Gong Practitioners Testify in Parliament to Expose the Persecution in China (Photos)
March 15, 2012 | By Ying Zi
(Clearwisdom.net) On March 8, 2012, two Falun Gong practitioners who were tortured in China, Mr. Lin Shenli and Mr. Lin Mingli from Shanghai, testified at a hearing held by the Canadian Parliament's Foreign Affairs Subcommittee on International Human Rights. Their personal experiences of being arrested, illegally incarcerated, tortured, and made to perform forced labor prove to the world that there is ongoing, brutal persecution of Falun Gong practitioners in China.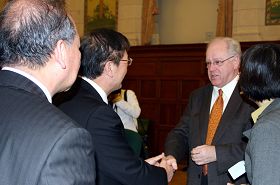 The two brothers shake hands and talk with MP Wayne Marston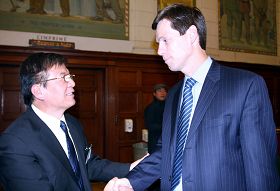 Mr. Lin Shenli and MP Russ Hiebert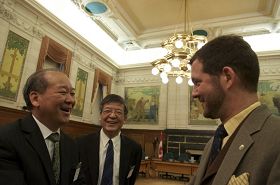 The two brothers and MP Scott Reid (right)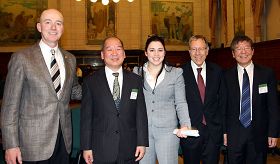 The MPs and the two brothers. (left to right: MP David Sweet, Mr. Lin Mingli, MP Ève Péclet, MP Irwin Cotler, and Mr. Lin Shenli)
The hearing was hosted by the Chair of the Subcommittee on International Human Rights, MP Scott Reid. Other MPs including Vice Chair of the Subcommittee Irwin Cotler, Wayne Marston, Nina Grewal, Russ Hiebert, Ève Péclet, and David Sweet. The two brothers answered several questions from the MPs.
Mr. Lin Mingli: Arrested Four Times, Sentenced to Six Years, and Tortured
Mr. Lin began to practice Falun Dafa in July 1997, and his illnesses went away within a few months. "You can say that Falun Gong gave me a second life," said Lin.
According to Lin, after the Chinese Communist Party (CCP) launched the persecution in July 1999, the CCP police arrested him four times. The first time was in 2000: he was put under criminal detention for a month for practicing Falun Gong. The second time was in January 2001: he was arrested and taken to a brainwashing center and tortured. The third time was in April 2001: he was arrested and put in a forced labor camp for two years. The fourth time was in October 2005: he was illegally sentenced to six years in prison.
Mr. Lin was choked up and sobbing when he tried to remember what he went through. "The last time, the CCP police arrested me without any legal evidence. They sentenced me to six years based on the accusation of someone who was psychotic. In those six years in prison, I was relentlessly tortured. They forced me to sit on a wooden bucket from 5:00 a.m. to 8:30 p.m. every day. I had to bend down 90 degrees with both of my arms on my back. If I moved, they beat me. It was impossible not to move and stay in that position. They kicked my head and my face with their heavy boots, and I lost many of my teeth because of that," Lin said.
"In January 2009, they tried to force me to write a guarantee statement to give up practicing Falun Gong. Once I refused, they dragged me to the bathroom, stripped me, and poured cold water on me. They whipped my head with a bamboo stick until my head was covered with blood. I was not allowed to sleep around the clock. During the day, they played recordings that slandered Falun Gong at high volume. During that time, I was dizzy and incoherent all the time. I did not know whether it was day or night. I was also denied restroom use."
"After I went on a hunger strike, they force-fed me. A tube was repeatedly inserted into my stomach and pulled out to torture me. In the end, my esophagus was ruptured. When the tube was pulled out, there was blood everywhere, including my mouth. The prison doctor said that my condition was critical, and that was when they took me to a hospital. Another time I refused to write the guarantee statement, they slammed me against a wall and poured boiling water on my face."
Mr. Lin said that it is impossible for most people to imagine how severe the persecution is in China. In 2001 while he was in a forced labor camp, he had to work until 11:00 p.m. or midnight every day. If he could not finish his work quota, the guard would hang him upside down above a toilet. The guard threatened to feed him feces.
Mr. Lin witnessed many other practitioners endure severe torture. He constantly heard other practitioners screaming while they were being tortured. "I once saw the guards throw a practitioner down from the fourth floor… the practitioner's head was smashed." "One practitioner refused to give up Falun Gong, and the guards force-fed him urine and feces…"
Mr. Lin expressed his gratitude and said that the Canadian government's support of Falun Gong and rescue of Falun Gong practitioners srike awe and fear into the CCP.
Mr. Lin Shenli: Made to Perform Forced Labor 12 Hours a Day
Mr. Lin Shenli talked about the torture he suffered in a forced labor camp. "On July 20, 1999, I went to Beijing to appeal for Falun Gong and signed a letter to urge the government to have a dialogue with practitioners. I was held in a forced labor camp for 18 months as a result."
"I was arbitrarily beaten and verbally abused in the camp. In freezing weather, I had to take cold showers. Every day while the moon was still out, I had to do forced labor, and I got off the work shift after sunset. I had to do forced labor for more than 12 hours each day, which caused my back, chest, and buttocks to blister and fester. The blood soaked my underwear. I had to pad my shorts with sheets of tissue. When I took them off, large pieces of skin came off, too. The pain was intolerable. I could not walk or sit or even squat when I used the toilet."
"I had to poke holes through balls with a steel needle. I had to wax the threads and sew the balls up tightly. I worked very long hours and often stabbed myself because I was extremely fatigued. The skin on my fingers ruptured due to the friction of the threads. The wax was toxic, and my fingers swelled and festered. I had to work very hard despite the excruciating pain."
Because Mr. Lin refused to give up practicing, his "sentence" was extended from 18 months to two years. The guards threatened him that he would be in there for the rest of his life if he did not give up Falun Gong."
Mr. Lin Shenli's wife, Ms. Li Jinyu, is a Canadian resident. With the help of the Canadian government, MPs, and others, Mr. Lin was released from the camp on January 23, 2002, and came to Canada on February 24. "I am lucky because I am able to practice Falun Gong and believe what I want to believe on this free land. The tens of thousands of Falun Gong practitioners in China are currently being brutally persecuted by the Chinese regime only because they wanted to improve their physical and mental health. I truly wish that all the kind people in the world could help stop this persecution."
Mr. Lin thanked MPs Irwin Cotler and Scott Reid for their efforts in rescuing him and improving human rights in China.
Chair of the Subcommittee on International Human Rights Praised for His Ten-Year Support of Falun Gong and Persistence in Rescuing Falun Gong Practitioners
Reid introduced a motion, M 236, in the Canadian Parliament on December 24, 2002, asking the Canadian Prime Minister to raise the issue with Chinese leaders regarding the release of 13 relatives of Canadian residents and citizens, who were being persecuted for practicing Falun Gong in China. The Canadian Parliament unanimously passed the motion. All the 13 Canadian residents or relatives have been successfully rescued. Some relatives have been reunited with their loved ones in Canada, Mr. Lin Mingli is one of them.
Reid once again introduced a motion in 2009 before the Prime Minister's visit to China, calling for rescuing prisoners of conscience in China, including illegally detained Falun Gong practitioners. The motion was adopted in the Subcommittee on International Human Rights.
Ten years later, as Chair of the Subcommittee on International Human Rights, Scott Reid recalled the motion he introduced ten years ago. He said that after the motion was adopted, Canadian officials in Beijing made concerted effort to help rescue the 13 Canadian relatives.
Vice-Chair of the Subcommittee on International Human Rights Cortler praised Reid for his efforts to rescue Falun Gong practitioners.
Vice-Chair of the Subcommittee on International Human Rights: Falun Gong Represents the Highest Values
Irwin Cotler, who has participated in rescuing several Falun Gong practitioners to Canada, said, "I think the Falun Gong practitioners represent the highest values of Chinese society and Chinese civilization; the values of Truth and Compassion and Tolerance, and I think that the Chinese Government should be actually seeing them as exemplary citizens, rather than putting them in prisons and torturing them in prison."
"If the Chinese authorities want to gain legitimacy internationally, they will be judged by how they treat the Falun Gong. They will be judged by how they treat their political prisoners.
"I would hope that they appreciate that it is not enough to be an economic superpower; you have to, if you want to really be a superpower, you have also have to be a moral superpower. And the way they have been treating the Falun Gong is not, in my view, earning respect for the Chinese. I have great respect for the Chinese civilization and I just appeal to the Chinese authorities that out of respect for their own civilization values of Truth and Compassion and Forbearance, and in terms of earning respect internationally, they should begin to treat the Falun Gong with the respect they deserve.
"The International Commission on Human Rights has been holding hearings. This is not the only one, and I believe that we will at a certain point make a report, and our report will therefore add to the ongoing testimony as to what the Falun Gong have been experiencing, and we will call upon the government for the necessary action to be taken to help them."
David Sweet said in the interview, "I think one of the things I am very happy about is that the Prime Minister, during his last visit, continued to raise the issue of human rights, and he said that publicly that he will continue to do that. And we obviously talked to many different aspects of human rights. We never want to lose sight of the fact that our country is built on human rights, justice, freedom, and democracy."
He said, "The Office of Religious Freedom will be another opportunity for us to speak publicly about issues, not only in China, but really globally. And it is a huge issue all around the world— people being persecuted for their beliefs."
Canadian Government and Prime Minister's Concern about the Persecution of Falun Gong
Canadian officials once again raised concerns over the Chinese Communist Party's persecution of Falun Gong on March 5 at the United Nations conference on freedom of religion or belief.
On March 9, Canadian Prime Minister Harper recalled his visit to China in February in a roundtable with Canadian Chinese media in Toronto. When answering a reporter's question, Harper said that he had raised the persecution of Falun Gong with the Chinese leadership during his trip to China. He also said to the media that Falun Gong practitioners of Canada are law-abiding citizens and make a great contribution to society.