Falun Gong Practitioners Hold Peaceful Protests in Thirteen Countries Simultaneously (Photos)
(Clearwisdom.net) On January 27, Falun Gong practitioners from 13 countries in Europe, Asia, and North America held peaceful protests in front of their local Chinese embassies between 12:00 noon and 1:00 p.m. They protested the ongoing 12-year persecution of Falun Gong and called upon the public to pay more attention to what is taking place in China.
In the Republic of Latvia, ten practitioners held banners in the snow in front of the Chinese Embassy in Riga.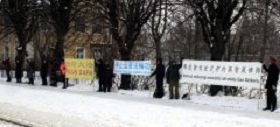 Protest in Riga, Republic of Latvia
In Serbia, practitioners gave truth-clarifying information to the receptionist at the Chinese Embassy in Belgrade, and asked her to give it to the ambassador. She promised to do so.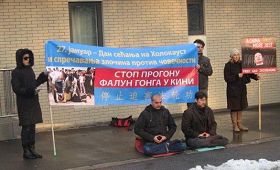 Protest in Belgrade
In Croatia, a young Chinese man saw practitioners doing the Falun Gong exercises. He asked what they were doing, and practitioners told him that they were protesting against the persecution. The young man asked if they would tell him in the future if they hold activities again. He took pictures, and accepted a copy of the Nine Commentaries on the Communist Party.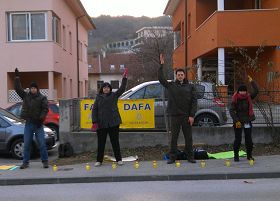 Protest in Zagreb, Croatia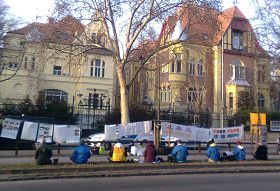 Protest in Budapest, Hungary
In Greece, practitioners passed out materials at a book fair in downtown Athens and talked to the visitors about Falun Gong and the persecution. On January 29, practitioners went to Kalamata, a famous tourist spot, to clarify the truth to the visitors.
Protest in front of the Chinese Embassy in Athens
In Slovakia, practitioners held a candlelight vigil in front of the Chinese Embassy in Bratislava. They held banners calling for an end to the persecution. Practitioners clarified the truth to passersby. Congressman Ondrej Dostal joined the protest, expressing his support to Falun Gong.
On January 28, practitioners held activities in downtown Bratislava. They passed out materials and collected signatures of support. Some people told the practitioners that they were very willing to sign the petition because they felt that this is what they should do. Many said that the communist party is really evil, and should not exist.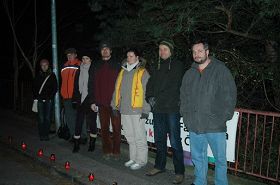 Congressman Ondrej Dostal (at right) joined the protest in front of the Chinese Embassy in Bratislava
In the Czech Republic, a concert with the theme of supporting Falun Gong was held at Valdstejnský Palac. Many artists and VIPs attended the concert. Some of them also attended the protest held in front of the Chinese Embassy at noon.
Practitioners from Bosnia, Poland, Romania, Indonesia, Mexico and Brazil also held peaceful protests, calling for an end to the persecution in China.