Two Practitioners Subjected to Long-term Incarceration and Abuse in Jiujiang City Mental Hospital
February 06, 2012 | By a Clearwisdom correspondent in Jiangxi Province, China
(Clearwisdom.net) The No. 5 Hospital in Jiujiang City, Jiangxi Province, is a mental hospital. Two practitioners, Ms. Wang Ying and Ms. Jiang Xiaoying, have been detained and persecuted in this hospital for a long time. The primary doctor once clearly stated that Ms. Wang Ying was not ill, but hospital authorities refused to release the practitioners using all kinds of excuses to keep them there.
Ms. Wang Ying, in her 40s, was employed at the Jiujiang City Civil Administration Bureau. She has been subjected to forced labor twice since 2000 for practicing Falun Gong. The Chinese Communist Party (CCP) forced her and her husband to divorce while she was detained in Majialong Forced Labor Camp. After she was released, her manager, surnamed Long, forced her into the No.5 Hospital of Jiujiang City.
Ms. Wang's ex-husband once brought their son to the hospital in 2009, hoping to take her home for the Chinese New Year. The primary doctor said that she was not ill, and the security department officer said that if Ms. Wang's employer would pay the medical fees, they would release her. However, after Ms. Wang's employer paid the hospital fees, the security department officer said that since Long, the manager at Ms. Wang's place of employment, had brought her to the hospital, he had to be her guarantor. Long refused.
Ms. Wang's son went to the Civil Administration Bureau on January 16, 2012, to request his mother's release for the Chinese New Year. However, Manager Long again prevented her from being released.
Another victim, Ms. Jiang Xiaoying, in her 50s, was a nurse at the No.5 Hospital. Because she would not renounce her belief, her employer and the Jiujiang City 610 Office agents subjected her to forced labor twice. Her ex-husband participated in helping the CCP persecute her.
After Ms. Jiang was released from a forced labor camp, the head of the hospital incarcerated her in the hospital. Ms. Jiang was tied down and force-fed with unknown substances. The head of the hospital instigated other patients to attack her. Ms. Jiang asked to be released numerous times, but an officer in the security department, surnamed Ke, threatened to send her back to a forced labor camp if she continued to speak out.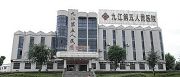 No. 5 People's Hospital in Jiujiang City
No. 5 People's Hospital in Jiujiang City: +86-792-8582656
Hospital Security Department: +86-792-8500788
Address: No. 6 Baishuihu Road, Xunyang District, Jiujiang City, Postal code: 332001
Manager Long at Jiujiang City Civil Administration Bureau: +86-13607926250 (Cell)
Jiujiang City Civil Administration Bureau: +86-792-8583239