Ms. Wu Hongyan from Handan City, Hebei Province Illegally Subjected to Forced Labor and Severely Abused
February 28, 2012 | By a Clearwisdom correspondent in Hebei Province, China
Name: Wu Hongyan (武洪艳)
Gender: Female
Age: 56
Address: Handan City, Hebei Province
Occupation: Unknown
Date of Most Recent Arrest: July 6, 2011
Most Recent Place of Detention: Hebei Province Women's Forced Labor Camp (河北省女子劳教所)
City: Handan
Province: Hebei
Persecution Suffered: Sleep deprivation, forced labor, brainwashing, illegal sentencing, beatings, torture, detention
(Clearwisdom.net) Falun Gong practitioner Ms. Wu Hongyan, from Handan City, Hebei Province, along with practitioners Ms. Gao Meiying and Mr. Zheng Zengchen, was speaking with people about Falun Gong on the morning of July 6, 2011, in Zhaoyuan Park, Handan. Officers from the Sijiqing Police Station in the Congtai District arrested them.
The Congtai District Police Department illegally sentenced Ms. Gao, Ms. Wu, and Mr. Zheng to forced labor for one year, 15 months and 18 months, respectively. Ms. Wu's husband passed away not long ago, and their young child is now left alone at home.
Ms. Wu was sent to the Hebei Province Women's Forced Labor Camp on August 9, 2011. She was held in Division No. 4. The division head ordered criminal inmates to beat her because she refused to write the "three statements." They also took turns physically abusing and mentally tormenting her. She was forced to stand still during the daytime, and at night they took turns harassing her and depriving her of sleep. After being forced to stand for two consecutive days, Ms. Wu's legs became swollen, she developed blood stasis in her feet, and suffered from a prolapse of the rectum. She became dizzy and felt sick.
The guards did not stop persecuting Ms. Wu after they forced her to write the "three statements." Along with long-term brainwashing and making her do hard labor, the guards ordered criminal inmates to physically abuse and mistreat Ms. Wu. They beat her, scalded her face with hot water, grabbed her hair and hit her head against a wall, choked her neck with their hands, and made her sleep on the floor.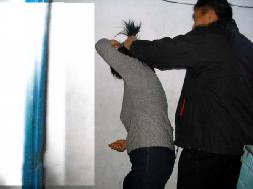 Torture Re-enactment: Grabbing the practitioner's hair to hit her head against a wall
The persecution of Wu Hongyan recently escalated. The guards took her personal letters and threatened that they would cancel her right to family visitation.
Hebei Province Women's Forced Labor Camp:
Zhou Zhanquan, head: +86-311-8393-9188
Feng Kezhuang, deputy head: +86-311-8393-9177, +86-311-8393-9125, +86-13933840195