Mr. Liu Peng and Mr. Guo Jingfu Brutally Tortured in Shanghai Forced Labor Camps
February 25, 2012 | By a Clearwisdom correspondent in Shanghai, China
Name: Liu Peng (刘鹏)
Gender: Male
Age: 30s
Address: Room 604, #66 Alley 1508, Caobao Road, Shanghai
Occupation: Former instructor at Shanghai Public Security Academy
Date of Most Recent Arrest: February 21, 2008
Most Recent Place of Detention: Tilanqiao Prison (提篮桥监狱)
City: Shanghai
Persecution Suffered: Interrogation, detention, illegal sentencing, imprisonment, forced labor, brainwashing, beatings, torture, electric shock, force-feedings, fired from work, home ransacked
Name: Guo Jinfu (郭锦富)
Gender: Male
Age: 49 (Born in 1963)
Address: Jiuting Street, Songjiang District, Shanghai
Occupation: Unknown
Date of Most Recent Arrest: July 20, 2010
Most Recent Place of Detention: Minhang District Detention Center (闵行区看守所)
City: Shanghai
Persecution Suffered: Interrogation, detention, illegal sentencing, imprisonment, forced labor, brainwashing, beatings, torture, electric shock, sleep deprivation, force-feedings
(Clearwisdom.net) Practitioner Mr. Liu Peng was a former instructor at the Shanghai Public Security Academy. Since the Chinese Communist Party (CCP) launched the persecution of Falun Gong in 1999, he has been illegally arrested and detained many times.
In early July 2000, when his son was only three months old, Mr. Liu was sent to Shanghai First Forced Labor Camp, where he was tortured and subjected to brainwashing. Just after he was released in early 2003, Minhang District Domestic Security Division agents arrested him again. He was then sent to Shanghai Third Forced Labor Camp with a term of 18 months.
Agents from the Xuhui District Domestic Security Division arrested Mr. Liu again in February 2008. A hearing was held in the Xuhui District Court on October 21, 2008, and Mr. Liu was shoved into the court room with a force-feeding tube lodged in his nose. He was sentenced to 5 years and sent to Tilanqiao Prison on March 10, 2009. Prison guards brutally beat him and shocked him with electric batons. He frequently lost consciousness due to the torture.
Mr. Guo Jinfu was arrested by patrol police at Xujiahui Community in Xuhui District in September 2001, while he distributed materials clarifying the facts about Falun Gong. He was taken to the Hongmeilu Police Station. Officers forced him to stand on an iron stool, which had a protruding iron bump that made his back very painful. They slapped him in the face, pinched his shoulder and did not allow him to sleep. They often interrogated him between midnight and 3 a.m., and kept his hands cuffed for 9 days.
Mr. Guo was sentenced to forced labor with a term of 30 months and sent to Shanghai Third Forced Labor Camp in Qingpu District in April 2002.
Below is a partial account of the persecution these two practitioners suffered at the forced labor camps in Shanghai.
Mr. Liu stripped naked and electrically shocked while standing in water
The guards at Shanghai First Forced Labor Camp shocked Mr. Liu with electric batons in the temples, ears, nose, mouth, neck, armpits, chest, back, hands and feet, until his skin was burned. They then removed his clothes, ordered him to stand in water and continued to shock him.

Torture re-enactment: shocking with electric batons
The guards also forced Mr. Liu to stand for a long time with a feces barrel hung around his neck. They wrapped thin ropes around his wrists and hung him up, as well as beat him and kicked him in the chest and other areas of the body.
In July 2001, when Mr. Liu heard that practitioner Mr. Zhao Yang was being beaten, he stepped out of his cell to stop the brutality. As a result, guard Shi Liqun extended his labor camp detention term by several months and ordered several inmates to beat him for several months thereafter. One of these inmates was Zhao Jinliang.
Sometimes when Mr. Liu was sitting on a stool, inmates kicked him to the floor and whipped him across the face with belts. They also took a broom soaked with trash and water and shoved it into Mr. Liu's mouth.
Mr. Guo tortured and beaten
After Mr. Guo arrived at Division No. 1 of Shanghai Third Forced Labor Camp in April 2002, guards tied him to an iron pole and shocked him with four electric batons in various spots, including hands, ears, head and neck. His skin was burned and became blistered, and he developed incontinence as a result of this torture.
When Mr. Guo went on a hunger strike to protest the persecution, the guards force-fed him, causing damage to his esophagus. Division head Hu also ordered inmates to seal Guo's mouth with tape and tie up his hands and feet. Two inmates then pulled him by his hands, dragging him on the floor over several dozen yards. Because of that, Guo's knees were bleeding.This persecution lasted for 20 days.
In June 2003, Mr. Guo was transferred to a unit specifically allocated to torture practitioners. Inmates including Sui Wei and Dong Wei tortured him on a tiger bench. A small stool was placed next to a wall, and Mr. Guo was forced to sit on the floor with his back against the stool. Inmates separated his hands, pushing them on the wall, and also forced open his legs to nearly 180 degrees.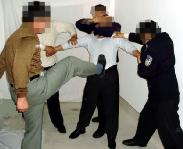 Torture re-enactment: beating
Guards Xiang Jianzhong and Zeng Lei once shocked Mr. Guo with three electric batons in various locations, includng his feet, hands, armpits, chest, neck, ears, temples, lips and inside his mouth. His skin was burned and the flesh inside his mouth was injured.
Another time, Xiang Jianzhong and Zeng Lei took Mr. Guo to room 109, where about 10 inmates brutally beat him. These inmates included Dong Wei, Sui Wei, Song Yuqi, and Xu Ping. They also stuffed dirty rags into his mouth, tortured him on a tiger bench, and kicked him viciously in his thighs, causing a lot of bruising. In addition, they punched Mr. Guo in the face, causing severe bleeding, and covered his nose, making it difficult to breathe. After the brutal torture, Mr. Guo could not stand up.
Guards covered up murder
At noon on October 15, 2003, at Shanghai Third Forced Labor, inmate Zhang Ming closed all doors and windows of the cells where practitioners were held and told them not to come out. One hour later, guard Zhu Huihong came to room 111, ordering inmates to carry the body of practitioner Mr. Lu Xingguo—who had been beaten to death—out of the room. Zhu Huihong then told the inmates to attribute Mr. Lu's death to suicide. Xiang Jianzhong said: "We have received instructions from above that a 5 0eath rate [for detained practitioners] is normal. We are not afraid of death incidents."
Parties involved in the persecution:
Chen Peimin, labor camp head
Gu Wenhao, division head, police number 3030329
Sun Hongtao, manager: +86-13917671790 (cell)
Prison Ward No. 6, Tilanqiao Prison: +86-21-35104888, ext. 7601 to 7607
Wang Haocheng, head of Ward No. 6, police number 3101380
Please refer to the original Chinese article for the contact information of other parties involved in the persecution.