Engineer Mr. Zhou Xiangyang Close to Death, His Father Demands His Release (Photos)
February 25, 2012 | By a Clearwisdom correspondent from China
Name: Zhou Xiangyang (周向阳)
Gender: Male
Age: 38
Address: Tangshan, Hebei Province
Occupation: Engineer at Third Tianjin Railway Survey & Design Institute Group in Tianjin
Date of Most Recent Arrest: March 5, 2011
Most Recent Place of Detention: Binhai Prison (formerly Gangbei Prison, 港北监狱)
City: Tianjin
Persecution Suffered: Interrogation, detention, illegal sentencing, imprisonment, forced labor, brainwashing, beatings, torture, hung up by handcuffs, shocked with electric batons, sleep deprivation, solitary confinement, forced-feedings, physical restraint, denial of restroom use
(Clearwisdom.net) Mr. Zhou Xiangyang, former engineer at the Third Railway Survey & Design Institute in Tianjin, was illegally arrested on March 5, 2011, for remaining steadfast in his belief in Falun Gong. He has been held at the Binhai Prison (formerly Gangbei Prison) in Tianjin.
Mr. Zhou has held a hunger strike to protest the illegal imprisonment and torture for more than 330 days since his arrest. He was sent to the Xinsheng Hospital for emergency treatment on January 16, 2012, but IV infusion were stopped over a month ago. He is currently on the verge of death. He is unable to walk, and his heart beats average only 40 per minute.
Amnesty International released an Urgent Action on Mr. Zhou's case on February 8, 2012, calling on the Chinese authorities to urgently grant Zhou Xiangyang medical parole. (http://www.amnesty.org/en/library/asset/ASA17/005/2012/en/f4a51420-75e9-42d4-bd59-555498b43fe1/asa170052012en.pdf)
Mr. Zhou's parents demanded that prison officials release their son several times, but they were turned down each time. Mr. Zhou's family delivered an "Urgent Appeal to Save Zhou Xiangyang's Life" to related government departments, but have not received any response.
The mother called deputy prison head Li Guoyu on the morning of February 14, 2012, and again strongly demanded her son's release. At first, Li replied that he could not make the decision on his own. Afterwards, he claimed that doctors said Mr. Zhou could not be released on medical parole until he was dying. He also said that the mother was not allowed to take Mr. Zhou home even if he was released, and only his non-practitioner brother-in-law, who was not present, could do that.
After another unsuccessful request for his son's release, Mr. Zhou's elderly father decided to stand outside the Binhai Prison on February 17, wearing a white vest with printed appeal for his son's release. He waited for the prison authorities to respond. It had taken Mr. Zhou's parents 36 hours to travel on their family's tractor to the prison.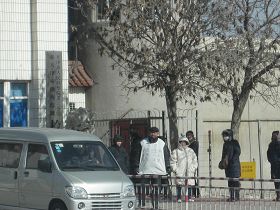 Mr. Zhou's father wears a white vest with printed appeal for his son's release. The words on the front of the vest read, "Respect life, respect human rights and respect the law."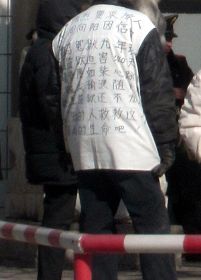 The words on the back of Mr. Zhou's father's vest read: "Parents strongly demand their son Zhou Xiangyang's release. Our son has been illegally imprisoned for 9 years* for remaining steadfast in his belief in Truthfulness-Compassion-Forbearance. He has suffered physical abuse and mistreatment under the persecution in the Binhai Prison. He hasn't had food and water for more than 300 days. He is emaciated; his heart beats 46 times per minute. His body rejects any force-feeding and IV infusion. His life is in grave danger, but the prison still refuses to release him."
*total detention time over 12 years of persecution
After a while, someone came out of the prison and videotaped Mr. Zhou's parents and friends standing outside; this official then went back inside the prison compound, continuing to videotape them behind the iron railing. Two police vehicles were also placed on guard inside the prison compound, close to the gate, and armed police officers at the prison gate would not allow Mr. Zhou's family members to speak with bystanders.
At noon, several police officers walked up to the Mr. Zhou's parents' tractor and attempted to tear down a banner with messages appealing for Mr. Zhou's release. They also attempted to force Mr. Zhou's father to remove his vest and to drive his parents away.
In the afternoon, the prison authorities still had not released Mr. Zhou. They also contacted Changli County 610 Office and government officials of the town where Mr. Zhou's parents live to pressure and prevent the elderly couple from continuing to appeal for their son's release. The township government staff and Changli 610 Office agents then came to the prison.
Mr. Zhou's parents stood outside the prison gate for an entire day, despite the cold weather. They are determined not to leave until they can take their son back home. They are very worried about their son's severe physical condition.
Mr. Zhou's relatives and friends, in turn, are worried about the elderly couple's health. They have no idea how long the couple would have to wait to secure their son's release.
The prison officials, including deputy prison head Li Guoyu and division head Wang, who had claimed that they have treated Mr. Zhou quite well, did not come out to meet with his parents. On the contrary, they repeatedly sent out guards to attempt to drive the elderly couple away. The prison guards also did not allow the parents to stand close to the prison.
Mr. Zhou's mother spoke with a Clearwisdom correspondent on the phone on February 17 and said that they had to spend a lot of money on travel expenses during their previous visits to their son in prison, so this time, they chose to travel on the family's tractor. She said they wanted to appeal outside the prison by wearing vests with printed messages so that passersby would learn about the bad deeds that the prison authorities have committed.
She said that kindhearted people helped them park their tractor and arranged for them to stay in a motel during their first night of travel to the prison. They were planning to set up a tent made of plastic sheets across the road from the prison gate. Although the temperature was below minus 10 degrees Celsius, they were able to withstand it for the sake of their son's release.
Mr. Zhou's mother also said that the prison had originally agreed to let her visit her son on February 17, but once they arrived, the prison did not allow her to meet with Mr. Zhou.
During each previous visit, prison personnel took photos and videotaped the parents. Prison authorities also contacted the local police at the township where Mr. Zhou's parents live in an attempt to send the elderly couple to a brainwashing center.
Mr. Zhou's parents hope that Clearwisdom will help and call upon righteous people to make phone calls to the deputy prison head Li Guoyu and other related department officials to demand that they release Mr. Zhou as soon as possible!
Phone numbers
Gangbei Prison: 86-22-63251056, 86-22-62071156
General information: 86-22-62071052
Ward No. 5: 86-22-62071151
Section 1 of Ward No. 5: 86-22-62071158
Related articles:
"Gangbei Prison Officials Refuse to Release Engineer Zhou Xiangyang, Who Is In Critical Condition (Photo)"
http://www.clearwisdom.net/html/articles/2012/2/10/131385.html

"Mr. Zhou Xiangyang in Critical Condition--His Mother Calls for Justice (Photos)"
http://www.clearwisdom.net/html/articles/2011/5/5/124948.html