Shen Yun's Debut Performance in Japan a Great Success; Acclaimed by Chinese Audience Members (Photos)
(Clearwisdom.net) On February 14, 2012, Shen Yun held its debut performance in Tokyo. Despite the Chinese Communist Party (CCP)'s attempted interference, Shen Yun ticket sales and promotion were at last offered formal permission 72 hours before the first scheduled performance. The show played to a full attendance, amazing the theater and guests watching the show at the International Forum.
House Representative: This wonderful show should be performed in China
Mukoyama Kouichi, House Representative, watched the show at the International Forum. He said to the reporter after the show, "China's 5,000-year history holds profound culture, in essence an integration of cultures from multiple ethnic groups. Such ancient and long cultural history cannot be accepted by the current government, which means it is denying its own culture and history. Actually, the ideal place for this wonderful show of Shen Yun is China. I really regret that currently it cannot go there."
Japanese actress: Shen Yun is the true representation of China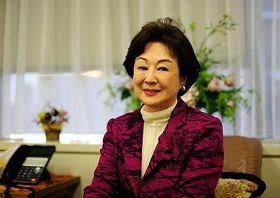 Japanese actress Tsukasa Yoko
Famous Japanese actress Tsukasa Yoko is a signature actress for Toho Studio, and has been in over 150 movies, television dramas and stage productions. After seeing Shen Yun, she applauded the perfection and brilliance of the performance.
As a supporter of Shen Yun, and after learning that the show obtained permission to perform only 72 hours before its scheduled performance, Ms. Yoko said: "I was worried that the insufficient time would somehow affect the performance. But having seen so many people today, it is truly wonderful."
She said that just as kabuki is the true representation of Japanese tradition, Shen Yun is the true representation of Chinese tradition, portraying the real China. She was ecstatic to see such a performance in Japan.
University Director: It is commendable to have a theme of deities and Buddha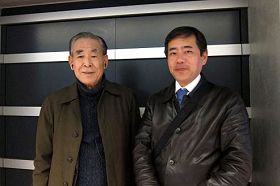 Takahashi Nao (right), Director of IOND University, and his friend Nakano Ikuo (left) watched Shen Yun's debut performance in Tokyo
Takahashi Nao, Director of IOND University, and his friend Nakano Ikuo are fans of Chinese traditional culture. Mr. Nao said after watching the show, "Shen Yun show presents themes of deities and the Buddha. Such a show demonstrates the essence of Chinese traditional culture. It is commendable. But this essence is denied by the CCP. Knowing this point, one can understand what is happening in China."
Democracy advocate Xia Yifan: I salute Shen Yun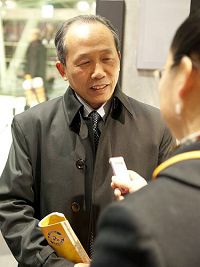 Democracy advocate Xia Yifan watches Shen Yun show for the fifth time
Mr. Xia Yi-fan, who had seen Shen Yun four times before, said excitedly after this show, "The performance of Shen Yun artists is superb. I am not qualified to comment on them. But I appreciate and salute them."
Each show leaves a new impression on him. This year's erhu (Chinese violin) performance impressed him. He was also taken with the Tibetan-style dance, showing the inner purity of the Tibetan people. He said, "Today's Chinese people need to have a pure heart to return to the original clean point from the contaminated minds."
Chinese painter: I was touched by the program showing hope in the persecution
Chinese painter Chi Yiyi, who had seen Shen Yun three times before, said emotionally after this show, "Falun Dafa practitioners are persecuted so brutally, but see hope. That feeling touched me and made me weep in heart."
Chinese in Japan: The Chinese artistic performance truly soul-touching
Chinese audience member Li Donghai lives in Japan and said it was his first time seeing Shen Yun. He had tears in his eyes while watching several programs, "It is hard to express with words. Shen Yun is a truly soul-touching Chinese artistic performance."
He said emotionally at the end, "Without Shen Yun, there is no new China."