Chief Physician of Yunnan Mental Institution Illegally Arrested Again
February 19, 2012 | By a Clearwisdom correspondent in Yunnan Province
Name: Hu Jinzhao (胡今朝)
Gender: Male
Age: 44
Address: Kunming, Yunnan Province
Occupation: Physician
Date of Most Recent Arrest: Late December 2011
Most Recent Place of Detention: Wuhua District Detention Center (五华区看守所)
City: Kunming
Province: Yunnan
Persecution Suffered: Forced labor, brainwashing, illegal sentencing, beatings, imprisonment, solitary confinement, torture, physical restraint, detention
(Clearwisdom.net) Falun Gong practitioner Mr. Hu Jinzhao, Chief Physician of Yunnan Mental Institution, disappeared suddenly at the end of December 2011. His family only learned in late January this year that he had been illegally arrested by the authorities and is currently detained at the Wuhua District Detention Center in Kunming City. However, his family still has not received any legal documentation of the arrest from any department.
Mr. Hu was previously arrested and taken to Songhua Nursing Home in Chenggong County on November 24, 2011 by 610 Office agents. He was released on November 30. Prior to these two recent arrests, he was also detained at the Yunnan Province No. 2 Forced Labor Camp in 2004 for three years and 40 days. During this detention, he was beaten and tortured. Below is Mr. Hu's narration of the persecution he suffered over many years. (This narration was given before his most recent arrest.)
I was fortunate to start practicing Falun Gong in 1998. After I started the practice, I strived to follow the principles of Truthfulness-Compassion-Forbearance and be a better person. However since the Communist Regime began its suppression of Falun Gong in 1999, I was arrested and persecuted many times. Below, I expose the persecution I was put through during the past few years.
1. Detained for One Month for Refusing to Write a Fake Medical Record
On March 14, 2002, I was on duty at the hospital. At 5:15 p.m., a nurse put a medical record on my desk and told me that someone wanted me to examine this person. As I was going through the medical record, three men came into the room unannounced, bringing a "patient" with them. When I asked them about the patient's condition, one of them, a young man, said, "This patient was giving out Falun Gong brochures in public; you have to admit him into the hospital." I replied, "This is a mental institution. We don't accept healthy people." He pointed at the three characters of Truthfulness-Compassion-Forbearance beneath the glass top on my desk and asked if I practiced Falun Gong. I answered yes, and he replied, "You wait and see." Then he went outside to make a call on his cell phone.
At this point in time, I asked the patient to come to me. His voice was shaking when he spoke, as if he was in shock. I asked him, "Do you practice Falun Gong?" He replied, "I don't know what Falun Gong is." I then asked him, "So why are you giving out Falun Gong brochures?" He said, "I did not give out any brochures. I was walking on the street and they just abducted me and brought me here." I wrote on the medical record, "The patient denied practicing Falun Gong." Just then, agents from the 610 Office, police from the Guandu District Domestic Security Division, and the head of the Panlong District Domestic Security Division arrived. Officials from the hospital's security section also came, and I was taken to the Guandu District Detention Center. One month later, I was released on bail awaiting trial. When I returned home, I learned that police officers had ransacked my house and taken away all my Dafa books, video tapes, as well as a dozen of Master's lectures that I had copied by hand.
2. Wages Withheld by My Workplace
Upon returning to my workplace from the detention center, I was not allowed to go back to my previous position. Instead I was sent to sweep the floors and clean the hospital, and my wages were withheld. Every month I was given meagre living expenses, ranging from a dozen to 400 yuan. Sometimes, not a cent was given to me. Consequently I had to take on another job to make ends meet. My wife could not take the pressure and divorced me in March 2004.
3. Abducted and Sent to a Brainwashing Center
In May 2002, I was illegally arrested and sent to a brainwashing center by officials at my workplace in collaboration with the 610 Office and Domestic Security Division. At the brainwashing center, I was forced to watch and listen to tapes as well as video recordings that slandered Falun Gong. They tried to force me to give up my practice. One week later, I returned to my workplace.
4. Sent to Forced Labor for Over Three Years
One morning in 2004, as I was cleaning the hospital, without any warning, officer Xie Daohong from the hospital's security section as well as several officers from the Panlong District Domestic Security Division put handcuffs on me. Xie Daohong bound my legs with a constraining belt, and to stop me from shouting for help, they put a completely sealed helmet on my head. I was lifted into a vehicle by several men and taken to the Yunnan Province No. 2 Labor Camp. From 9 a.m. to 1 p.m., officers kept lifting my hands by the handcuffs, and the cuffs nearly cut into my flesh. This went on until I was transferred to the 4th Division of the labor camp, where they finally removed my handcuffs. By then, both my arms were very swollen from four hours of inadequate blood circulation in my hands. As a result, for a long time, I could not move my hands freely.
5. Torture Suffered in the Strictly Controlled Team of the Labor Camp's 4th Division
The day I was taken to the labor camp, doctors wanted to do a medical examination. I refused to cooperate and section head Qu Kaiming brutally pushed me to the ground. Subsequently, several guards pinned me to the ground. They stepped on my back, and I nearly suffocated. Next, I was turned over onto my back, with my face up. Qu Kaiming stepped on my hands and used force to rub them into the ground. It was excruciatingly painful. Afterwards, I was lifted up, handcuffed, and caused greater pain by their continuously lifting the handcuffs on my hands.
During the first few days, I went on a hunger strike to protest the persecution and refused to carry out the forced labor. Qu Kaiming kicked me viciously and pushed me to the ground. I was continuously tortured until I nearly suffocated. My scalp was injured and the soft tissue in many areas of my legs was injured as well.
In the middle of June 2005, I was singled out and sent to the library for so called "transformation". Every day, I was forced to listen to slander about Dafa. They even pinned me to the ground and applied pressure on sensitive areas of my inner leg area using their knee caps. I was also constantly tortured by the "flying an airplane" method. Once, a convict took a piece of dirty cloth, stepped on, spit onto it, then used it to tie my mouth. While holding on to me with force, he pulled my mouth forcefully and at once, my lips were bruised and bled. When they pinned down on me, I immediately could not breathe, and they continued to torture me like that until I nearly suffocated.
On August 22, 2005, I was taken from the labor camp to a "legal education base" in Dianchi, Kunming City to be "transformed." I was locked up alone in a room. The windows were tightly shut and the curtains were not allowed to be drawn open. A guard was sent from the labor camp to monitor me around the clock. I ate, drank and relieved myself all in the same room. On the fifth day, three men came and took me to a meeting room. They began to try to "transform" me using coercion, threats, inducement, and all kinds of methods. This went on for a month. Because I refused to give in, they had no choice but to send me back to the labor camp.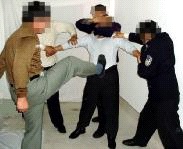 Torture Re-enactment: Brutal beatings
The second day after I went back to the 4th Division, I was forced to work in the brick factory. More than three months later, I was transferred to the gemstone factory. I had to work every day from 6 a.m. to 11 p.m. or sometimes until midnight. Together with another practitioner named Li Wenpo, I was often tortured until I could not walk. It was even difficult for me to get up from bed and go to the toilet.
Thus, from November 2004 to December 14, 2007, I spent three years and 40 days in the No. 2 Labor Camp. These were the darkest days of my life.
The above describes the persecution and torture I suffered over the past decade. I want to let people know about the crimes committed by the Communist regime and allow people of conscience to see the sinister nature of the Communist Party.