Taiwan: Falun Gong Practitioners' Amazing Lanterns and Beautiful and Graceful Performances Warmly Received at the Lantern Festival (Photos)
February 17, 2012 | By Fang Hui
(Clearwisdom.net) The 23rd Taiwan Lantern Festival is being held from February 6 to 19, 2012, in Guji Town, Lukang, Changhua. Since the opening ceremony, it has so far attracted 6 million visitors.
The fifteenth day of the first lunar month is Lantern Festival, also the last day of the Chinese New Year celebration. At the Lantern Festival this year, a two-story-high, extra large, globe lantern was especially conspicuous. Made by Falun Gong practitioners, it was designed in the shape of a sphere to convey the theme: "Dafa has spread around the globe." Many visitors have posed in front of the lantern to have their photos taken. Many people have said that this lantern is rather special compared to other lanterns, because it's spherical and rotates. On top of it is the word "Shan (Compassion)," something the world truly needs.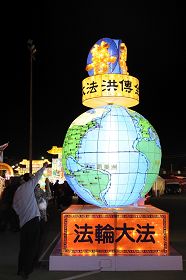 Falun Gong's two-story-high, rotating lantern showing that "Dafa has spread around the globe"
Many passersby took pictures of this special lantern and excitedly pointed to their own countries. It took Falun Gong practitioners nearly six months to make 14 lantern installations of different shapes and sizes to take part in the Lantern Festival. The large globe lantern that proclaims "Dafa has spread around the globe" refers to the fact that, since Master Li Hongzhi first introduced Falun Gong to the public in 1992 in China, it has been embraced by more than 100 countries and regions, including Europe, the Americas, Japan, Korea, Taiwan, and other Asian countries.
Practitioner Mr. Zhuang said, "The Taiwan Lantern Festival is an international lantern festival, and we join this grand event with our lanterns. For example, one of our lanterns has proclamations honoring Master Li Hongzhi from different countries rotating on a globe. Our participation in the festival aims to help raise people's awareness of what Falun Gong is." Practitioner Ms. Xu said, "Through the lantern festival, we want to let people know that Falun Gong is now widely practiced around the world and is very popular with all kinds of people. The practice has been warmly recognized and received proclamations from many countries. We hope every visitor comes to learn about Falun Gong."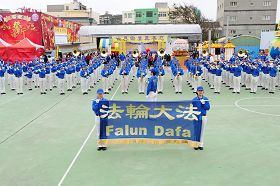 The Divine Land Marching Band composed of more than a hundred Falun Gong practitioners performs
Practitioners demonstrate the fifth exercise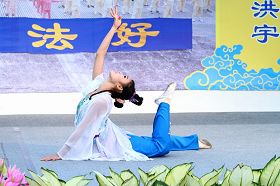 A practitioner who once participated in the Global Chinese Classical Dance Competition performs "Heaven and Earth Usher in the Spring"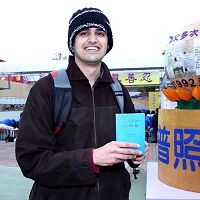 A Westerner shows great interest in Falun Dafa, and returns home with an English edition of Zhuan Falun, a gift from a practitioner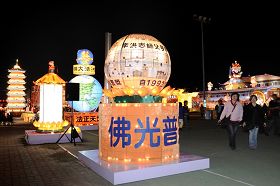 A rotating lantern decorated with proclamations issued to Mr. Li Hongzhi, the founder of Falun Gong, by the governments and people of many different countries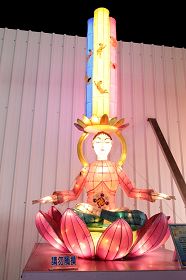 A lantern depicts a Falun Gong practitioner doing the sitting meditation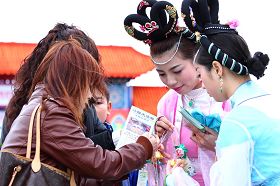 People love handmade lotus flowers and are also happy to get flyers about Falun Gong
On February 11, the first weekend following the opening ceremony of the Taiwan Lantern Festival, more than 1.45 million people packed downtown Lukang City, which usually has a population of just 80,000, to marvel at an array of glittering and fascinating lanterns of all shapes and sizes. At the same time, artistic performances were also arranged at the Falun Dafa Lantern Display Zone. The Divine Land Marching Band composed of more than 100 Falun Gong practitioners performed to many appreciative spectators, who applauded and cheered. There were also "Celestial Maidens" from Southern Taiwan, and many visitors wanted to have their photo taken with them. Many foreign visitors showed great interest in Falun Dafa and learned to do the exercises.