Taiwan: The Divine Land Marching Band Performs at the Lantern Festival in Shulin (Photos)
(Clearwisdom.net) The Lantern Festival is one of the most important festivals in Chinese culture. This year, the Divine Land Marching Band, consisting of 165 Falun Gong practitioners from northern Taiwan, was invited to perform at the Lantern Festival parade in Shulin, Taiwan.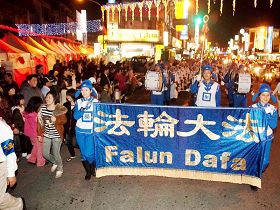 The band in the parade
The parade lasted for two and half hours. Spectators warmly welcomed the band's performances. When host of the parade introduced the Falun Dafa group, he said: "We've never seen such a large group in any event held in Shulin before. We thank the Falun Dafa Divine Land Marching Band for participating in this event."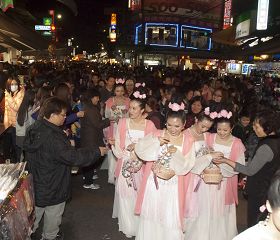 Practitioners dressed as "celestial maidens" distribute hand-made paper lotus flowers
Many people told the organizers of the event that they were impressed by the band's performance. A woman in the crowd asked a practitioner for three paper lotus flowers for her family. She told her husband: "These are from Falun Gong, which is suppressed in mainland China, but is very famous in Taiwan."
On February 1, the NTDTV Flag and Drum team performed in another Lantern Festival celebration. Practitioners also set up a booth at the celebration, introducing Falun Gong to the public.