Falun Gong Stands Out at Chinese New Year Celebration at University of Pennsylvania (Photos)
February 11, 2012 | By a practitioner in Philadelphia
(Clearwisdom.net) The University of Pennsylvania in Philadelphia enjoys a high reputation in the U.S. and all over the world. The University of Pennsylvania Museum of Archaeology and Anthropology is renowned in the international community for its promotion of multicultural exchange and the exploration of the history of mankind.
On February 4, 2012, the museum was filled with a bustling crowd of people who came to participate in the 31st annual Chinese New Year (the Year of the Dragon) celebration. Falun Gong practitioners in the Philadelphia area have been invited to participate in this event for the past 14 years.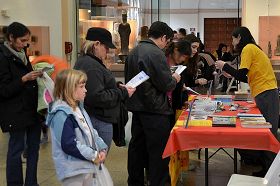 Many visitors visited the Falun Gong booth to learn about Falun Gong during the University of Pennsylvania Museum Chinese New Year Celebration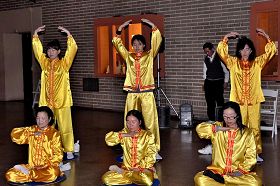 Practitioners demonstrating the Falun Gong exercises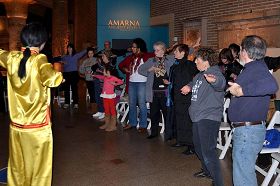 Many people showed interest and enthusiastically learned to practice the Falun Gong exercises
The celebration featured a variety of activities, such as music, dance, calligraphy, martial arts, tai chi, children's recreation, and Falun Gong exercise demonstration. According to Ms. Tena Thomason, who was in charge of the celebration, more than 1,300 people from different nationalities attended the event.
Many people visited the Falun Gong booth to learn about the practice and the ongoing persecution of Falun Gong practitioners in China. Ms. Ginger took informational materials on offer and told a practitioner: "I've heard about Falun Gong and have searched for information on the Internet. I like this practice; it enables one to achieve inner peace. I want to know where I can learn the exercises in Philadelphia."
A Chinese family from the Philippines said: "We understand the Chinese Communist Party's (CCP) evil nature very well. Our family fled from the persecution of the Communist Party."
A person from Taiwan said: "I know people in Taiwan can practice Falun Gong freely. Your Falun Gong practitioners have high moral standard."
Several young overseas students from China were surprised to learn that Falun Gong can be freely practiced on university campuses in the U.S., which is very different from the lies they had been told by the CCP prior to coming to the U.S.
Practitioners' exercise demonstration stimulated great interest, and many people enthusiastically started to learn the exercises after seeing the demonstration. Ms. Roberta Ferris said after doing the exercises: "The movements are simple—I really like it. I felt relaxed and peaceful while doing them, and my mind is clear. After a busy day, doing the exercises would be relaxing. I'll learn more about the practice."
Many people condemned the CCP's persecution of Falun Gong, and many expressed an interest in going to practice sites to continue learning the exercises. A lady invited practitioners to teach the exercises at her granddaughter's elementary school. A photographer from the university's daily newspaper and a videographer from the museum recorded the practitioners' exercise demonstration.