Ms. Zhao Ye Dies After Being Tortured in Hebei Women's Forced Labor Camp (Photos)
December 22, 2012 | By a Minghui correspondent in Hebei Province, China
Name: Zhao Ye (赵烨)
Gender: Female
Age: About 40
Address: Tangshan City, Hebei
Occupation: Designer at the Tangshan Ceramic Research Institute
Date of Death: December 15, 2012
Date of Most Recent Arrest: February 25, 2011
Most Recent Place of Detention: Hebei Women's Forced Labor Camp (河北女子劳教所)
City: Tangshan
Province: Hebei
Persecution Suffered: Electric shock, forced labor, illegal sentencing, beatings, imprisonment, interrogation, detention
(Minghui.org) Ms. Zhao Ye, a Falun Gong practitioner from Tangshan, was severely tortured, mistreated and abused in Hebei Women's Forced Labor Camp for nearly a year, finally resulting in her hospitalization in critical condition. She was subsequently released on medical parole. Ms. Zhao passed away on the night of December 15, 2012. She was only 40 years old.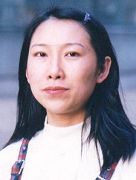 Ms. Zhao Ye prior to the persecution.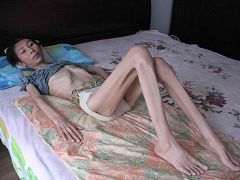 Ms. Zhao after being tortured to the point of extreme emaciation.
Ms. Zhao was an artistic designer at the Tangshan Ceramic Research Institute, where her designs won several awards. She also worked at a residential decoration company. When she was in her 30s, she was weak, plagued by diseases and had a hot temper. After she began to practice Falun Gong, however, her illnesses disappeared and her temper improved.
On February 25, 2011, officers from the Huoju Police Station illegally arrested Ms. Zhao because she gave someone a Shen Yun Performing Arts DVD. On March 11, 2011, captain of the Gaoxin Police Department's Domestic Security Division, along with officers Liu Hong and Xie Lei, handcuffed Ms. Zhao and took her to Kaiping Forced Labor Camp for a term of 21 months. In May of the same year, Ms. Zhao was transferred to the third brigade of Hebei Women's Forced Labor Camp.
At the labor camp, officials tried to force Ms. Zhao to renounce her faith. Ms. Zhao told them how she had benefited from practicing Falun Gong and refused to give up her belief.
On August 15, 2011, Falun Gong practitioners detained in the third brigade resisted the persecution and protested the illegal slave labor. Ms. Zhao was among them. The guards rushed toward them, some holding electric batons. The batons measured over 20 cm long and 3 cm in diameter. Team leader Lu Yaqin ordered practitioners to stand in rows and shouted, "I will extend all your terms by 3 months!"
Ms. Zhao was the first one to be called out. The guards dragged her into their office, where there is no surveillance camera, and used electric batons to shock her. They pulled up her shirt to shock her clavicles and her neck. When Ms. Zhao tried to persuade them to stop, one of the guards put the electric baton in her mouth and shocked her.
Lu Yaqin and Liu Ziwei actively participated in the torture, while Feng Kezhuang sat in the adjacent room giving commands. Several guards yelled outside the office, and people could hear the zaps of the electric batons from the outside. After about half an hour, they pulled Ms. Zhao out of the office.
The next day Ms. Zhao was forced to stand motionless the whole day. When she still refused to give up her belief on the third day, Liu Ziwei dragged her into the office again and beat her with electric batons for half an hour. When Ms. Zhao came out, her right upper arm was purple. In the afternoon, guard Shi Jiangxia and her husband, Zhang Ning, also a guard at the labor camp, threatened her and forced her to recite the prison regulations.
Afterward Ms. Zhao was forced to sit on the workshop floor for the whole day and sleep in the hall at night. The guards assigned someone to monitor her and prohibit her from speaking to others. This way, they separated her from the others.
Ms. Zhao was forced to sleep in the hall for about 3 months. Due to the pain and nerve damage inflicted through torture, her right arm muscles started to atrophy and her right palm became visibly smaller than her left palm. She could only use her left hand to eat, brush her teeth, and to wash clothes; her right arm could not function and felt as if it had detached from her body. She requested several times to be examined at a hospital, but the labor camp doctor with surname Ma (male, in his 40s) said there was no need for a checkup as long as the bones were not broken.
As a result of the long-term persecution, Ms. Zhao became extremely emaciated and her hearing greatly declined by the end of 2011. People had to shout for her to hear them. Her condition continued to deteriorate in 2012. She could only eat a little and had diarrhea. Her sputum was black, her movements were slow and shaky, and she began to hallucinate.
When Ms. Zhao was in critical condition on March 1, 2012, the labor camp finally admitted her to a clinic to get an IV. The brigade captain monitored her, not allowing anyone to speak to her. Later, Ms. Zhao was transferred to a hospital.
Ms. Zhao's family got the news that Ms. Zhao had been hospitalized in critical condition on March 14, 2012. They immediately rushed to Hebei Province Women' Labor Camp. After numerous requests, the labor camp finally allowed her family to bail her out for medical treatment. Hence, Ms. Zhao was released on medical parole.
Ms. Zhao was in a half-conscious state and could not care for herself. She had a persistent high fever and her weight was only about 55 pounds. Ms. Zhao's family spent tens of thousands of yuan on her medical care, but she still did not recover and could only survive on infusions and medication. She told her family that she may have been poisoned by the labor camp guards, as she had once inexplicably vomited after a meal.
After her release, the Hebei Women' Forced Labor Camp forced her family to report her condition to the authorities on a monthly basis. Ms. Zhao passed away on December 15, 2012, at the age of 40.
Persons who participated in the persecution of Ms. Zhao in the Hebei Women' Forced Labor Camp include the third brigade captain Wang Xin, team leader Lu Yaqin, Shi Jiangxia, Wang Weiwei, Liu Ziwei, and prison doctor with surname Ma. Further investigation is ongoing to identify others participating in the persecution of Ms. Zhao.
Earlier report:
"Ms. Zhao Ye Tortured to Near Death at Hebei Province Women's Forced Labor Camp"
(http://en.minghui.org/html/articles/2012/11/11/136244.html)