Indonesia: Practitioners Call for An End to CCP's Live Organ Harvesting (Photos)
December 17, 2012 | By a practitioner in Indonesia
(Minghui.org) On December 8, 2012, two days before World Human Rights Day, Falun Dafa practitioners in Indonesia held activities in Jakarta and Bali to expose the Chinese Communist Party's (CCP) crimes of live organ harvesting from Falun Gong practitioners and other prisoners of conscience.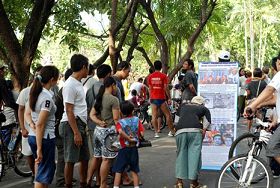 In Bali, visitors pause to view posters exposing the CCP's live organ harvesting.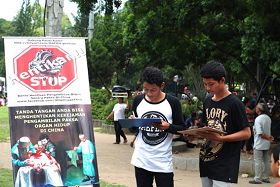 Signing a petition in support of Falun Dafa.
Dafa practitioners in Jakarta commemorate practitioners who lost their lives in the persecution in China.
On December 8, at Fountain Square in the Jakarta business district, practitioners held banners exposing the CCP's thirteen-year persecution of Falun Dafa and its crimes of live organ harvesting. In the three-hour event, practitioners distributed many fliers and collected signatures to help stop the persecution.
The Indonesia Falun Dafa Association issued a statement condemning the CCP's live organ harvesting and called for an immediate end to the atrocity. The Association also requested that the United Nations help rescue Dafa practitioners who are being unlawfully imprisoned in forced labor camps, and called on the Indonesian government to restrict organ transplantation trade with Chinese hospitals. The statement also called for Indonesians' support to help stop the genocide against Falun Dafa practitioners in China.
On December 9, Bali practitioners conducted activities in two popular parks, calling for an end to the live organ harvesting. A middle-aged man said, "In Indonesia, if you need to have transplantation surgery, it is hard to find a matching blood type. Why is it so easy [in China] to find a matching organ?!"
After learning about the CCP's atrocity of live organ harvesting, many people signed a petition in support of the practitioners' efforts.