Mr. Qiao Jianjun Brought to Trial after Being Detained for Four Months
December 11, 2012 | By a Minghui correspondent from Shanxi Province, China
(Minghui.org) On November 20, 2012, at about 9 a.m., Mr. Qiao Jianjun appeared in front of his family, wearing handcuffs and shackles, after being detained for four months. He stood in court, clearly emaciated as a result of extended ill-treatment. His face was lined, his eyes lifeless, and his voice hoarse.
In order to reassure his family and relatives, he turned and smiled at them from time to time. However, his smiles looked very tentative. No one knew how he had been tortured. Some of his family members sobbed during the entire proceedings.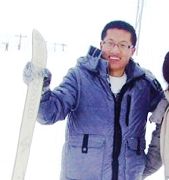 Mr. Qiao Jianjun
Mr. Qiao, about 30, was born in Jilin Province. He now lives in Qingdao, Shandong Province. He was in charge of personnel development in the China Petrochemical Corporation. He was regarded as an excellent employee and loyal co-worker. On July 15, 2012, at 2 p.m. while he was in Wenshui County, Luliang City, Shanxi Province, Mr. Qiao was taken to the Wenshui Police Department. His car was also confiscated by the police. On August 3, 2012, his family went to the Wenshui Detention Center and requested a visit, but the staff refused to allow it, stating that the court had not classified the case.
In court, Mr. Qiao clarified the truth about Falun Gong, although he was very pale and weak. Attorney Zhang Chuanli pleaded not guilty for him. The prosecutor presented "criminal" evidence that Mr. Qiao had been carrying about 1,000 Shen Yun DVDs. Defense Attorney Zhang told the court that he opposed evil cults, but that neither the Public Security Ministry's decision nor the notification from the Standing Committee of the National People's Congress have ever stated that Falun Gong was a cult. According to Chinese law, therefore, Falun Gong is not a cult.
The prosecutor did not dare to give direct answers. The court is currently deliberating on a possible sentence.
Li Yandong, director of Wenshui County Police Department in Shanxi Province: +86-538-3011923(Office)
Zhang Yongqiang, director of the 610 Office: +86-15333585627(Cell), +86-15603586668(Cell)
Li Buyang, chief of Domestic Security Division: +86-15333585513(Cell)
Wu Shusheng, warden of Wenshui Detention Center: +86-13835856888