Mr. Feng Qifeng from Jiangmen City, Guangdong Province Arrested; His Elderly Mother Pushed Downstairs by Police (Photo)
November 19, 2012 | By a Minghui correspondent from Guangdong Province
Name: Feng Qifeng (冯崎峰)
Gender: Male
Age: 45
Address: Yayiju, Yilu, Pengjianghuan City
Occupation: Worker at Deshi Computer Peripheral Equipment Incorporated of Jiangmen City, Guangdong Province
Date of Most Recent Arrest: October 23, 2012
Most Recent Place of Detention: Jiangmen City Detention Center (江门市看守所)
City: Jiangmen
Province: Guangdong
Persecution Suffered: Home ransacked, detention
(Minghui.org) A group of agents from Jiangmen 610 Office arrested Ms. Li Aiqun, in her 60s, at her home on the morning of October 23, 2012. It was the second time she was arrested. Soon afterward, another group of agents from Jiangmen 610 Office, the domestic security division, as well as chief Huang, deputy chief Chen Zhixiong and officers from Nonglin Police Station in Pengjiang District went to Mr. Feng Qifeng's workplace at around noon and forcibly took him away.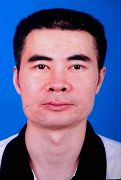 Mr. Feng Qifeng
The police and agents from the 610 Office then drove both Ms. Li and Mr. Feng to Mr. Feng's apartment building to ransack his home. More than a dozen officers pounded on the door, but his family refused to open it. They then used an electric drill to destroy the lock and eventually forced their way in.
Mr. Feng's children were all at home and witnessed the police raid their home for more than four hours. They confiscated a laptop, two printers, DVD burner, two brand new cell phones, some Dafa books and other personal belongings. They also interrogated the children one by one, but they refused to answer any questions.
Upon learning of the raid, Mr. Feng's mother Ms. Li Yuxia, his brother, sister and a few other relatives rushed to his place, but they were stopped on the staircase by the police. One officer kept shoving Mr. Feng's 77-year-old mother down the stairs to prevent her from entering her son's home. Fortunately, she didn't suffer any injuries, but Mr. Feng's family and neighbors were all shocked by the officer's violent behavior.
Mr. Feng's mother managed to stand back up and tried to write down the badge number of the officer who pushed her. But the officer kept moving around so she wasn't able to see his badge. Mr. Feng's elderly mother had to stand by helplessly watching the police raid her son's home and take him away.
At around 11 p.m. officers from the 610 Office and the police took Mr. Feng back to his home. This time they forced him to stand by his bedroom door and took some photographs of him. They then took him away again without telling his family where he was being detained.
When Mr. Feng's son, Jinlin, and Mr. Feng's mother went to Nonglin Police Station the next morning to request his father's release, they were told that there was no such person in custody there. Jinlin said to the officer, "I recognize some of the police here who took my dad and ransacked our home yesterday. You also participated in the looting of my home." The officer reluctantly told Jinlin that his father had been taken to Jiangmen Detention Center. When Jinlin asked how to find his father, the officer asked for his cell number.
At around 8 p.m. that night Jinlin received a call from the police station. A voice on the other end of the phone said, "Your father is facing one month of detention. Come sign a document." Jinlin replied, "There's nothing wrong with my dad being a good person. He is supposed to have freedom of belief and he broke no laws. I strongly demand that you immediately release my dad. There's no way I'm going to sign that document." The person then hung up the phone.
Two hours later a few police showed up at the door, demanding to know Mr. Feng's wife's whereabouts. His mother refused to tell them and drove them out of the home.
On the third morning, Jinlin accompanied his grandmother to Nonglin Police Station again to ask for his father's release. They were told to check with a man with the last name of Li at the Pengjiang District Domestic Security Office. When they went there, Li refused to meet with them. Instead, he sent down Liu Chaoquan to talk to Mr. Feng's family.
Mr. Feng is currently on hunger strike at Jiangmen Detention Center.
Those involved in the persecution of Mr. Feng:
Jiangmen City 610 Office: 86-750-3308072
Yang Ke, deputy head of Jiangmen City 610 Office: 86-750-3276078, 86-13802606289 (Cell)
Ma Laijiu, deputy secretary of the Political and Legal Affairs Committee: 86-750-3276098 (Office), 86-13600058951 (Cell)
Jiangmen City Detention Center: 86-750-3260732
Liu Chaoquan, deputy head of Pengjiang District Domestic Security Office: 86-13702275500 (Cell)