Ms. Shen Huafeng Sentenced to Four Years in Prison and Denied Her Pension
November 01, 2012 | By a Minghui correspondent in Tianjin, China
(Minghui.org) The Bureau of Labor and Social Security in Hexi District, Tianjin, recently refused to process the application for retirement and a pension for Ms. Shen Huafeng, because she practices Falun Gong and is incarcerated.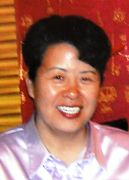 Ms. Shen Huafeng
Ms. Shen is being held in Tianjin Women's Prison. She turned 50 on October 19, 2012, and qualified for retirement. When her family went to the Bureau of Labor and Social Security in the Hexi District to apply for her retirement for her, the office refused to process her application for the reasons stated above.
She had paid her premium for the pension regularly since she was employed and is full vested, and has the full right to receive a pension after she retires. Her family members have looked through all related regulations and have not found any legal basis for denying or delaying her application for retirement and receiving a pension.
Due to her illegal imprisonment and being denied a pension, her family has encountered financial difficulties.
Ms. Shen was arrested by Qi Bo from the 610 Office and officers from the local police station on December 21, 2010. The Hexi District Court tried her without notifying her family members on June 9, 2011. The court sentenced her to four years in prison on September 19. Her family hired a lawyer and submitted her appeal to a higher court on October 25. On November 2 the Tianjin Second Intermediate Court upheld the original sentence in writing, without a trial.
Ms. Shen has been illegally incarcerated for almost two years in Group Three, District Four of Tianjin Women's Prison. Her daughter had asked to see her many times, but was denied because she refused to sign a form which slanders Falun Dafa. She has seen Ms. Shen only once in two years.
Parties involved in the persecution:
Tianjin Second Intermediate Court:
Zhou Hong, judge: +86-22-28024727
Liang Yun, court reporter: +86-22-28024740
Hexi District Court:
Yang Qingren, head judge: +86-22-58313582
Wang Xiaojiang, junior judge: +86-22-58313585
Zhang Pei, junior judge: +86-22-58313587
Qi Bo, officer from the 610 Office: +86-22-28385518
Bureau of Labor and Social Security, the Hexi District: +86-22-28275632, +86-22-28275530