Austria: Practitioners Gather in Linz and Vienna to Expose the Organ Harvesting in China (Photos)
(Minghui.org) On October 19 and 21, Falun Gong practitioners in Austria held two activities in Linz and Vienna to expose the persecution of Falun Gong and the Chinese Communist Party's organ harvesting from live Falun Gong practitioners. Practitioners collected signatures and called upon people to help stop the persecution.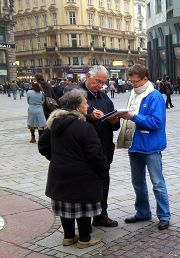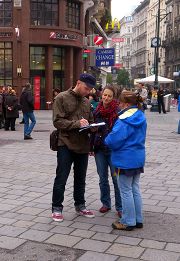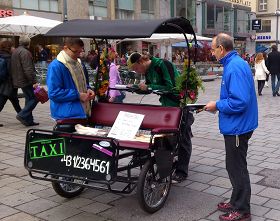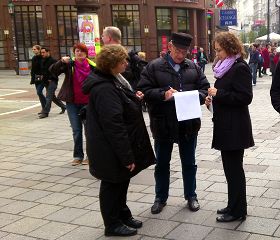 Signing petitions to support Falun Gong.
Many people from all walks of life signed the petition, including government officials, lawyers, writers, artists, businessmen, teachers, college students and housewives.
On August 16, 2012, Der Standard, a mainstream Austrian newspaper, published an article on its website, titled "Bo Xilai was involved in organ trade". The article reported that Ethan Gutmann, an American reporter, said in Vienna that Bo Xilai had been involved in the persecution of Falun Gong and harvesting Falun Gong practitioners' organs. Gutmann also pointed out that Jiang Zemin, the former communist party leader, and Zhou Yongkang, one of the communist party's central committee members, have also been involved.
The article quoted Gutmman that from 2001 to 2008, 65,000 Falun Gong practitioners became the victims of organ harvesting, and Liaoning province became a center of the organ trade. Gutmann believes that Bo Xilai, who was the governor of Liaoning from 2003 to 2007, was involved in the organ trade, together with his supporter, Zhou Yongkang.