Japan: Practitioners in Nagoya Raise Awareness about Persecution; An 80-Year-Old Man Encourages Them, "Good Luck!" (Photos)
October 28, 2012 | By a practitioner in Japan
(Minghui.org) Falun Gong practitioners in central Japan held an activity on October 20-21, 2012 in Sakae, the most bustling area in Nagoya, Aichi Prefecture. They wanted to raise awareness about the persecution of Falun Gong by the Chinese Communist Party (CCP) in China. An 80-year-old man encouraged the practitioners, "You've worked hard, please keep it up! Good luck!"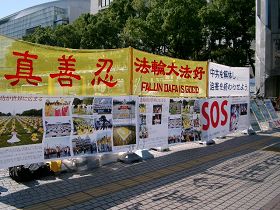 Banners and display boards hung in Sakae, the most bustling area in Nagoya, Aichi Prefecture, to spread Falun Dafa and expose the CCP's atrocities of harvesting organs from living Falun Gong practitioners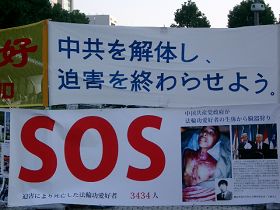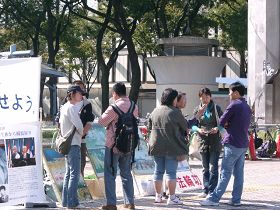 People view the displays to learn the facts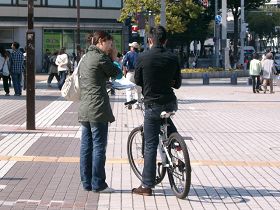 People learn about Falun Dafa
The annual Nagoya Festival parade was held on the weekend. The parade procession would pass Sakae, so the number of people on the street was greater than usual.
Practitioners unfolded banners in Japanese: "Falun Dafa Is Good," "Truthfulness-Compassion-Forbearance," and "Disintegrate the CCP, Stop the Persecution." They also hung display boards depicting the spread of Falun Dafa around the world and the CCP's horrific acts of harvesting organs from living Falun Gong practitioners in China. Many passersby were drawn to the display.
As soon as practitioners unfolded banners on the morning of October 20, a gentleman came over and said that he knew Falun Gong, and he used to work in Shanghai, China. He showed great sympathy for Falun Gong practitioners persecuted in China. Before leaving, he insisted on giving the practitioners 1,000 Japanese Yen to make more informational materials for people to learn about Falun Gong.
A young man in his 20s viewed the display that afternoon, and wanted to learn to practice Falun Gong. He learned the five sets of exercises and didn't want to leave.
An 80-year-old man came over on the second afternoon. He accepted informational material from a practitioner, and said, "I know Falun Gong, you've worked hard, please keep it up! Good luck!"
During the two-day event, practitioners also encountered many Chinese people and overseas Chinese students. Some of them took photos of the banners and display as soon as they saw them. Practitioners told them about the grand tide of quitting the CCP and its affiliated organizations. Some Chinese people declared their resignation from the CCP organizations on the spot.