Attorney Mr. Zhu Yubiao Sent Straight to Brainwashing Center after Serving Prison Term, Now in Critical Condition
October 28, 2012 | By a Minghui correspondent in Guangzhou City
Name: Zhu Yubiao (朱宇飙)
Gender: Male
Age: Unknown
Address: Haizhu District, Guangdong Province
Occupation: Attorney with the Guangda Law Firm, Attorney with the Hengyi Law Firm
Date of Most Recent Arrest: August 17, 2012
Most Recent Place of Detention: Guangdong Province Law Education Center (广东省法制教育所)
City: Guangzhou
Province: Guangdong
Persecution Suffered: Illegal sentencing, imprisonment, detention, forced labor, torture, sleep deprivation, brainwashing, force feeding
(Minghui.org) When Mr. Zhu Yubiao's two-year illegal prison term expired on August 17, 2012, he was transferred straight to the Guangdong Province "Law Education Center" located in Sanshui City, Guangdong Province. At the time of this writing, Mr. Zhu is in critical condition.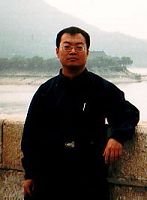 Guangzhou Lawyer Mr. Zhu Yubiao
An Honest Lawyer
Mr. Zhu Yubiao lives in the Haizhu District, Guangzhou City, Guangdong Province, and has a preschool-age daughter. He obtained his Master of Law degree from Sun Yat-Sen University and is a lawyer with strong moral character. On numerous occasions, he has defended the disadvantaged, either for free or a nominal sum. The local newspaper twice reported his kind acts.
Between 2005 and 2006, he defended a total of three Falun Gong practitioners who were illegally tried. His defense arguments were so thorough that the court officials appeared stunned. For instance, while defending Ms. Gao Huanlian, Mr. Zhu's defense rendered the judge and prosecutor speechless. During the proceedings, the prosecutor suddenly uttered, "Well, if you think this practice is good, just do it at home. Don't go out and get yourself into trouble." He was well aware that Mr. Zhu's defense was legally based and substantiated with solid evidence. As such, the court was unable to refute his argument. Due to his history of defending Falun Gong practitioners, officials from the Guangdong Province Justice Department labelled him a "counter-revolutionary" and listed him as a target for persecution.
Incarcerated Twice
Mr. Zhu was first arrested on February 10, 2007, and taken to the Guangzhou City Third Labor Camp and tortured. A group of inmates once beat him while simultaneously whipping his fingers and toes. They also covered his face with a wet towel until he almost suffocated. On another occasion, they tied his legs up to a bench and made him sit on the bench upright with his hands tied behind his back. Another time they twisted his arms all the way behind his back and had him bend over at a 90-degree angle. In the winter, they poured ice water over the top of his head. They often deprived him of sleep. Three times he went on a hunger strike and was force-fed each time. After enduring 18 months of suffering, Mr. Zhu was released on April 30, 2008.
Mr. Zhu was taken into custody again on August 17, 2010. Two days later, agents from the Haizhu District Police department delivered an arrest warrant to his parents. Citing insufficient evidence, the Haizhu District Procuratorate initially refused to indict Mr. Zhu. However, pressured and intimidated by the Guangzhou City 610 Office, the Procuratorate eventually sentenced him to a two-year term in Beijiang Prison in Guangdong Province.
Taken to a Brainwashing Center upon the Expiration of His Prison Term
Before his scheduled release date on August 17, 2012, Mr. Zhu's parent's repeatedly notified Beijiang Prison director Xiao of their intention to personally pick their son up.
At 4 p.m. on August 15, five officials descended upon Mr. Zhu's parents' home. They included Director Wang from Sun Yat-Sen University's Community Committee and an official from the Xingang Street 610 Office, who refused to give his name. They informed the elderly couple, "We received notice from the Haizhu District yesterday that there's no need for you to pick up your son since he will be sent to Guangdong Province Law Education Center in Sanshui first. You will receive a notice from Sanshui in just a few days." Mr. Zhu's parents were in total shock when they heard this.
Mr. Zhu's parents, both in their 70s, had been thinking about him day and night and counting the days until his release. After passing out twice on the trip to visit him in prison, Mr. Zhu's mother had been placed on bed rest for three months. Even before she made a full recovery, she was dealt the heavy blow of her son's extended incarceration.
Mr. Zhu's father, 76, a retired physics professor at Sun Yat-Sen University, was once the principal researcher of a United Nations-sponsored science project. He was not deterred by the news of his son's extended incarceration and made up his mind to go pick him up. Accompanied by his attorney, he drove 280-km and arrived at Beijiang Prison in Shaoguan before 8 a.m. on August 17. They were the first in line to do the release paperwork.
A female staff person typed their information into her computer and then asked them to take a seat in the waiting room. More than 20 minutes passed, but there was no sign of his son. The elder Mr. Zhu went inside to inquire, and the woman called a number to check and told him he still had to wait a bit longer. Another 20 minutes elapsed, but there was still no sign of his son. The elder Mr. Zhu checked again, and the woman placed another call. When Mr. Zhu pressed the woman for an answer a third time, he noticed her smile give way to a solemn expression, as if someone was reprimanding her. After she hung up, she delivered the news that his son had already been picked up by someone else. The elder Mr. Zhu was eager to find out who did it and where he was taken, but she said it was none of her business. She suggested that they go to the Prison Affairs Department just across the road to check.
As soon as the elder Mr. Zhu and the defense attorney crossed the road, they noticed a law-enforcement vehicle parked outside the courtyard. Beijiang Prison Director Xiao was already waiting there with two guards.
When the elder Mr. Zhu asked Xiao for his son, Xiao said, "I'm not handing your son over to you. I'll hand him over to his local government officials." When the defense attorney demanded to know which law stipulated that no family members were allowed to pick up their loved ones, Xiao questioned his identity. Pressed to show the younger Mr. Zhu's signature on the release form, Xiao replied, "Why do I have to show you? We have the authority to keep it confidential." The elder Mr. Zhu wondered when his son was picked up and Xiao gave a similar answer, "Why do I have to tell you? This is our internal matter."
Infuriated and powerless, Mr. Zhu and the defense attorney had no recourse but to leave. As soon as they walked out of the gate, Xiao summoned two plainclothes security guards and ordered them to follow the duo. The younger Mr. Zhu was sent to Guangdong Province Law Education Center that night.
Guangdong Province Law Education Center Responsible for Multiple Deaths of Falun Gong Practitioners
Mr. Zhu Yubiao started a hunger strike on August 20 and was force fed. He is now extremely thin and suffering from high blood pressure. He is in critical condition.
Guangdong Province Law Education Center is the highest-level brainwashing facility in Guangdong Province and is specifically used to persecute Falun Gong practitioners.
During the past ten years, a number of practitioners have been tortured to death in this facility. The first death recorded was Ms. Yang Xueqin, a retired official in her 60s from Guangdong Province Transportation Department. She was taken into custody at work in August 2002 and died around September or October of that year. Ms. Yang was also the 16th confirmed death of Falun Gong practitioners in Guangdong Province.
Ms. Wu Xuemei, a 48-year-old entrepreneur from Foshan City, Guangdong Province, was the latest casualty at Guangdong Province Law Education Center. Ms. Wu was sent there on November 9, 2011, and released on March 27, 2012. She died mysteriously two days later. Both her lips and fingernails were purple. She also had an extremely swollen abdomen.
Related article:
"Guangdong Female Entrepreneur Dies Mysteriously after Being Abused in Sanshui Brainwashing Center" (http://en.minghui.org/html/articles/2012/4/26/132908.html#.UHlmnobjra4)