Sydney: Organ Harvesting Atrocities Outrage Australians (Photos)
(Minghui.org) On October 19, practitioners set up a booth outside the Sydney Town Hall to raise awareness of the persecution of Falun Gong and collect signatures to help end the Chinese Communist Party's (CCP) atrocities of harvesting organs from living Falun Gong practitioners.
After hearing about the organ harvesting atrocities from a practitioner, one lady studied all the posters on display. She was outraged by the facts presented in the posters. She said: "It is horrible and absolutely barbaric." She waved her fists toward a communist policeman in a banner and shouted: "Bad man, bad man!"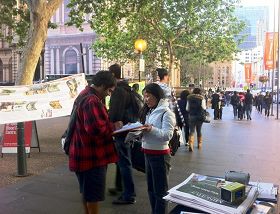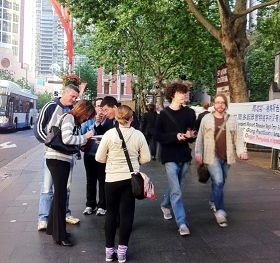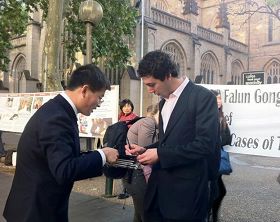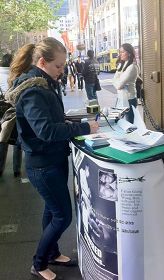 Practitioners collect signatures in downtown Sydney to raise awareness of organ harvesting atrocities
The area around Town Hall is concentrated with white collar workers, and practitioners hold events like this every Friday afternoon from 3 to 6 p.m. At each event, many people sign the petitions to express their support. Some have told the practitioners: We support you, and we wish you success!
After signing, some people ask for petition forms so they can collect signatures from their colleagues and friends. Some said that they would write to their MP and request the federal government to take action. Two ladies commented: "Our government should give priority to human right issues. We cannot just focus on trade with China, and the government should take concrete actions to address issues like this persecution.
Chinese Australian: This Is A Humanity Issue
A Chinese who has been in Australia for just a few months chatted with practitioners about the persecution. After hearing the truth about Falun Gong, and especially the organ harvesting atrocities, he was shocked and awakened. He decided to quit the CCP on the spot, and commented that this was not only a moral issue but also humanity issue.
Several Chinese tourists were visiting Australia for just a few days. They were very afraid at the beginning. However, after hearing the truth clarification, they took a Minghui Weekly with them.
Latino Ladies: Persecution Should Not Exist
After talking to the practitioners, two ladies from Latin America said: This persecution should have never existed, and people around the world should all say no to it.
An Australian senior came to the site to shake hands with every practitioner. He said that the practitioners had been working very hard and they should continue their great effort. He told the practitioners that he lived in Hong Kong for over 10 years and thus knew Falun Gong well and also knew what the CCP was and did.
While waiting for a green signal, a driver called a practitioner over to sign his name.
Permission for the Booth
Practitioner Ms. Bai told the reporter that the police department gave them permission for the event after they learned about Falun Gong. "Town Hall is a very busy place and intersections around it are always packed from 3 to 6 p.m. So when we first applied for permission to have a booth to reveal the organ harvesting crimes in China in this area, the police department did not approve. We then told them that living people are being killed for their organs, and a Chinese practitioner is killed when an Australian citizen requests an organ from a Chinese hospital. We also told them about websites at which they could get more information. After learning the truth, the department approved our application, said Ms. Bai, "Now we need to let everyone know about this crime."
Ms. Bai said: "Upon hearing about the organ harvesting, many Caucasians were shocked and they could not believe such a thing could happen. So many people sign our petition whenever we are here. Though we are here only 3 hours per event, we collect about 1000 signatures every time."
Several weeks ago, over 10,000 petition signatures were delivered to the Sydney government.