Excellent High School Teacher Mr. Bian Lichao Illegally Sentenced to 12-Year Prison Term--Tangshan Intermediate Court Attempts to Uphold Original Verdict
October 26, 2012
|
By a Minghui correspondent in Hebei Province, China
Name: Bian Lichao (卞丽潮)
Gender: Male
Age: 48
Address: Lunnan District, Tangshan City, Hebei Province
Occupation: Teacher
Date of Most Recent Arrest: February 25, 2012
Most Recent Place of Detention: Tangshan City No. 2 Detention Center (唐山市第二看守所)
City: Tangshan
Province: Hebei
Persecution Suffered: Illegal sentencing, extortion, home ransacked, interrogation, detention
(Minghui.org) Mr. Bian Licao, an outstanding teacher at the Kailuan No. 10 High School in Tangshan City, Hebei Province, was recently to a 12-year prison term. His attorney submitted his appeal to Tangshan Intermediate Court, along with his complaint to request that the court investigate the illegal procedures of his arrest and detention, and rectify the errors in the first trial. However, without scheduling a second trial, Judge Du Juan told Mr. Bian's wife and lawyer twice, on September 21 and October 10, 2012, respectively, to submit a written defense statement. It seemed that the judge was attempting to uphold the original verdict without holding a court session. Mr. Bian's wife and attorney explicitly told the judge that they would not submit the defense statement unless a court session was held.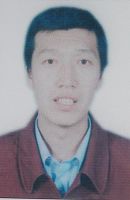 Mr. Bian Lichao
Mr. Bian Licao has been a teacher for 20 years. He was named an outstanding employee many times for his dedication and diligence. However, since the persecution of Falun Gong began in July 1999, the authorities at Mr. Bian's school deprived him of that honor because he persisted in his belief in Truthfulness-Compassion-Forbearance. Even so, Mr. Bian had no resentment and still worked diligently.
Mr. Bian was suddenly arrested on the morning of February 25, 2012. Lunan District police made the arrest and sent him to the Tangshan City No. 2 Detention Center. The local police extorted a "confession" from him by using threats and deception. Mr. Bian's wife Zhou Xiuzhen who is not a practitioner was arrested along with her husband. She was detained for ten days. When the police ransacked their home, the officers didn't present any documentation, and confiscated a great deal of personal belongings without providing a list of the items taken. The police then deceived Mr. Bian's wife and extorted more than 100,000 yuan from the family.
Tangshan Court officials tried Mr. Bian on July 26 for making Shen Yun Performing Arts DVDs and posters. The court deprived Mr. Bian's wife of her right to observe the court procedures as a family member. During the trial, Mr. Bian exposed how Ren Weijian from the Lunan unjustly obtained the evidence that was used against him. "They used my wife and daughter's safety to threaten me. They also threatened to arrest them if I denied the charges. They called a false witness and used evidence irrelevant to the charges."
Mr. Bian's defense attorney refuted the charges presented by the public prosecutor one by one from the legal aspect of the evidence in its legitimacy, authenticity, and relevance. Throughout the trial, presiding judge Wang Jian and the jurors repeatedly interrupted the attorney's defense. In the end, the attorney pointed out that the Lunan District police, procurator, and judge should be investigated for criminal liability for allegedly committing crimes of privately dividing confiscated property and bending the law for selfish ends. He also asked the court to declare the innocence of the defendant and order his release.
Mr. Bian offered his sincere advice in his final statement to personnel in the legal system present in the court, "It's not wrong to believe in Truthfulness-Compassion-Forbearance and to become a better person! I hope all of you to make right choice when facing this matter of principles, so that you may have a wonderful future."
The court officials however, disregarding the facts and law, handed Mr. Bian Lichao a 12-year prison term. Mr. Bian's wife hired a lawyer for her husband, and at the same time mailed out a letter of appeal to various governmental departments in Tangshan City, accusing Lunan District Domestic Security Division officers of defrauding Mr. Bian's family of more than 100,000 yuan when they arrested the couple.
Related articles:
"Falun Gong Practitioner Mr. Bian Lichao Unlawfully Tried in Court, His Wife Barred from Attending"
http://en.minghui.org/html/articles/2012/8/10/134873.html

"Trying to Rescue Their Unjustly Imprisoned Husbands, Wives Are Pressured by Their Employers to Divorce Them Instead" http://en.minghui.org/html/articles/2012/8/7/134836.html
Parties involved in the persecution:
Ren Weijian, Lunan District procurator: +86-315-2815757, +86-13703154529, +86-15512555668
Jiang Jianjun, Lunan Domestic Security Division officer: +86-13832989608
Li Biao, officer: +86-13832977698
Zhang Hewu, Tangshan Intermediate Court presiding judge: +86-315-2067413
Du Jian, judge in charge of Mr. Bian Lichao's case: +86-315-2067419
Please refer to the original Chinese article for more people and offices involved in the persecution.