Canadian Leaders Concerned with Organ Harvesting (Photos)
October 24, 2012 | By Minghui Correspondent Ying Zi
(Minghui.org) Canadian Green Party leader, MP Elizabeth May, expressed her concern with the organ harvesting crime by the Chinese Communist Party during a media interview on Oct. 15, 2012.
One hundred and six U.S. congressmen co-signed a letter recently asking the Secretary of State to release all information relating to transplant abuses in China on Oct. 4. MP Elizabeth May said, "I am impressed that so many U.S. Congressmen have taken this action to demand the information be made public. I certainly think it should be made public and I think that more Canadians should be asking questions about the human rights situations in China."
"The substantial evidence that political prisoners, practitioners of Falun Gong, Tibetans, those who follow house churches within China, are used for involuntary organ harvesting is truly horrific. It violates so many global norms for human human rights that it is really shocking."

On January 31, 2012, Falun Gong practitioners gathered in front of the Parliament Building to raise awareness of the 12-year-long persecution of Falun Gong in China. MP May with Falun Gong practitioners.
On Bo Xilai's persecution of Falun Gong, MP May said, "When you consider that someone like Bo Xilai was doing well in terms of achieving levels of power and he was associated with this kind of suppression, it makes one very worried about how those transitions will go."
She thinks more Canadian should pay attention to human rights in China. "I think Canadian parliamentarians should look at what the U.S. Congressmen, the 106 Members of Congress have said and consider what action we could take in Canada to also shine a spotlight on this and see if we can do anything to ensure that human rights norms are observed."
Chairman of the Parliamentary Friends of Falun Gong and Member of Parliament Brent Rathgeber mentioned the persecution of Falun Gong and facts of organ harvesting from living Falun Gong practitioners during the 1st session of the 41st Parliament.
He said, "Falun Gong practitioners promote the cultivation of mind and body and encompass the universal principles of truthfulness, compassion and forbearance. However, the Falun Gong are persecuted ruthlessly. In China, freedom of belief is non-existent, and the Falun Gong are subject to arbitrary arrest, torture, lack of medical attention and, most disturbing, live organ harvesting."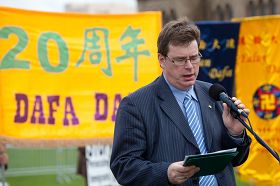 Chairman of the Parliamentary Friends of Falun Gong and Member of Parliament Brent Rathgeber gives speech at celebration of the 20th anniversary of Falun Dafa's Public Introduction on May 9, 2012.
MP Rathgeber also said during the 41st Parliament, "I am proud to serve as the chair of the Parliamentary Friends of Falun Gong, and as such I spoke at a rally on Parliament Hill on Wednesday that was attended by hundreds of Falun Gong observers. The Parliamentary Friends of Falun Gong call on the Chinese government to put an end to the ongoing persecution of the Falun Gong. Falun Gong are peaceful, law-abiding citizens, and there is no excuse for the human rights violations they have endured.
"As the great civil rights leader Martin Luther King said 50 years ago, 'Human progress is neither automatic nor inevitable... Every step toward the goal of justice requires sacrifice, suffering, and struggle; the tireless exertions and passionate concern of dedicated individuals'. I am inspired by the passion, the sacrifice and the struggle exemplified by the practitioners of Falun Gong."