San Francisco: Chinese Tourists Amazed by Falun Gong Performances at Columbus Day Parade (Photos)
(Minghui.org) On October 7, Falun Gong practitioners from Northern California participated in the annual Columbus Day Parade in San Francisco. It was the 10th time that Falun Gong was represented at this event.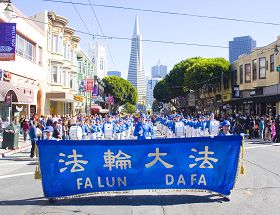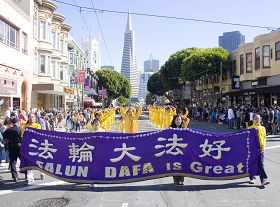 The Divine Land Marching Band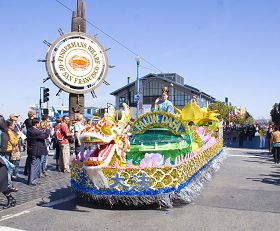 Falun Gong float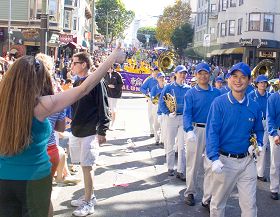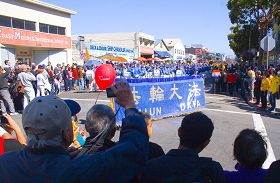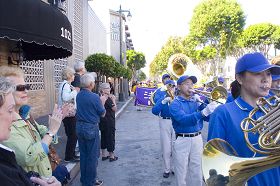 Local citizens welcome Falun Gong
More than 80 groups participated in the parade. The parade took off from Stockton Street at 12:30, followed Columbus Avenue to Chinatown and the Italian community, and ended at Washington Park. The Falun Gong contingent was led by the Divine Land Marching Band. Practitioners demonstrated the exercises on a float. Their entry was one of the largest in the parade. A Chinese family on vacation in the U.S. was amazed by the Falun Gong procession: "They have so many members. We didn't know that Falun Gong had spread so broadly throughout the world. There are even Westerners in their group!"
Ms. Wilson, one of the organizers of the parade, had high praise for the practitioners' performances. She particularly liked the float. "We are proud of them. The band was excellent," she said.
Debra, a local girl, gave a "thumbs up" for Falun Gong. "We support you," she kept shouting when the Falun Gong group walked up Columbus Ave, "We support freedom of belief!"
Ms. Sloan from Alaska also supported Falun Gong. "I like this group. They are wonderful. I know that a lot of people support them. I am glad to see them today. I will learn more about them in the future," she said.