Wuhan Police Arrest 70-Year-Old Country Woman; Neighbors Condemn Officers' Behavior
January 07, 2012 | By a Clearwisdom correspondent from Hubei Province, China
(Clearwisdom.net) On the morning of September 16, 2011, Falun Gong practitioner Ms. Dai Dezhen, near 70, from Tujialingnan Village, Wuchang District was grocery shopping when she was arrested by officers from the Meiyuan Police Station. That afternoon, the officers ransacked her home and confiscated Falun Gong books, 2,000 yuan (~$320 USD) in cash, and other personal belongings. Even a fan and a suit she often wore were confiscated as evidence. The next day, Ms. Dai was taken to the Erzhigou Women's Forced Labor Camp in Dongxihu.
Two weeks later on October 4, the officers planned to transfer her to the Yangyuan Brainwashing Center in Wuchang District. Ms. Dai managed to escape while being transferred to the brainwashing center. The police authorities were angry, sending many officers after her. Many practitioners who live in the Yangyuan area were repeatedly harassed and threatened, especially Ms. Dai's family and friends. They lived in fear.
On November 1, 2011, Ms. Dai was again arrested and taken to the Yangyuan Brainwashing Center. She has been detained there since.
According to her neighbors, uniformed and plainclothes officers are still often seen around Ms. Dai's home, harassing and intimidating Ms. Dai's family and neighbors. Some brave neighbors have condemned the officers' behaviors with words such as, "What's the matter with them?," "They are psychopaths," and "Other than eating, drinking, whoring, gambling, and corruption, these imbeciles only oppress the good people."
It is alleged that beatings of Falun Gong practitioners occur every day at the Yangyuan Brainwashing Center. Practitioners are abused physically and mentally. Torture methods often used are: slapping across the face, punching the head, slamming the body against the wall, gripping the throat, stamping on feet, beating with various objects, swearing, insulting, depriving of sleep, denying restroom use, forced long-term standing, hanging by handcuffs, shocking with electric batons, force-feeding, and more.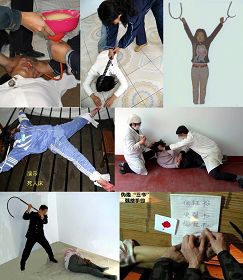 Torture re-enactment: force-feeding, shocked by electric batons, big hangup, death bed, injected with unknown drugs, severe beating, and forced fingerprinting
In order to "transform" practitioners, brainwashing center authorities use all kinds of methods. They use different tactics for different practitioners, such as beating them, putting drugs in their food, and depriving them of sleep. They push practitioners beyond their physical and mental limits. Some practitioners fall down while standing, and some suffer mental collapses. If practitioners refuse to renounce their belief in Falun Gong after one month, they will be locked in solitary confinement with the window and door closed. They will be indoctrinated with lies and propaganda under huge pressure and in a horrifying environment. This has rendered many practitioners delirious for long periods of time, even after they have left the center.
Meiyuan Police Station: +86-27-88085550, +86-27-87890423, +86-27-87360231
Kuang Peiyong, head of the Wuchang District 610 Office: +86-27-68936468 (Office), +86-27-88936392 (Office)
Zeng Fanliang, chief of the Domestic Security Division of the Wuchang District Police Sub-Bureau: +86-27-88085381 (Office), +86-13349956169 (Cell)