Helsinki, Finland: Introducing Dafa and Exposing the Persecution (Photos)
January 06, 2012 | By a practitioner in Finland
(Clearwisdom.net) Practitioners in Helsinki, Finland gathered at the central railway station on December 31, 2011, to expose the persecution of Falun Gong by the Chinese Communist Party (CCP), and to call for people to work together to bring an end to the persecution in China.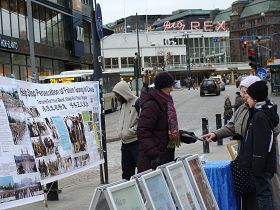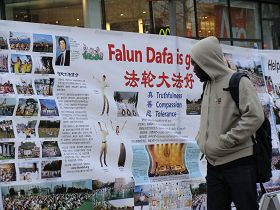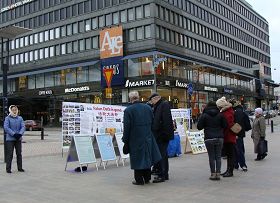 People attentively learn the facts about Falun Gong in downtown Helsinki
A steady stream of people gathered downtown to greet the arrival of 2012. Finnish practitioners used the opportunity to introduce Dafa and expose the persecution to a large number of people. In front of a huge banner, practitioners demonstrated the five sets of Falun Gong exercises; a row of banners and display boards depicting the brutality of the persecution drew many people's attention. Many spoke with the practitioners to learn more, or to express their own opinions, and many signed a petition condemning the CCP's inhuman persecution.
Many people who took the informational flyers expressed their support for the practitioners' efforts to resist the persecution. Some who had learned about the persecution enthusiastically shared their knowledge with their companions.
A group of Chinese students passed by and were a bit surprised to see the photos depicting the torture methods that the CCP uses to persecute Falun Gong practitioners. Practitioners told them how the Tiananmen self-immolation was a hoax orchestrated by the CCP to frame and defame Falun Gong. Practitioners also told the Chinese students about the brutality of the persecution over the past 12 years. The students accepted the truth-clarification materials before leaving.