Canadian Government Helps Rescue Falun Gong Practitioner (Photos)
(Clearwisdom.net) Lin Mingli, a Falun Gong practitioner from China, was rescued with help from the Canadian government, after being tortured for 10 years by the Chinese Communist Party (CCP). On New Year's Day, Lin arrived at Pearson International Airport in Toronto, and met his brother Lin Shenli, who he had last seen 13 years before.
The brothers hugged and cried. Other practitioners who were there to welcome Mr. Lin also cried.
Since the CCP launched the persecution of Falun Gong in 1999, Mr. Lin Mingli has been arrested three times, sent to a brainwashing center once, and sentenced to jail twice. He was badly tortured. The CCP police tried to force him to renounce Falun Gong, but he refused to do so despite the persecution.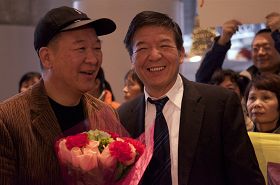 Mr. Lin Mingli and Mr. Lin Shenli at Pearson Airport, Toronto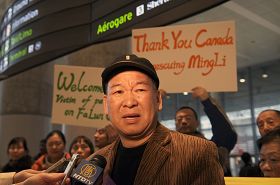 Mr. Lin Mingli is interviewed by media at Pearson Airport, Toronto.
In October 2011, after he was released from Tilanqiao Prison in Shanghai, Mr. Lin obtained a visa from Citizenship and Immigration Canada. At Pearson Airport, Mr. Lin told the reporter: "I am grateful to the Canadian government, the minister of Immigration, and to Member of Parliament, Mr. Scott Reid, who helped to rescue me from China."
Mr. Lin also thanked Falun Gong practitioners in Canada for their efforts to rescue him.
"I am very excited today. I've finally got out of the CCP's persecution," he said. "The last time I saw my brother Lin Shenli was in 1999. We were both arrested for practicing Falun Gong. We were separated in jail."
Mr. Lin Shenli was rescued by the Canadian government in 2002. In the same year, the Canadian Parliament passed Resolution M-236 proposed by MP Scott Reid, requesting the Prime Minister to rescue 13 Falun Gong practitioners in China, including Lin Shenli.
Mr. Lin Mingli said with tears in his eyes: "There are many Falun Gong practitioners in China who are still being tortured."
"The CCP has applied all kinds of torture methods to Falun Gong practitioners," he said, unable to refrain from crying when talking about the persecution.
In 2000, Mr. Lin Mingli was sent to a brainwashing center for the first time, where he was asked to renounce Falun Gong. He refused. In 2001, he was sent to a forced labor camp. He was jailed there until March 2003.
In October 2005, he was arrested again. This time, he was sentenced to 6 years.
"In the prison, they took off my clothes, hung me up with five ropes, and beat me with bamboo sticks," Mr. Lin said. "They often beat me, and wouldn't let me fall asleep. They often told me to renounce Falun Gong, and beat me when I said 'no'."
"They also played audio recordings that attack Falun Gong, and forced me to listen to them."
"I saw them beating a Falun Gong practitioner in prison until he passed out. Then they sent him to the hospital. Once, I saw them beating another practitioner. His head was bleeding, but they didn't send him to the hospital."
More than 20 local practitioners and supporters welcomed Mr. Lin at the airport. He said: "I am very happy today. Thank you all. There are still many practitioners who are suffering from the unimaginable torture. They still solidly uphold their belief despite all the torture."
Mr. Lin hopes that the 12-year-long persecution will end soon.