Practitioners from China Respectfully Wish Revered Master Li Hongzhi a Happy Chinese New Year (Part 8) (Photos)
(Clearwisdom.net) As Chinese New Year approaches, Falun Dafa practitioners around the world traditionally send New Year's greetings to the Minghui/Clearwisdom website. Included with the greetings are scores of homemade greeting cards, poems, and photographs sent to respectfully wish our compassionate and selfless Master Li Hongzhi a Happy Chinese New Year. In this report, we list over 100 greetings sent to revered Master in 2012 from Falun Dafa practitioners in China:
Falun Dafa Practitioners from Weihai, Shandong Province, and the Following Areas Respectfully Wish Revered Master a Happy New Year!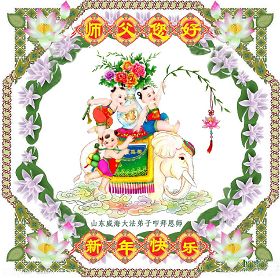 Shenyang; Weighing, Shandong; Hengshui City, Hebei; Benxi City, Liaoning; Mengyin County, Shandong; Yinan County, Shandong; Longkou, Shandong; Guangzhou; Cangzhou, Hebei; Yanbian, Jilin; Pingyuan County, Shandong; Hebei; Dalian; Baoding, Hebei; Nanjing; Changchun; Zigong City, Sichuan; Shanghai; Shijiazhuang; Zhaoyuan, Shandong; Jilin City; Weifang, Shandong; Huai'an, Jiangsu; Shahekou District, Dalian; Laiwu, Shandong; Shijiazhuang; Changchun; Weixian County, Hebei; Fuxin, Liaoning; Chang'an District, Shijiazhuang; Chengdu; Jieyang City, Guangdong; Dujiangyan City; Daqing; Baoding, Hebei; Anshan, Liaoning; Mianyang City, Sichuan; Electric Mechanics Research Institute; Wuyi County, Zhejiang; Tumen City, Jilin; Beijing; Jiamusi; Fushun, Liaoning; Fuzhou, Fujian; Yangyuan County, Hebei; Lianzhou City, Guangdong; Zoucheng, Shandong; Emei City, Sichuang; Shenzhen; Songyuang City, Jilin; Guangzhou; Jilin; Yongchuan, Chongqing; Bishan, Chongqing; Liaocheng, Shandong; Rushan, Shandong; Dongying and Shengli Oil Fields, Shandong; Harbin and Acheng, Heilongjiang; Shenyang; Xinmin City, Liaoning; Shenzhen; Dongguan; Linfen, Shanxi; Yuncheng, Shanxi; Jizhou City, Hebei; Nangong City, Hebei; Anyang, Henan; Yixian County, Liaoning; Qingdao, Shandong; Shulan, Jilin; Fuyuan County, Heilongjiang; China Ocean Bureau; Haiyang, Shandong; Henan; Forest System in China; Meizhou, Guangdong; Shanghai; Rongcheng, Shandong; Xintian County, Hunan; Entry-exit Inspection and Quarantine Bureau in Shandong; Hubei; Shapingba, Chongqing; Nanjing; Beizhen City, Liaoning; Huanan Science and Technology University; Honghezhou, Yunnan; Gulou District, Nanjing; Weiyuan, Sichuan; Tahe County, Heilongjiang; Shihe, Dalian; Qitahe, Heilongjiang; Chaoyang District, Beijing; Huaihua City, Hunan; Zhengzhou, Henan; Kaifeng, Henan; Sanmenxian, Henan; Dalian; Jiamusi; Heilongjiang; Harbin; Dongguan, Guangdong; Linquan County, Anhui; Xiangtan, Hunan; Anshan, Liaoning; Fengtai, Majiabao and Jiaomen of Beijing; Jiaxing, Zhejiang; Wuhan; Hanyang; Laiyang, Shandong; Fujin City, Heilongjiang; Changchun; Baoqing County, Heilongjiang; Huludao, Liaoning; Suning, Hebei; Jiaxing, Zhejiang; Shijiangzhuang, Hebei; Zhoayuan, Shandong; Changqing District, Jinan; Jiaocheng, Shanxi; Xiaohe District, Guiyang; Shuangji City, Jilin; Beijing; Zhaoyuan County, Daqing; Jinan, Shandong; Harbin; Weifang, Shandong; Jinzhou, Dalian; Shenyang; Industry and Commercial Administration System in China; Shenyang; Harbin; Huainan and Shouxian, Anhui; Xinjiang; Shenyang; Dingxi, Gansu; Songhuajiang, Jilin; Qiqihar, Heilongjiang; Shenyang Industrial University; Zibo and Linzi, Shandong; Shanghai; Longganhu, Hubei; Yiyang City, Hunan; Hongjiang City, Hunan; Sixian County, Anhui; Ziyang, Sichuan; Anqiu, Shandong; Nanjing; Baixian County, Chengdu; Zaozhuang, Shandong; Farming System in Hainan; Hailin City, Heilongjiang; Lixian County, Hebei; Zhuhai City, Guangdong; Guangdong; and Wulanhaote City, Inner Mongolia.