Mr. Kou Chuangjin from Qingyang City, Gansu Province, Put on Trial Illegally (Photo)
January 22, 2012 | By a Clearwisdom correspondent in Gansu Province, China
Name: Kou Chuangjin (寇创金)
Gender: Male
Age: 59
Address: Cement Plant Resident Area, Xifeng District, Qingyang, Gansu Province
Occupation: Government official
Date of Most Recent Arrest: June 29, 2011
Most Recent Place of Detention: A detention center (看守所)
City: Qingyang
Province: Gansu
Persecution Suffered: Detention, home ransacked, extortion, denied visitation

(Clearwisdom.net) On November 10, 2011, Xifeng District Court in Qingyang City, Gansu Province, illegally put Mr. Kou Chuangjin on trial.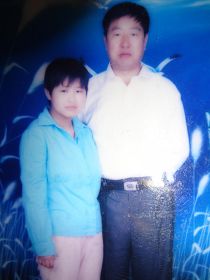 Mr. Kou Chuangjin with his daughter, Kou Juanjuan
On November 10, 2011, Xifeng District Court posted on its own bulletin board that there a trial would be held at 8:30 in the morning for Kou Chuangjin. However, the court did not notify Mr. Kou's family about the trial; they later learned about it through other channels. About a dozen of Mr. Kou's family members went to the court on time but were denied admission.

The courthouse was guarded by armed police in bulletproof vests. People were admitted at around 9:00 in the morning; the police conducted body scans and confiscated their cell phones.

When Mr. Kou's family members were just about to sit down, the police officers yelled at them, "He's coming soon! Come out and go through the body scan one more time!" The family members had to go back to the lobby to be checked again. An officer ordered them, "Take out everything in your pockets to be checked!" In the presence of a large group of armed police officers, the family members were scanned one more time.

After that, they returned to the courtroom. Mr. Kou was led in, handcuffed and shackled. His head was shaved, and he looked frail.

The trial convened. The female judge said, "This is the trial of Kou Chuangjin." Mr. Kou said, "I've read many books about the law, but none of them says that Falun Gong is illegal. If there is one, please read it to us all." Not knowing how to answer, the judge said, "First, the prosecutor will announce the proceedings against the defendant."

The female prosecutor started to read, "… law enforcement began to investigate his case and searched his residence on June 29, 2011. They found a large number of Falun Gong materials, including books, printed materials, CDs, and electronic documents, stored in Kou Chuangjin's residence." Then the judge asked Mr. Kou if what she said was true. He replied, "I believe that the search was done illegally; over a dozen men came to my residence. They broke the lock and entered without permission. None of them wore a uniform. Without showing their police badges, they ransacked my residence. I asked them who they were, but nobody answered me. When I tried to stop them from searching our house, they pushed me down and held me, so I have no clue what they found."

Afterwards, the prosecutor and the defendant began to debate. During that time, the court police brought in a photographer who took many pictures of the family members.

Mr. Kou defended himself and said, "…I used to suffer from severe hepatitis, stomach problems, headaches, and many other diseases. I could not climb stairs because I was so weak. I searched for cures everywhere, but to no avail. Doctors told me that there was no cure for any of my illnesses. However, after I began to practice Falun Gong, all of the illnesses miraculously vanished in about a month. Everybody in my work unit knows about this."

The judge asked, "Don't you know that the government prohibits the practice of Falun Gong?" Mr. Kou replied, "Which law does not allow the practice of Falun Gong? You put yourself above the law. All the government policies and documentations are illegal if there are no laws to back them up."

In the end, the judge ruled that the case would be transferred to a collegiate court for the final verdict.

After the trial, a police officer rushed into the courtroom and yelled at his family, "All stand up!" As they were being rushed out of the court room, Mr. Mr. Kou stopped his son and gave him a letter. Instantly, three officers surrounded them and snatched the letter away. When Mr. Kou passed by, the officers pushed his family members back. They refused to let the family leave the courtroom, even after he was taken away.

After a while, an officer came over and said, "Now we can check them again." The police separated the family members by gender, scanned them, and then searched each one of them by hand. Only after everyone had been thoroughly searched were they allowed to leave the courthouse.

The trail lasted from 9:00 till 11:00 a.m. Mr. Kou's daughter cried the entire time. Ever since Mr. Kou has been incarcerated, his family members have been denied the right to visit him. To make matters worse, his wife, Li Ruihua, has had to leave home and become destitute to avoid being arrested by the Xifeng police.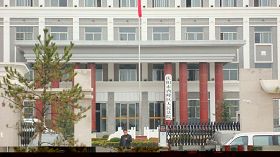 Xifeng District Courthouse, Qingyang City, Gansu Province