Young Couple Regain Respect for Each Other Through Falun Dafa Cultivation (Photo)
January 18, 2012 | By Clearwisdom correspondents Sun Bai and Su Rong from Kaohsiung, Taiwan
(Clearwisdom.net) Mr. Lv Shengcai and his wife, Jian Jiamei, are the owners of a popular European restaurant on Bade Road, Fengshan, Kaohsiung County, Taiwan.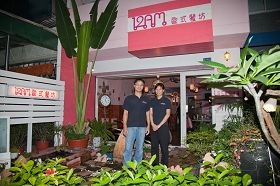 Mr. Lv Shengcai and his wife Jian Jiamei
Looking at their mutual respect for each other, it would be hard to imagine how incompatible they were six years ago. They used to curse at each other and retaliate with even more curses. However, the atmosphere in their family became peaceful after they started cultivating in Falun Dafa, which turned them into completely new people.
Shengcai has a special talent for cooking. As young as six he started baking, and sharing what he baked with his friends. At age 20 he went to Switzerland to study restaurant management. He was already managing a five-star hotel by 23. Before he turned 25 he started teaching restaurant management and serving as a consultant for large restaurants. He opened his first restaurant at age 26 and a second one at 27.
Although Shengcai enjoyed a successful career when young, he knew his shortcomings, "I had a strong sense of competition since I was little. I was arrogant and looked down on others. My pursuit of fame and fortune made me narrow-minded and short-tempered. I couldn't tolerate other people's minor mistakes. My employees were afraid of working with me. I would scold them and made them cry."
Shengcai worked part-time at a five-star hotel and ran two Internet cafes and his own restaurant. But he didn't have a moment of happiness. Thinking back, he said he seemed to stay angry 24 hours a day when he was 27. He had more and more heart problems. Doctors in large hospitals couldn't find the cause of his problem. His wife Jiamei had tuberculosis and had to quit her job in a store. Shengcai began to ponder the purpose of life. He read a huge number of books, but couldn't find any answers.
Shengcai's mother visited him one day. Shengcai was surprised at how great his mother looked. She used to look pale because of poor health, but her cheeks looked rosy that day. She told Shengcai, "I'm practicing Falun Gong now. I barely got started a month ago." When Shengcai told Jiamei about it, Jiamei was excited and started cultivation. Her tuberculosis was soon gone.
Shengcai didn't cultivate with his wife right away. He had been doubtful about the existence of gods and Buddhas. However, he was changed, too, after witnessing how different his wife was during a dispute.
One day, Shengcai raged at Jiamei, but she simply said, "Sorry! I made a mistake." Shengcai was shocked and replied, "Don't fake it!" She confirmed, "I truly made a mistake. I apologize to you. What can I do to make you feel better?" Shengcai was speechless. He couldn't believe what he heard. After a moment of silence Shengcai was even more furious. He shouted, "I'm disgusted by your hypocrisy!" Jiamei listened to him quietly without uttering a word. Shengcai was totally stunned. He thought it was a miracle for his arrogant wife to apologize so calmly. Jiamei told him, "Falun Gong teaches us to be good people. I will never find fault with others, like I did before."
After personally witnessing the miracle of Dafa, Shengcai started studying the book Zhuan Falun and joined cultivation. He went through a tremendous change himself, and became patient and warmhearted. Now he smiles at people. His friends like to ask him for advice, especially on how to discipline children. Shengcai said, "I won't force children to do anything. I will tell them that they can do things in one way or in another way. They may see different results." Children love to listen to him. Shengcai began a new life, in new spirits and good health. His heart problems were gone before he knew it.
One night after Shengcai started cultivating, he had a dream: a young mother rushed into his Internet Cafe in anger, dragged her child to the counter, and asked Shengcai, "How dare you make money like this?" Shengcai woke up in shock. An Internet cafe can indeed be harmful to children. He decided not to make money this way. Although his Internet Cafe brought hundreds of thousands of Taiwan dollars in income for him every month, he closed it down out of conscience.
Shengcai opened a European-style restaurant. It is a warm and cozy place for dining, and a great place to introduce Dafa. Customers can find informational materials and the Epoch Times at their fingertips. Several of them began cultivation.
When Typhoon Morakot hit Taiwan on August 8, 2009, many regions in Kaohsiung had no water. All his neighboring restaurants lost their water supply, ranging from three days to seven days, but Shengcai and Jiamei's restaurant never lost their water. People from the nearby area went to their restaurant to get water. They were amazed at the miracle created by Falun Dafa.
Shengcai and Jiamei's honesty, kindness, and big hearts have touched their employees, and many of them are now cultivating.