Shen Yun Returns to Kitchener-Waterloo
January 14, 2012 | By a Clearwisdom reporter
(Clearwisdom.net) Shen Yun Performing Arts returned to Kitchener-Waterloo, Ontario, on January 10 and 11, 2012, to rave reviews.
Member of Parliament: Show Conveyed a Message of Hope
Among those attending was MP Stephen Woodward, a founding member of the Canada Falun Dafa Parliamentary Friendship Group.
"It's just a delightful entertainment," said Woodward. "The pageantry, the color, the music, the wonderful dancing makes it a very enjoyable experience for everyone."
In reaction to the dances that bring to light the persecution of Falun Dafa in China, the MP noted, "What I believe is, it's important for people around the world, Canadians included, to understand the values, the ideals of Falun Dafa, are not in any way threatening or wrong. In fact, they're very universal values, which is why I like to inform people that those values are Truthfulness, Compassion, and Forbearance. So in presenting those beliefs in a positive way in the performance tonight, I think Falun Dafa does a great service to itself, to those who practice, and also to those who don't, by informing them about those values."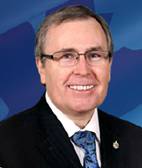 Canadian MP Stephen Woodward
More specifically, Woodward thought that the show conveyed a message of hope. "The first time that I encountered this issue, the words that came to mind were those of Mahatma Gandhi, and I'm sure that I don't do them justice, but Mahatma Gandhi said something along the line that tyrants and murderers will always arise but in fact love and truth will prevail and last forever. So this is the hope that we all have to cling to when we encounter adversity. It's why, when we encounter adversity, we have to remain hopeful. And actually, you know what? Hope is really only necessary when you are in adversity. When times are good you don't need hope. So hope is a virtue for those facing adversity."

Ballet Instructor: "It seems effortless."
Lily Petru, a ballet teacher who was a professional dancer for 17 years, was very happy to come and see Shen Yun. "I loved it," she said. "It was just amazing."
"There are a lot of aerial jumps not common in western Classical [dance], and the way they turn in the air... their elevation is really high." Petru was particularly impressed with the effortlessness of the dancing. "I can tell that they work really hard. It looks so gracious and [it seems like] gravity doesn't exist for them. It seems effortless."
Petru recommended the show. "It's a show that you must see. You are exposed to a different culture, and you can see the traditional Chinese culture, one of the oldest cultures in the world. It is educational. It's not only art-- you can see how they think, who they are, where they came from, and the way they follow their traditions."
Ballet Dancer: "I've never seen anything like it."
Emily Balaban, a ballet dancer for over 20 years, and architecture student at the University of Waterloo, found the show amazing. "I've never seen anything like it. There are so many things. The steps they do are just so different and the jumps they do are incredible, the formations that all the dancers make together is really great."
Balaban was impressed with both the costumes and the music. "I've never seen so many ways to layer fabric that create all different kinds of forms and they were beautiful. The music was interesting because I've never heard an orchestra with that variety of instruments before. I caught myself peeking at them a few times to see if I could tell what was playing some of those sounds I've never heard before."
"I would say it is a spectacle of culture," she concluded. "It's colorful, it's energetic-- I would say go see it."