Audience Welcomes Shen Yun Performing Arts to Montreal for Sixth Consecutive Year with Great Enthusiasm (Photo)
January 12, 2012 | By Xiao Yan
(Clearwisdom.net) Shen Yun Performing Arts International Company presented five performances on January 5-8, 2012 at Theatre Maisonneuve of Place des Arts in Montreal, Canada. About 6,600 audience members saw the show, and many experienced the feeling of awe that Shen Yun brought to them.
Western Audience Member: It's a Feeling of Beauty and Virtue
Andrea Huber, a Washington, D.C.-based dance critic for 14 years, was impressed by the animation on the screen, "The figures in costume would come from the screen animated, and then they would come closer and closer to the audience, and when the animation seemed to come right over the wall towards us, they would become human beings dressed exactly the same, with the exact same image as the animations on the screen. It was so unbelievable, so surprising, and so different. It was original."
She found the technique was unbelievable, too. "The jumps, the leaps, the landings as soft as cotton, and the leaps high and graceful. The leg extensions in the air are amazing and perfect." What struck her was also the delicacy of the women in their dance, "The expression from their torsos to their fingertips really had amazing delicacy. Their stretch, their extensions had wonderful reach. Everything was feminine and delicate, their eyes were animated, and they were in perfect synchrony." "It's a show not to be missed," she said.
Ms. Huber also commented, "The dancers are really showing their souls on the stage. They're dancing from their souls, and so this to me is very spiritual, it's a spiritual experience, because they're dancing from the interior out, you can see that."
"One of the themes behind the performance is virtue conquering disaster … the difficult suffering of humanity, and on the other side you have the rebirth, you have the beauty, the grace, the human spirit, that conquers all."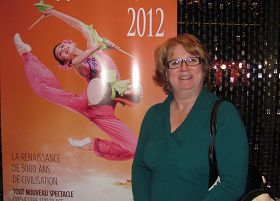 Quebec MNA Carole Poirier
Quebec MNA Carole Poirier attended the Shen Yun performance on the evening of January 5, 2012. She was deeply impressed, "A message of peace, a message of sharing, and somewhat divine—I think it's a beautiful message at this time precisely because it's the holidays now. I think it's a beautiful message when you share the inner peace that you feel," she said. "I think it's really something that touches us, something that comes and moves us, which is really beautiful. It's really beautiful to see, so it is good for the soul, it's good for the heart."
She said Shen Yun had special value because in our quickly changing world with persistent questions about the future to come, Shen Yun affirms life and gives an evening of great joy.
Overseas Chinese: Shen Yun Truly Thinks of Others
Mr. Liu has seen Shen Yun performance for six years in a row, since 2007, he attended the third performance in Montreal with his family on the afternoon of January 7. He said, "Every time I saw [Shen Yun], I was very moved, I didn't know why at the beginning, but gradually I realized that it is actually a very simple reason. For example, If you lost 1,000 yuan, someone picked it up and returned it to you, you would be moved. Furthermore, for example, if your child was lost, and someone brought him back to you, you would be even more moved. Thinking about it further, if someone points out a right way for you, teaches you to be good, and lets you know what is good, I feel it is more precious. I think it is why I was very much moved each time I saw Shen Yun."
What struck Mr. Liu was also Soprano Min Jiang's singing, "I understood what the lyrics mean, I don't think that anyone should be obligated to tell you: You must do well. But if others sincerely treat you well, you naturally feel comfortable, and you want to spend time with such a person. Just like a neighbor. No one wants to spend time with a thief or a robber, because you won't feel safe. If a person is friendly with you, always thinks of you... the Shen Yun performance gives me such a feeling. That's why I particularly want to see it."
Seeing Shen Yun Touches the Souls, Breaks Free From Constraints, and Makes One Quite Cheerful
After attending the Shen Yun performance on the evening of January 7, another audience member whose surname was also Liu told the reporter his feelings, "I have some new experience each time I see the show. Shen Yun is the reappearance of the genuine traditional Chinese nation. I have never seen such a performance in the mainland. I'm very much honored to have such a chance outside of China, so I cherish this opportunity, and attend Shen Yun every year."
"Seeing Shen Yun touches my soul, and helps me break away from constraint. After attending the show, I feel happy and relaxed both physically and mentally," said Mr. Liu.
"I feel it is not too much to describe Shen Yun with any word of praise. It's a top notch show."
Seeing Shen Yun Fulfills a Six-year Expectation
An older couple from Tianjin, China, who came to Canada more than a month ago, told the reporter after seeing Shen Yun, "A wonderful show. It's rare to see, we couldn't see it in China, and we have been looking forward to it for years."
The couple said that since the establishment of Shen Yun Performing Arts, some people in the mainland have received Shen Yun Performing Arts DVDs that someone gave them. They could only stealthily watch it at home. They also said that they had been looking forward to seeing Shen Yun outside of China. They had this opportunity to come overseas, and their child recommended that they attend the Shen Yun performance in a theatre. The wife said, "The backdrop was beautiful!" The husband said, "It's worth the trip."
Overseas Chinese Come to See Shen Yun by Its Fame
Mr. Xiao from Guangzhou City, China works in the pharmaceutical industry. He attended the Shen Yun Performing Arts show for the first time. He had learned that Shen Yun was touring around the world, and many renowned persons had high praise for Shen Yun's artistic nature, so he came to see it with admiration.
Mr. Xiao said, "What I liked most were programs such as legendary and historical stories that represent traditional Chinese culture, such as Monkey King and others. I also like some philosophical meaning conveyed through Shen Yun. That is to say, there is always a being who controls things in the entire cosmos, people can't escape the laws of the universe."
Mr. Xiao said, "Shen Yun Performing Arts' entire contents preserve China's artistic and cultural heritage that have a history of thousands of years."
"China has its own characteristics, [its culture] can be preserved to this day, and it must have its own artistic value. Shen Yun promotes the development of traditional Chinese culture, and it's a very good effort. The development of a nation requires creativity, the source being derived from an art, like the development of European industry, which was derived from the Renaissance. Now what we are lacking is such motivation. If more people have this power, they can promote the development of our entire nation."
Mr. Xiao hopes that Shen Yun will perform in China, and he is glad to see Shen Yun spreading around the world, so that more people can learn about Chinese culture and Chinese people, and at the same time, it can promote the economic development, making China stronger.
Shen Yun's International Company will continue on to Kitchener-Waterloo, Ontario for two performances on January 10-11.