Introducing Falun Dafa in Southern India (Photos)
(Clearwisdom.net)
Falun Dafa Introductory Session Held in Tandur, India
An introductory session on Falun Dafa was held on August 21, 2011 in Tandur, India (125 km from Hyderabad). The exercises were demonstrated and taught, and a general overview and features of the practice were explained. The books Zhuan Falun and Falun Gong were presented to the local Deputy Superintendent of Police, Mr. Uday Kumar, who attended the event. He was pleased with the practice and remarked that everyone could benefit from it, as it helps people to control anger and give up jealousy.
Local Dafa practitioners took the initiative to clarify the facts to all those present. The next day, the event was reported in a number of leading newspapers. Practitioners were also inspired with how a non-practitioner took the initiative to invite the public prior to the session, through handing out pamphlets, publishing advertisements in a newspaper, and personal invitation.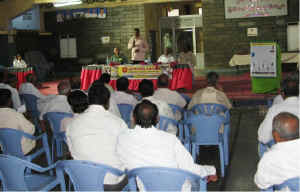 Local Deputy Superintendent of Police gives his remarks
Teaching the second exercise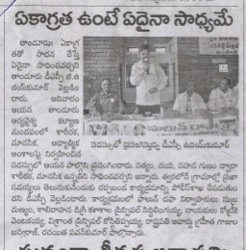 Report in local newspaper about Falun Dafa introductory session
Introducing Falun Gong to National Cadet Corps Students in Hyderabad
The National Cadet Corps (NCC) in India teachers its members to develop strong character, courage, comradery, discipline, and sportsmanship. It emphasizes selfless service among the youth, teaching them to be good citizens.
After receiving permission from the authorities, Falun Gong practitioners in the area conducted a one-week event to teach the students of the National Cadet Corps in Hyderabad the Falun Gong exercises; tell them about the benefits of the practice; explain to them the universal principles of Truth-Compassion- Tolerance which form the foundation of Falun Gong; and expose the ongoing persecution of Falun Gong practitioners in mainland China. This event took place daily from August 13 to 19, from 6 a.m. to 7:30 a.m.
Practitioners also distributed informational flyers to the students and the staff present on campus. Many students and staff said that they appreciated Falun Gong and condemned the persecution by the Chinese Communist Party.