Zhang Qi Hung by Handcuffs for Eight Months in Jinzhou Prison
September 27, 2011 | By a Clearwisdom correspondent from Liaoning Province, China
Name: Zhang Qi (张岐)
Gender: Male
Age: Unknown
Address: Chaoyang City, Liaoning Province
Occupation: Unknown
Date of Most Recent Arrest: End of February
Most Recent Place of Detention: Jinzhou Prison (锦州监狱)
City: Jinzhou
Province: Liaoning
Persecution Suffered: Detention, illegal sentencing, imprisonment, hanging by handcuffs
(Clearwisdom.net) In late February 2008, Mr. Zhang Qi and another Falun Gong practitioner were arrested by the Jinzhou police on a bus from Jinzhou to Shenyang. Mr. Zhang was then illegally sentenced to a seven-year prison term by the Chaoyang District Court. He was severely tortured in the Jinzhou Prison, during which time he went on several hunger strikes.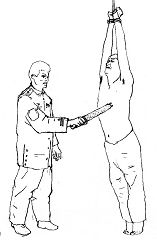 Illustration of "Big Hang Up" torture method
From around September 2010 to April 2011, wardens at the Panjin Prison tortured Mr. Zhang with the "Big Hang Up" method. Mr. Zhang's head swelled terribly and he was close to death. Wardens had to rush him to the Shenyang Inmates Hospital, but yet did not stop torturing him with different methods.
In mid-May, wardens brought Mr. Zhang back to the prison. Mr. Zhang started a hunger strike to protest the persecution. He has not had a normal meal for over 120 days and is in a critical condition again. In order to escape the responsibility of persecuting one more Falun Gong practitioner to death, wardens called Mr. Zhang's family to come visit him in the prison and feed him. The family visitation was videotaped by the prison.