Poland: Practitioners Introduce Falun Gong at Tourist Attractions in Zakopane (Photos)
September 18, 2011 | By a practitioner in Poland
(Clearwisdom.net) On September 10-11, 2011, before the Chinese people around the world began celebrating the Mid-Autumn Festival, Falun Gong practitioners went to Zakopane, a tourist city on the border of Poland and Slovakia, to introduce Falun Dafa to local residents and tourists.
Zakopane is located beside the mountain of Tatra on the south end of the Alps. It is a well-known tourist city in Europe and has the biggest state park in Poland.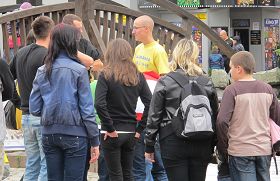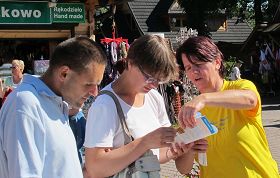 Practitioners introduce Falun Gong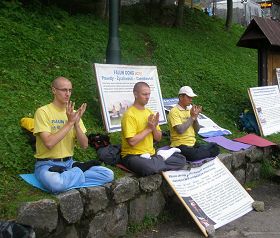 Practitioners set up an information display near an entrance to Zakopane State Park
On the morning of September 10, the practitioners set up display boards and demonstrated the five sets of Falun Gong exercises near one of the entrances to Zakopane State Park. Their demonstration and the peaceful music caught the attention of many tourists. Hundreds of people took flyers and many stopped to ask questions. Many people signed the petition protesting the persecution of Falun Gong.
In the afternoon, the practitioners went to the downtown area of Zakopane to introduce Falun Gong. Many people signed the petition condemning the Chinese Communist Party's (CCP) brutality in the persecution of Falun Gong.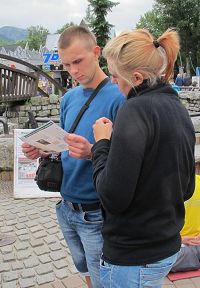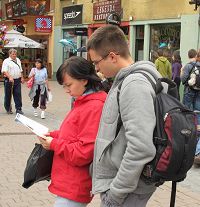 Reading Falun Gong flyers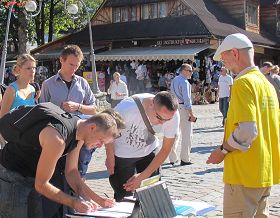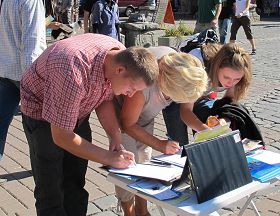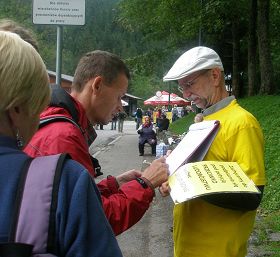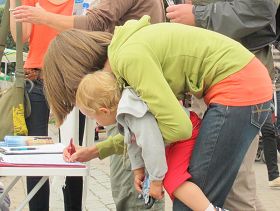 People sign the petition condemning the CCP's persecution of Falun Gong
The practitioners continued their activities in the downtown area on the following morning. Many tourists from far away were carrying heavy backpacks and bags, planning to climb the mountain. Still, many took the time to stand in line to sign the petition. A group of six Chinese people stopped at the activity and learned the facts about the persecution. Three of them agreed to quit the Chinese Communist Party organizations. Another woman who had recently immigrated from China was also grateful to meet the practitioners and for the chance to quit the CCP.
At noon, the 2000 flyers and several information packets had all been taken. The practitioners also collected more than 500 signatures.